Pimp convicted in Everett sex trafficking case
Everett, Wash. – The Everett Police was part of a "John Sting" that led to an April 12 conviction of 32 year-old Bernard Gordon on four counts of promoting prostitution and leading organized crime. Support for the case was provided by Everett patrol officers, the Anti-Crime Team, the Snohomish County Drug Task Force, the King County Prosecuting Attorney's Office and the Victim Advocates. Gordon is awaiting sentencing.
Gordon approached an undercover detective in May 2019 soliciting her to "work" for him. According to court records, Gordon gave the undercover officer his phone number and told her to text him later.
During the investigating it was discovered that Gordan was trafficking three girls forcing them into prostitution then confiscating the money. He kept the girl's personal property and moved from city-to-city, evading detection.
According to one of the women in the Everett sex trafficking case, Gordon introduced her to heroin and controlled the access of the drug in order to create reliance and dependency to him.
"Trafficking is a very real problem and this conviction likely saved countless other victims," said Investigations Captain Jeraud Irving. "Unfortunately, victims rarely speak out and it is hard to arrest and convict pimps. This case required resolve and dedication, along with a large multijurisdictional team, for a positive outcome."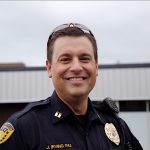 Court records reveal that Gordon has past convictions for third-degree rape of a child, luring and failing to register as a sex offender. He also served a five-year prison sentence for dealing heroin and cocaine in Thurston County.
The Everett Police would like to remind young people, especially those with risk factors such as BIPOC (Black, Indigenous, People of Color), youth in foster care, or those in poverty, the dangers of being vulnerable to human trafficking for the purpose of commercial sexual exploitation and sex trafficking.
Victims are usually recruited and forced to stay in the sex trade by traffickers who use fear, physical force, threats, manipulation, or other coercive and deceptive tactics. Victims are forced to exchange sexual acts with money or something of value, such as shelter, food, or drugs.
Often language barriers, fear of their traffickers, and/or fear of law enforcement keeps victims from seeking help and makes human trafficking a hidden crime.
"Sexual exploitation is big business where traffickers often use force and drugs to control their victims," said Seattle Police Victim Advocate Olivia Herring. "Estimates place the number of US victims forced into commercial sexual exploitation between 15,000 and 50,000, but might even be up to 325,000. Every year law enforcement works hundreds of cases to battle this travesty."
If you or someone you know is being forced into labor or sexual exploitation, please call 1-888-3737-888 or text the National Human Trafficking Hotline at 233733.