Gay bashing on Moses Lake ends in flaming boat
MOSES LAKE, Wash., June 4, 2021 – A TikTok video has gone viral with almost 11 million views of an apparent gay bashing incident at Moses Lake, ending in the assailants' boat bursting into flames and its occupants being rescued by their LGBTQ victims.
According to the video the LGBTQ family was being harassed by the boaters for flying a Pride flag. The female occupant of the boat could be seen making obscene gestures and it is alleged that she shouted gay slurs. Then suddenly the boat with the harassers catches fire, resulting in the occupants diving into the water to be rescued by the LGBTQ family.
In a second video, which has at least 1 million views, the female passenger of the gay bashing incident on Moses Lake, now rescued and crying uncontrollably, was being consoled by one of the male assailants.
"Baby, baby, it's ok. We're alive. We're ok."
The person filming can be heard telling a Grant County Deputy Sheriff patrolman, "That was some funny karma. They came out and did a bunch of circles around us to stir-up the water around us while we were just sitting there."
Another can be heard saying, "They were harassing us; then we saved their ass!"
According to the video, none of the boaters ever thanked the LGBTQ family for rescuing them nor apologized for their actions.
Facebook user, Robbie Rattleyote, alleging to be one of the rescuers, states that he and the other victims will not pursue charges.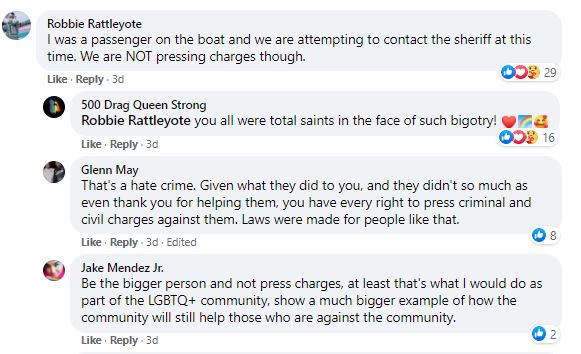 According to the Yakima Herald, it is unclear how the boat caught on fire; however, Grant County Deputy Kyle Foreman did confirm that two men and one woman were the occupants of the boat and are safe. Emergency services extinguished the fire, and the vessel was towed back to the west shore of Moses Lake.
The Grant County Sheriff's Office released the following statement regarding the incident:
"The Grant County Sheriff's Office has viewed a viral video that seems to show an incident that happened on the waters of Moses Lake on May 30, 2021.
"The incident appears to show a blue vessel circling another vessel, and an occupant of the blue vessel extending a middle finger toward the person recording the incident. The video also shows the blue vessel ablaze and the occupants of the blue vessel swimming toward the vessel recording the incident.
"As of right now, we are trying to make contact with the occupants of the vessel being circled so we can interview them to find out what happened. We would like to know more, and once we can interview people, we will be able to know more without relying solely on a brief video.
"Our agency has a long-established history of transparency and sharing information. Please watch our social media pages for continuing updates on this incident."