Facing a $7.9 billion affordability gap, Sound Transit considers its options
SEATTLE, Wash., June 6, 2021 – Following an unprecedented affordability gap of $7.9 billion, down from $11.5 billion, Sound Transit looks to realignment strategies to ensure voter-approved projects – ST-2 and ST-3 – remain on schedule due to the combined effects of the pandemic and increased cost estimates.
Despite these major setbacks, Sound Transit assures the Lynnwood Times that the extension to Northgate and Lynnwood remain unaffected.
"Construction of our light rail extension to Lynnwood is fully on track and remains scheduled to open in 2024. This and all other projects already in construction are moving forward without being subject to the realignment process. By 2024 we are on track to nearly triple the length of the region's light rail system from 22 miles to 62 miles," said Geoff Patrick, Deputy Executive Director of Communications for Sound Transit.
However, in a Special Board Meeting held June 3, all proposed realignment strategies have the Lynnwood-Mariner extension to complete 2038 delayed by 2 years from its original 2036 date, and the Mariner-Everett link delayed five years to 2041. Yet that parking for the Everett link is delayed by 10 years and scheduled to be complete in 2046.
Also, $40 million to improve access to the Edmonds and Mukilteo stations for riders are also proposed to be delayed by 10 years and scheduled to be completed in 2034.
To view the proposed realignment strategies from the June 2 meeting, click here.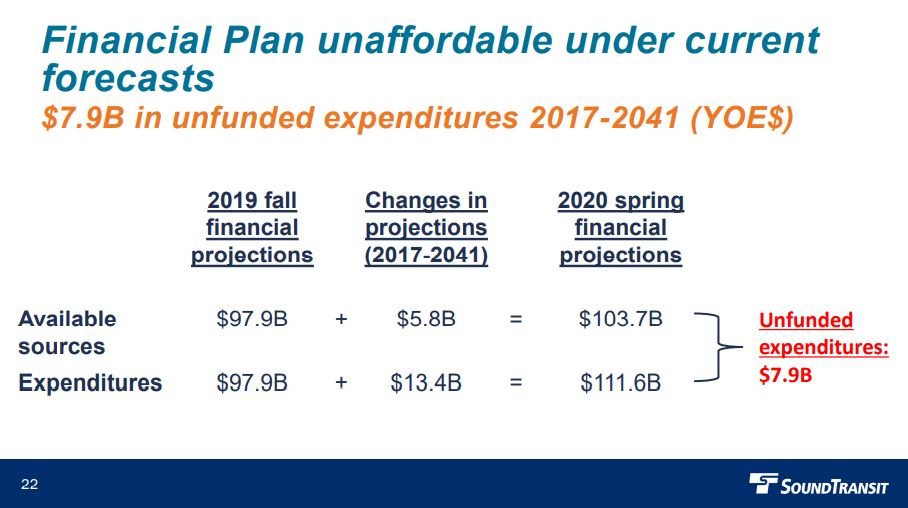 Two major simultaneous factors – pandemic-driven recession and increased pressure on the real estate and construction sectors of the economy – have set Sound Transit projects back $1.5 billion in forecasted tax revenues while battling a 40% increase in labor and materials, according to Sound Transit's Financial Plan Update.
The pandemic greatly reduced the revenues Sound Transit relied upon to expand the regional transit system when businesses were closed and potential riders stayed at home, plummeting revenues critical for funding transit construction. At a Sound Transit Board meeting held in April, readjusted forecasts indicated that the programs remained unaffordable without realignment.
Parallel to pandemic-related revenue declines, the recession has not slowed the growth of construction material and labor. In a January 5 letter sent to Sound Transit CEO, Peter Rogoff, from Kimberly Farley, Deputy CEO, cost estimates for projects that have not been baselined were reported to increase from $4.84 billion to $6.17 billion from 2019 to 2020.
Sound Transit Realignment Process
According to Patrick, the first emphases on the realignment process are to work in the coming months and years to control costs and secure expanded funding. So far, a grand total of $342,943,098 (which includes approved CARES funding and CRRSAA Funding) in relief funds have been received and major efforts are underway to secure necessary further funding including $527,890,035 in American Rescue Plan funding.
The realignment process began in January and continues to proceed on the following schedule:
January: Review Project evaluation
February: Discuss realignment approached
March: Define realignment approaches for public feedback  
April: Engage with the public and key stakeholders
May: Discuss realignment options
June: Develop draft realignment plan
July: Take realignment action
Sound Transit Realignment Survey
The Sound Transit Board is reviewing 9,730 survey responses from the public as various realignment strategies are discussed. From April 12-30, 2021, South Transit staff provided an online survey that allowed Puget Sound residents to rank their priorities among the voter-approved projects not already under construction and subject to potential realignment decisions.
Over 30,000 residents participated in an online open house which shared Sound Transit's revenue and cost estimate issues related to the purpose of the realignment strategy.
According to survey respondents:
86% currently ride or plan to ride transit in the future.
49% live in the Seattle Area, whereas; only 10% lived in Snohomish County.
63% reported household income of $100,000 or more.
The overall regional themes – those districts within Sound transit's tax base – expressed by the survey respondents were:
Expanding Link light rail as it is catalyst for multi-family housing
Parking – Snohomish, South King and Pierce resident would like more parking
Perception that cost increases should have been planned for more effectively.
Concern that costs, particularly property costs, will only increase the longer we wait.
Snohomish County Survey Results
Snohomish County respondents – 907 in total – were asked to rank their top five projects in the North Corridor. Orange reflects first-priority rankings, followed by green for second priority, blue for third, pink for fourth, and aqua for fifth. According to the survey, the completion of the Everett Link Extension was their highest priority.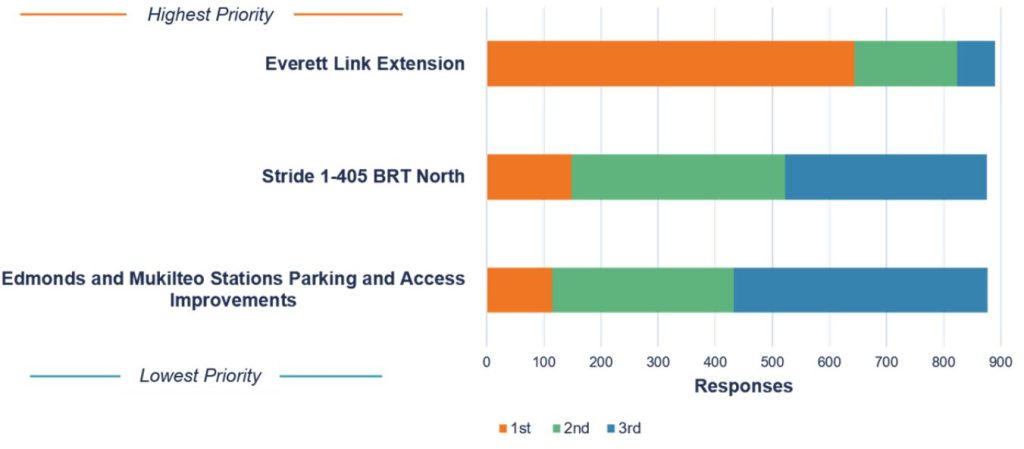 According to the study, "Many Snohomish County residents feel that they pay a lot in taxes to help fund Sound Transit, but they haven't seen much in terms of promised service and feel left behind in transit expansion."
Original Sound Transit Key Dates