LSHS senior Madisen Cordell appears with alumnus Chris Pratt on Ellen Show
LAKE STEVENS, Wash. – Actor Chris Pratt, a Lake Stevens High School (LSHS) alumnus, recently appeared on the Ellen Degeneres show where he and Ellen spoke with recipients of the Amazon Future Engineer scholarship. Among those recipients was Madisen Cordell, an LSHS Senior who shares her excitement for the future. Pratt also spoke fondly of his favorite Science teacher from his Lake Stevens High days, Bob Ingraham. 
Chris Pratt appeared on The Ellen Show this past Sunday to promote "The Tomorrow War," an Amazon Original Movie where he plays a science teacher who gets drafted into a futuristic war. Reminiscing on his own experience in science class, Pratt said, "I loved science! I did pretty well in science class. I studied at the University of Lake Stevens High School."
Pratt specifically recalled his time in Bob Ingraham's AP Biology class. "We had the most amazing science teacher named Mr. Ingraham," he said. "I loved this guy." Pratt described Mr. Ingraham as "our small town Indiana Jones," who had knives, a whip, and a "leather trench coat."
After Pratt's unorthodox description of Mr. Ingraham, he and Ellen joked that perhaps some of Pratt's depiction was exaggerated. A Facebook post from The Lake Stevens School District later confirmed that Pratt was speaking a bit hyperbolically. In parentheses at the end of the post, it reads that Mr. Ingraham "did rock a fabulous hat and leather trench coat, but not the knives and whips."

Amazon Future Engineer Program
As Pratt portrays a science teacher in his upcoming film, he also promoted the Amazon Future Engineer program during his televised appearance. According to amazonfutureengineer.com, the program is "a comprehensive childhood-to-career program aimed at increasing access to computer science education for children and young adults from underserved and underrepresented communities."
Pratt elaborated on the program's uplifting purpose, saying it's "essentially to inspire kids from all over the world, especially in underserved communities, for careers in computer science and STEM, which is science, tech, engineering, and mathematics. So they give 100 college-bound seniors 4-year $40,000 scholarships and paid internships."
In addition to the scholarships for college-bound seniors, Pratt also mentioned how the Amazon Future Engineer program rewards outstanding teachers with a $25,000 "teacher of the year" award.

LSHS Senior and 'Brilliant Future Engineer,' Madisen Cordell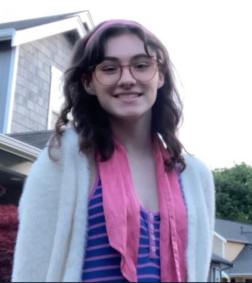 After Pratt's summary of the program, six recipients of the award virtually appeared on the show. At the top right corner of the screen, LSHS Senior Madisen Cordell waved to the audience.
"It felt so surreal to earn this scholarship. I still don't know if I believe it," says Cordell. She first heard about the scholarship in her AP Computer Science class taught by Mr. Ken Gray. What she didn't know at the time was that she would not only receive the award but would also make a televised appearance for it.
"I never thought I would get on the Ellen Show, especially not for being a nerd, but it was pretty fun.," she explains. "It is kind of a huge flex to be called a 'brilliant future engineer' on national TV."
While she is excited about the future, Cordell admittedly feels additional pressure from all the recognition. "It is a lot of pressure now that everyone knows what I want to do with my life," she explains. "Everyone in my town… are expecting me to continue doing great things, and I hope I can; I actually feel pretty confident."
Cordell also spoke adamantly about her newfound love for coding. "I love working with code and making things. It is a super fun and new way to think," she says, words that would make any Computer Science teacher proud to hear. "Growing up, I loved crafting, and coding is, in my opinion, super similar because you can directly make things instantly. You get a chance to be creative while also feeling like a genius," she says.
Cordell feels that with whatever "great things" she does in the future, coding will be a part of them. "I hope that I do cooler things in my life than go on Ellen," she says. "I can't say what I want to be coding in the future, but I do want to keep coding."
In addition to sharing her hopes and success, Cordell also desires to impart some advice to her peers. After explaining how she took a computer science class on a whim, she says, "If anyone doesn't know what they want to do, just go with a whim you'll never know where it'll take you. I've found that things generally work out — which I know is privileged of me to say — but just keep going to school and maybe you'll find something you love."
With the scholarship in hand, Cordell plans to attend Western Washington University, where she will study computer science and mathematics.