Lynnwood summer Recreation Center
The Governor has announced a full reopening of the State on June 30. The following is what you can expect:
You will need to continue to register in advance either over the phone (425-670-5732) or online at playlynnwood.com for pool and weight room sessions, unless you are a 10 visit or annual pass holder. If you have a 10-visit pass or annual pass you are guaranteed admission for the first 15 minutes of a session without pre-registration.
Annual Pass memberships will restart on June 28. An additional email to annual pass holders will be sent out in the next couple of weeks.
Each session will be limited in length and capacity.
We will continue to sanitize between sessions.
Each session will cost $6 for drop in use (for all ages) and $8 for instructed classes.
We will continue to register for sessions, Tuesdays for Lynnwood Residents and Wednesdays for Non-Residents, for the following 10 days.
Staff will continue to check pre-registration at the door.
Dry fitness classes will only operate on a drop in basis.
Swim lesson will re-start this summer.
Selected Lynnwood Senior Center (LSC) programs will restart this summer as well with limits on capacity.
For a complete list of LSC program offerings please give them a call at 425-670-5050.
Pool and Room rentals will restart.
The Lynnwood Recreation Center hopes that by September it will move back to its drop-in facility use model. 
Masks while entering the facility will not be required, but it is encouraged to use them. Many participants are youth under the age of 12.  There currently are no vaccines available to them, continued voluntary mask wearing will help to protect these participants.  
For the most current information from the Lynnwood Recreation Center please visit www.PlayLynnwood.com.  If you have any questions or comments the best way to reach me is by email at jfaber@lynnwoodwa.gov. 
Registration for Summer Classes and Activities
Registration is now open for summer classes and Activities! View the Rec Guide or search online for more goings-on with Lynnwood Recreation.
Summer Aquatic News
Lynnwood Aquatics is gearing up to run summer programs as usual with a few exciting changes! Beginning June 28th, we are returning to our regular swim lesson program with the addition of two new levels: a fifth safety level to spread out challenging skills and a second water babies class to better transition swimmers into our preschool program.
Because there hasn't been regular lessons for over a year and new levels were added, there will be swim placement tests for all non-beginning students. If you need one, be sure to schedule the test before registration, which starts on June 20th for Lynnwood residents. 
Aquatic fitness classes
The first is "Slide Fitness," on Tuesday and Thursday evenings, and yes, the class includes running up the stairs and going down the water slides (in addition to some circuit training). On Monday through Thursday evenings, we are adding a drop-in "Lifetime Fitness" class as well. This is a coached fitness program designed for swimmers of all ages who are looking for quality workouts, individualized technique instruction, and stroke improvement. Participants must have the endurance to swim 100 yards of crawl stroke comfortably.
With many other pools in the area either closing or running limited programing, the Lynnwood Recreation Center is expecting exceptionally high demand this summer. To keep up with demand we are training and hiring as many qualified people as we can. Through our "Golden Ticket" program, we can provide a free lifeguard certification course to those who commit to working at our pool. Call aquatics at 425-670-5528 with any questions about joining our team!
Social dance classes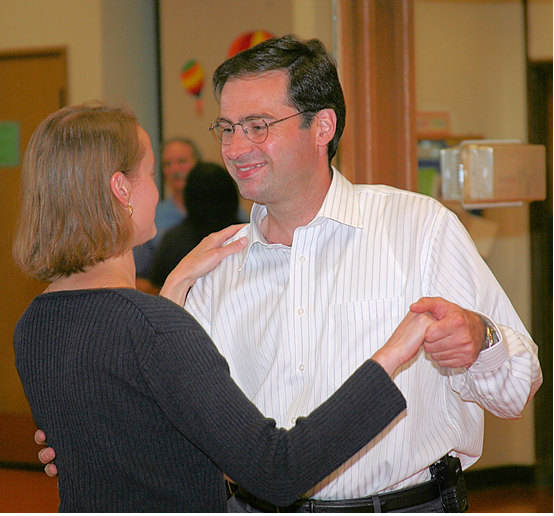 Social Dance has different levels and choices for singles and couples. Classes include Partner Social Dance, Line Dance, West Coast Swing and more. Social dance classes are taught in a comfortable learning environment. Not too serious… Go with gusto, make mistakes and laugh! It's ok if you dance with your two left feet. The goal is lifestyle as a healthy priority: Dance to good music, make new friends, stay active and join other dancers who want to have fun too. Check out the Rec Guide or online for times, dates and prices.
Group fitness classes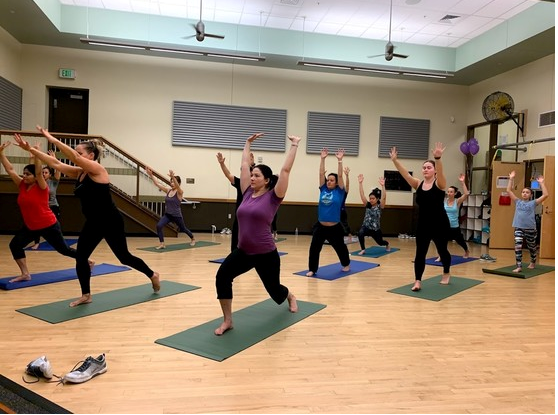 We are happy to announce we will be returning to drop-in fitness classes this summer. On the summer schedule we will be adding more Zumba classes, and Group Power classes. This also means you can use your membership or 10- punch pass to drop-in to classes. We can't wait it have you back!
The nice thing about reservation was our ability to contact you when a teacher was unavailable to teach class. We do our best to provide subs for classes but, due to our staff shortage, we will do our best to announce cancellations in advance. We will be posting cancellations in the following places: Customer Service Desk, Fitness Studio, Facebook & Email. If you would like to join the email list, please sign up in the Fitness Studio or email aearvin@lynnwoodwa.gov
Lynnwood Recreation Center 10 year anniversary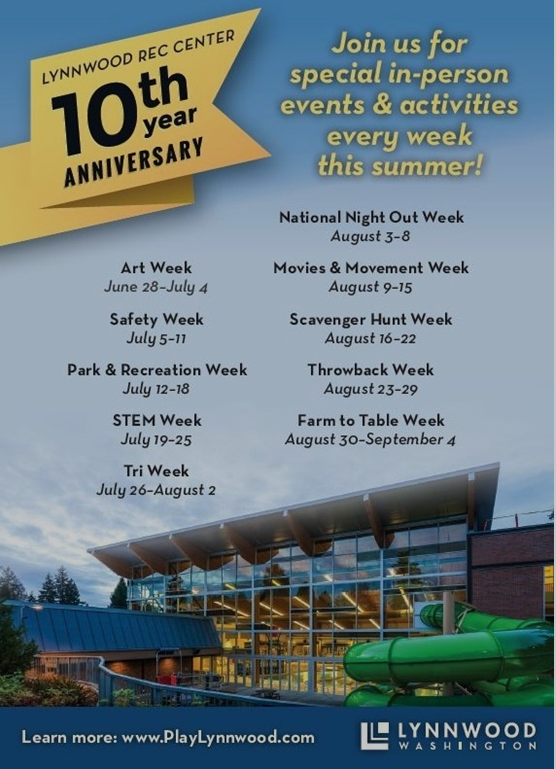 Join us throughout the summer to celebrate the anniversary of the Lynnwood Recreation Center with special in-person and virtual activities and events. Each week we will be offering a new theme, filled with different activity options. The 10th Anniversary will kick off on June 28 with Art Week. Other weeks include:
Safety Week
Park Stories
STEM Week
Tri Week
National Night Out Week
Movie and Movement
Scavenger Hunt Week
Throwback Week
Farm to Table
---
Content Source: City of Lynnwood