Jim Smith mayoral campaign kicks off at Moonshine BBQ
LYNNWOOD, Wash. – Scores packed Moonshine BBQ, Tuesday, June 8 to support Councilman Jim Smith for his bid to become Lynnwood's next mayor and chief executive.
Smith was born in Seattle and graduated from Edmonds-Woodway High School. He then attended Central Washington University where he earned a double bachelor's degree in business administration and law and justice. He and his wife Sherry have four daughters and two grandchildren.
Smith's campaign platform is homelessness, public safety, and taxes.
"We need to be thinking about the people of Lynnwood first, not the big corporations," Smith said.
Smith aims to be an active mayor. He commits to hosting and attending community events as mayor and resolve resident concerns that arise.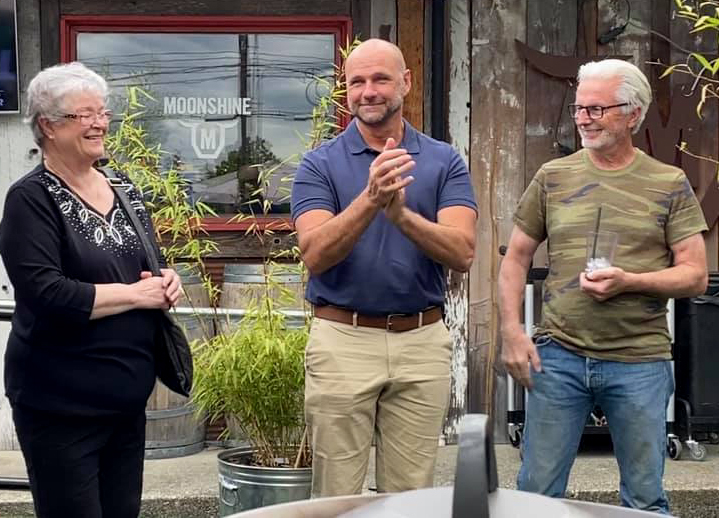 The 25-year Lynnwood City Councilman currently serves as council vice president. Smith has also been the Chairman for the Snohomish County Board of Health and is an active community member, acting as liaison to various organizations, like the Human Services Commission, in addition to volunteer work at the Lynnwood Food Bank.
If elected, Smith's first year in office will focus on addressing the street homelessness issue.
"By the second year of my term, we're going to make Lynnwood into the safest place in South County," Smith said. "Lynnwood will be the gemstone of South County like it used to be."
Lynnwood resident Derek Hanusch first found out about Smith three weeks ago through a Facebook group. Hanusch supports Smith because he does not want Lynnwood to become like Seattle, "where they won't arrest anyone."
Joining the campaign is Edmonds resident and native of Veracrúz, México, Karina Gasperín who will serve as Smith's Director of Community Outreach.
"We need to elect someone who can lead and benefit our communities," Gasperín said. "It doesn't matter your race or language; we can [all] make Lynnwood better."
For more information on Jim Smith and to support his campaign of becoming Lynnwood's next mayor, visit his website https://electjimsmith.com/ or his Facebook https://www.facebook.com/ElectJimSmith/