Lynnwood teacher, Ms. Wrolstad retires after 36 years
LYNNWOOD, Wash. – After 36 years, Cathi Wrolstad, the well-known Lynnwood teacher, is retiring. In a June 17 event organized by her colleagues at Beverly Elementary School, she said goodbye to her teaching career among friends, colleagues, and former students.
Keeping in mind social distancing protocols and restrictions, the Beverly Elementary board made sure the event was one to remember for their beloved coworker. They organized a car parade in the Beverly School parking lot, where vehicles would stop, greet and exchange a few words with their colleague, mentor, and teacher.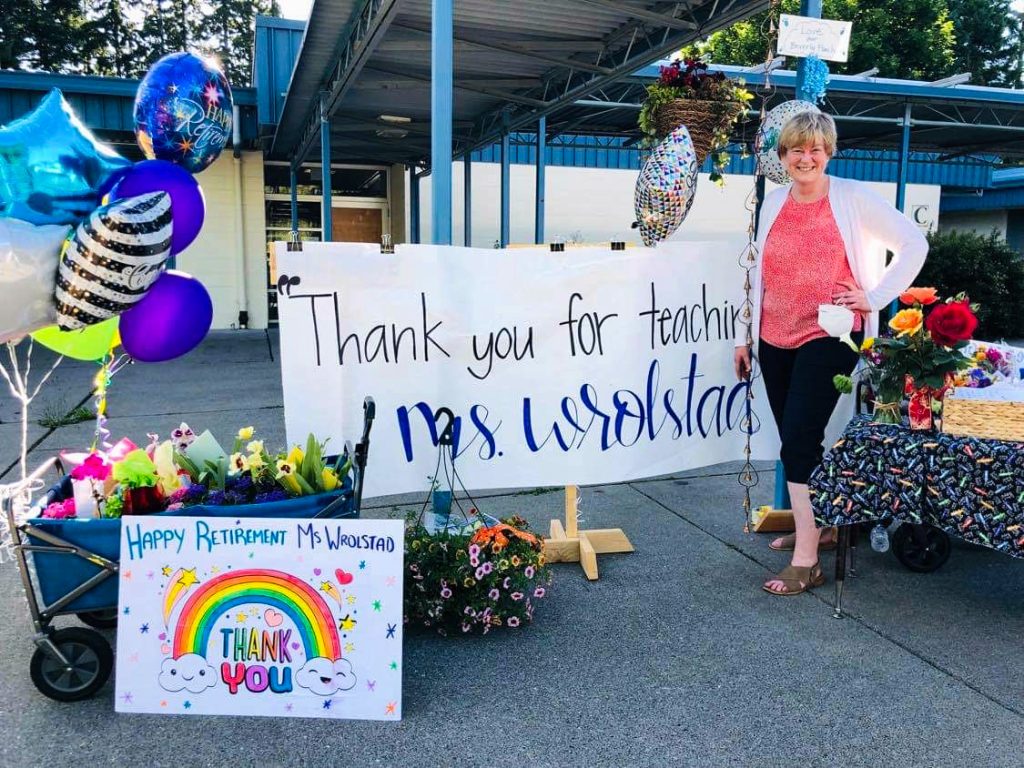 Ms. Wrolstad spent 21 years at Beverly Elementary School teaching 2nd and 3rd grade but was most recognized for her work with kindergarten children and her ability to connect with students and families.
The line of cars that showed up made the parade last much longer than initially anticipated. The cars decorated with Beverly Elementary School colors had messages of affection written for Ms. Wrolstad. In the meantime, her colleagues at Beverly guided the participants holding paper signs, each of them telling a fact from Wrolstad's career.  
At the end of the parade, you could see the satisfaction on her face from many surprises she got that evening, made possible from her little friends, their families, or former coworkers.  Even after being tired from the long evening and the wait in the sun, she was so kind to share some moments from her career.
"My best memory is, by the end of the year the kids are emulating what you wanted them to learn. If it means owning their behavior and apologizing to each other or saying things that I said to them during the year and they incorporated," Ms. Wrolstad told The Lynnwood Times.  She added, "I will miss how meaningful teaching is. You go to bed at night knowing that you're making the difference."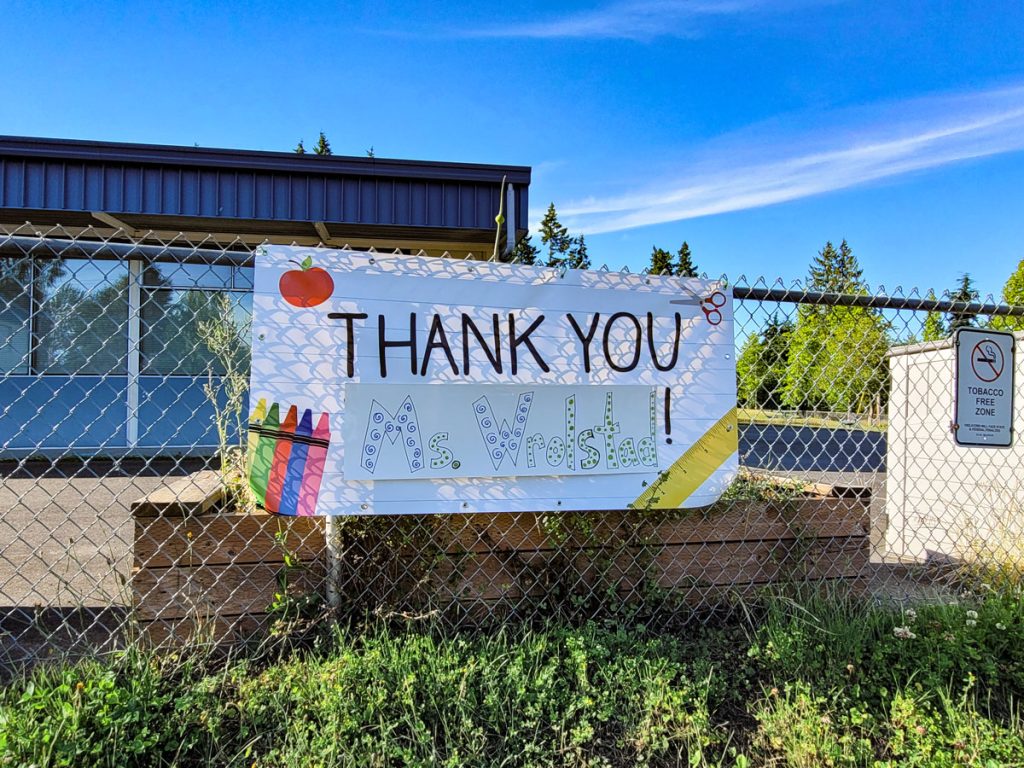 During her 36 years she did extraordinary work not only with kids, but also mentoring a lot of first year teachers, giving them natural skills to succeed in this job. One of them, Julie Krusenstjerna, happened to be present at her former mentor's special day sharing her memories.
"She was an amazing mentor. I was volunteering in her classroom, and she told me, 'Why don't you be a teacher? You are natural.' And I had a really good job and she told me, 'You need to think about that.' You know, I really thought about it. I quit my full-time job, went back to school, became a teacher and never regretted it. I still apply to this day things that I learned from her," said Ms. Krusenstjerna. 
She continued, "She used to do this special thing with the kids where they would bring their stuffed animals and leave them in the classroom overnight and the next day when they came back in class it would look like they had a party. The kids would go, 'Wow they had a party last night here," remembered Krusenstjerna, whose daughter was one of the students taught by Ms. Wrolstad.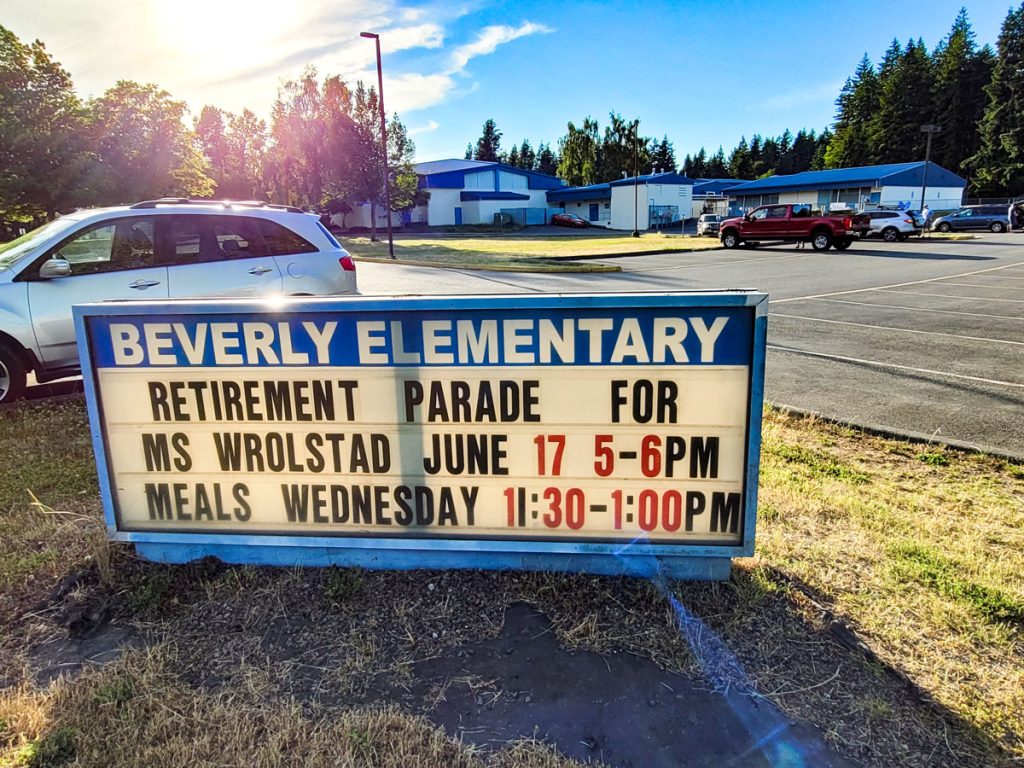 If you ask her colleagues, Wrolstad is known for abilities beyond teaching. Her passion for gardening is not a secret at Beverly Elementary. She contributed to school grounds, where she started the Beverly Garden. After relaxing a little bit, she will dedicate some time to gardening. Our question is what she has in her plans? She answered jokingly, "I have to figure out what I want to be when I grow up," and she continued, "I will relax for a little bit and then get involved with some voluntary work."
Cathi Wrolstad started teaching at Beverly Elementary School in 1985 and during her career she taught more than 900 kids. A fun fact about her is that her brother is the well-known NFL referee, Craig Wrolstad. Her colleagues unanimously stated that she was the first one to arrive and the last to leave and she will be missed in the classrooms where she taught.