Entrepreneurship celebrated at Signarama Lynnwood
LYNNWOOD, Wash., August 7, 2021 – Signarama Lynnwood celebrated their grand opening with a ribbon cutting ceremony and a tour of the business Wednesday, August 4 at 1:30 p.m.
Franchise owners Punita and Rajesh Bansal were joined by Chamber of Commerce President/CEO Linda Jones and Lynnwood City Councilmembers Jim Smith and George Hurst.
Lynnwood City Council President Hurst said during the ribbon cutting ceremony that the City is committed to small businesses and their entrepreneurial "spirit that drives our community forward."
57-year-old Rajesh and 53-year-old Punita moved from Bangalore, the capital and largest city of the Indian state of Karnataka two years ago. The Bansals came to the United States to be with their son and daughter who had attended college and settled in Lynnwood and Carnation, respectively.
It was a tough decision for the married couple of 31 years as they already had a highly successful customized lighting business in Bangalore but the prospect of being close with family won out.
So then came the question: what kind of business to start?
"The idea was a business that would resonate, help, and ultimately be a part of the community," Punita said.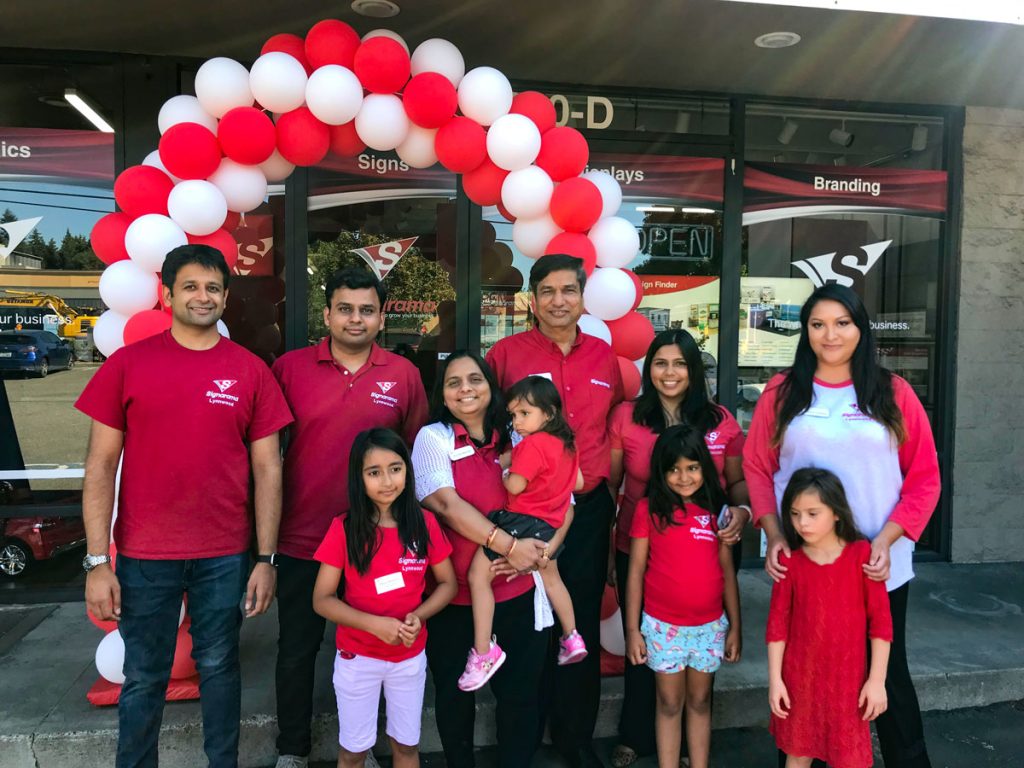 After arriving Stateside, Punita spent six months researching what kind of business to start. They went with Signarama because of the support system the parent company UFG offers. In fact, the owners of the Everett and Redmond locations came to the Bansals' grand opening.
The Bansals already had businessowner experience in India but being a franchisee was helpful especially being new to the country.
John Fleming, United Franchise Group Regional Vice President, met the Bansals about six months after they arrived and helped them discover that Signarama was the right franchise for them. Once the franchise agreement was signed, it took 7-8 months to get the business running.
But right when the Bansals had found the location, the pandemic hit. The 2,466 square-foot facility's soft opening was supposed to be in June 2020 but was delayed to June 1st, 2021.
Signarama is a sign and graphic business and offers services including business signs, vehicle wraps, digital signs, and advertising and marketing services. Signarama is part of UFG, which operates an affiliated family of franchise brands and development services.
Rajesh said that being a businessowner is a rich and rewarding experience, particularly as a member of the sign industry as he gets to contribute to fellow businesses' success and helping them grow.
"When you own a business, you are master of that business," Rajesh said. "You plan everything and look forward to contributing to the community and to other businesses. When the day is over, you feel that you accomplished something."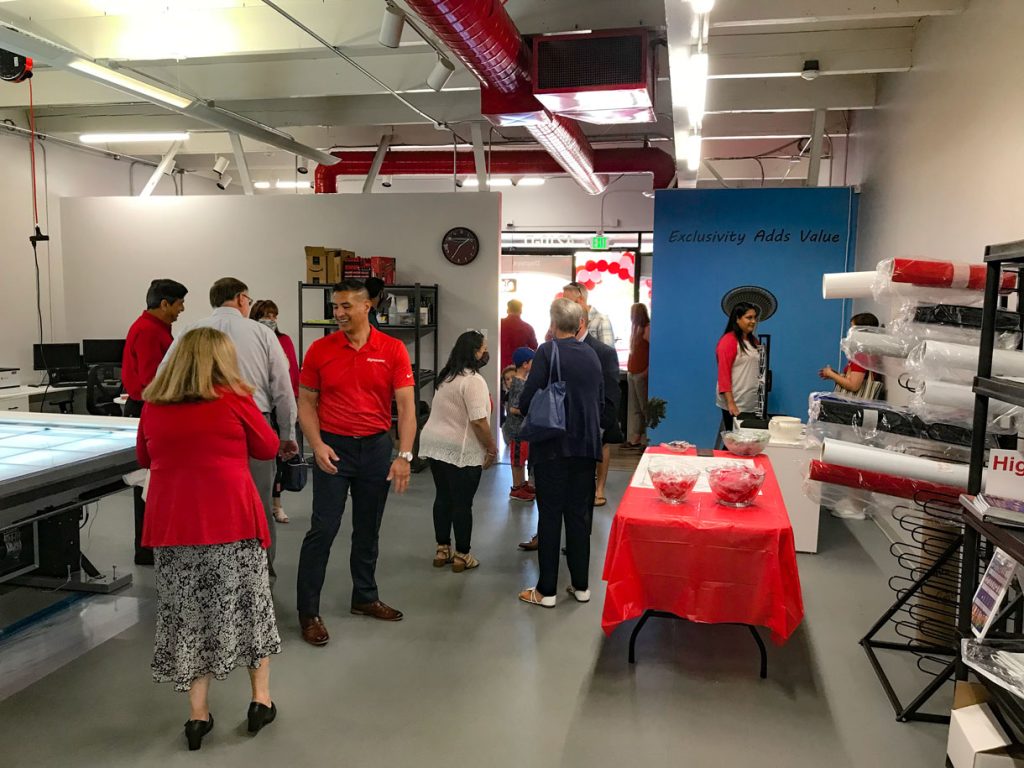 According to the U.S. Small Business Administration Office of Advocacy's 2020 Small Business Profile which measures small business metrics from 2019, there are 31.7 million small businesses who employ 47.1% of the country's workforce. Small businesses comprise 99.9% of all businesses in the United States and created 1.6 million jobs in 2019. There are 5.2 million self-employed minorities in the U.S.
Councilman Smith praised the variety of services Signarama Lynnwood offers and encourages Lynnwood residents to stop by the store.
"It's rewarding to be here and witness the grand opening of a new Lynnwood small business," Councilman Smith said. "I look forward to the Bansals' success and doing business with them."
Rochell Hatfield, one of the 60.6 million Americans employed by a small business, is a designer and production worker. Hatfield loves her job because there's always a new challenge. She also enjoys working with the Bansals and the family environment.
"They're like a second family to me," Hatfield said as her daughter plays with Bansal's grandkids. "We have that connection and know each other very well."
The Bansals typically arrive well before the store opens and usually stay later than their official 5:30 p.m. closing time. But when Rajesh gets home, it's time to unwind.
"When I'm at work, I work," Rajesh said. "But once I'm home, I'm done with work. I relax, get comfortable, and switch myself off from the office!"
Reflecting on the grand opening, the Bansals are grateful for the community and look forward to taking care of sign needs for local businesses in and around Lynnwood.
"I appreciate that people came to support us," Punita said. "I feel like a part of the community, like I belong here."
Signarama Lynnwood is located on 4210 196th Street SE and is open from 9 a.m. to 5:30 p.m., Monday through Friday and Saturday by appointment only.
For more information, call 425-361-7452 or follow them on Facebook. Signarama Lynnwood is actively hiring. To apply visit www.signarama.com/locations/wa-lynnwood.