Vildan Kirby ignites a firestorm in Lake Stevens
LAKE STEVENS, Wash., August 15, 2021 – Political uproar hits Lake Stevens as a Facebook post comment by Lake Stevens School Board candidate Vildan Kirby ignites a firestorm of controversy.
The post by a personal Facebook account allegedly used by the Lake Stevens School Board candidate stated, with possible glee, the "flipping off" of children and other attendees at a Medical Freedom protest on Saturday that took place at the intersection of WA-204 and HWY-9 near Lake Stevens' Frontier Village.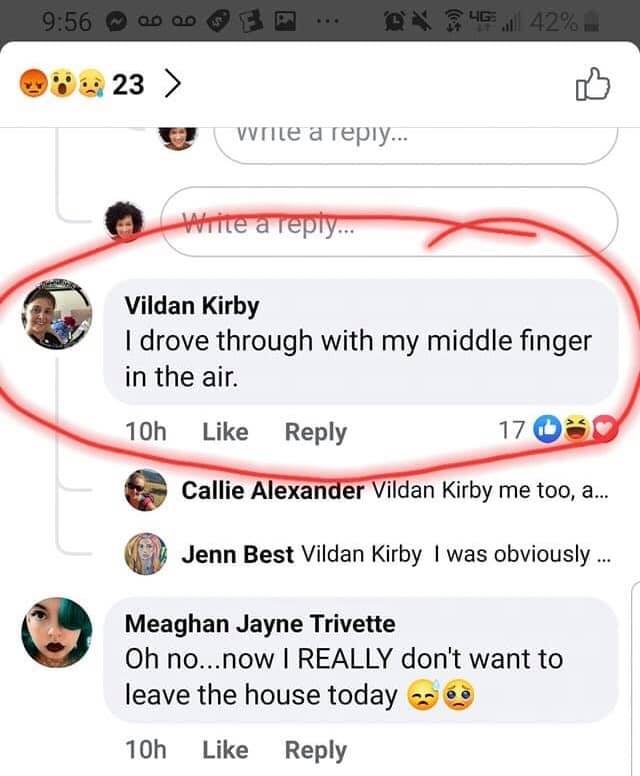 The original post and comment are now deleted and it appears that subsequent posts to various Lake Stevens groups have been removed as well.
"Vildan Kirby deleted my comments and has blocked me after I shared my disgust of her actions at the peaceful protest in Lake Stevens yesterday," wrote Chris Boyles in a Facebook post.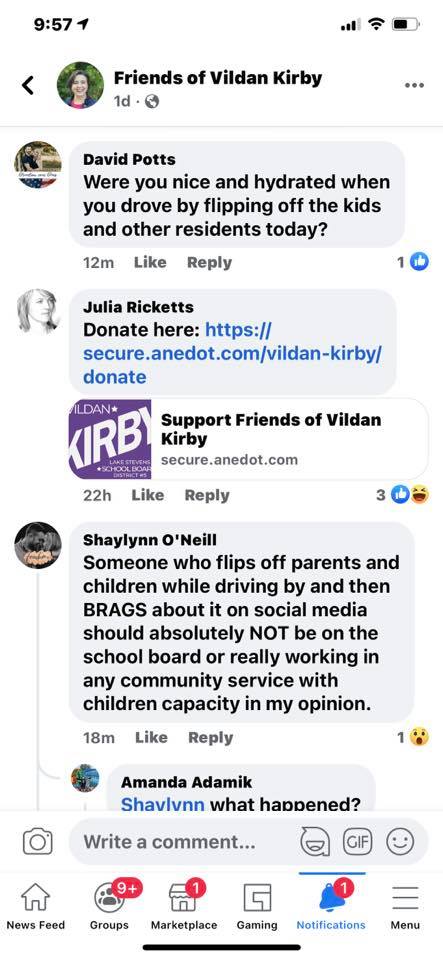 The protest, attended by scores of residents, protested against mask requirements in schools and concerns over the potential of forced COVID vaccinations. Currently, there is no legislation, mandate, nor executive order to force vaccinate Washington residents; however, some colleges such as the University of Washington requires it but there is an exemption for a medical, religious or philosophical reason.
The Lynnwood Times has reached out to Vildan Kirby to clarify her post and intention. As of the time of this article, she has yet to respond.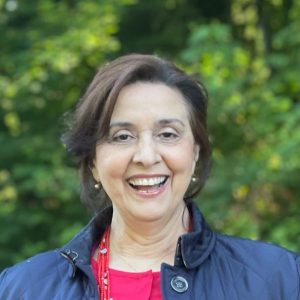 Kirby, 58, is a substitute teacher and according to her campaign website is running on a platform of emergency preparedness, individual student focus and student safety. Her campaign slogan is "Putting children and families first."
She is endorsed by representatives April Berg and John Lovik, Lake Stevens councilwomen Anji Jorstad and Mary Dickinson, and Snohomish Councilwoman and mayoral candidate Linda Redmon.
Many of those upset with Vildan Kirby's statements stated on a Facebook thread that it is unbecoming of "someone running to represent us and our children." Another resident wrote, "she is running to represent us. She's flipping off people in her community that she wants votes from."
Not all comments were critical of the Lake Stevens School Board candidate. One supporting Kirby wrote, "Anti-maskers and anti vaxxers actively make jobs in education harder. This is the nicest way a person could show their frustration."
On August 12, Chris Reykdal, Superintendent of Public Instruction, requested Governor Jay Inslee to issue an executive order requiring all school employees be vaccinated against COVID as a condition of employment. On July 29, Reykdal, in a letter to all school directors and superintendents stated that those school districts that offer full-time in-person learning but fail to enforce face requirements will lose state funding.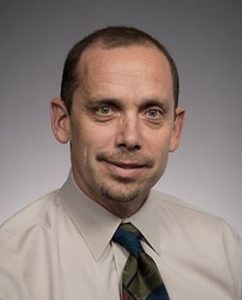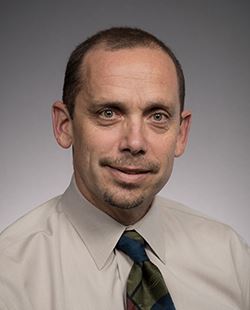 Last Tuesday, Dr. Chris Spitters, Health Officer for the Snohomish Health District, issued a new mask directive effective August 12, that stated everyone 5 years of age and up in Snohomish County must wear a face covering within indoor public spaces.
The mask directive led to a lot more questions than answers with other news agencies misreporting the mask directive as a county-wide mandate. While it is not a mandate carrying legal penalties, it implies a duty to comply.
The CDC has stated that people in high transmission areas (including Snohomish County) should continue to wear a mask indoors to maximize protection from the Delta variant and prevent possibly spreading it to others. According to the statement released by the Snohomish Health District:
"COVID-19 vaccines are safe and highly effective at preventing serious illness and death, but it is still possible to become infected, but at a much lower rate than vaccinated persons—about 80-90% lower. If you become infected, you can spread it to others.
"Masks also help protect the unvaccinated – which includes kids under age 12 who are not yet eligible for vaccines. Unvaccinated people are at a much higher risk of getting sick with and spreading the disease, as well as developing complications from COVID-19."