5th wave hits county… Delta strain!
SNOHOMISH COUNTY, Wash., August 17, 2021 — A county-wide increase of 1,168 new COVID cases since August 9th for a cumulative total of 42,580 since January 2020.  A total of 642 people have died, an increase of 3 deaths within the same period. ICU capacity is at 90% with 75 people currently in county hospitals with COVID.
"We still have over 250,000 unvaccinated people in the county unvaccinated who are eligible for vaccination," Dr. Chris Spitters, Health Officer for the Snohomish Health District, told reporters in today's COVID-19 briefing.  
The Delta strain is a "game changer" for Snohomish County said Dr. Spitters. According to Spitters, a single delta case on average will spread to 5-8 other people, compared to 2-3 people for previous strains, and comprises 20% of new cases.
He also attributes the surge in COVID cases to "reduced implementation and prevention measures over the past couple of months including masking, social distancing, and gatherings."
For the latest case counts from the Snohomish Health District click here.
On August 10, Dr. Spitters, issued a new mask directive effective August 12, that stated everyone 5 years of age and up in Snohomish County must wear a face covering within indoor public spaces.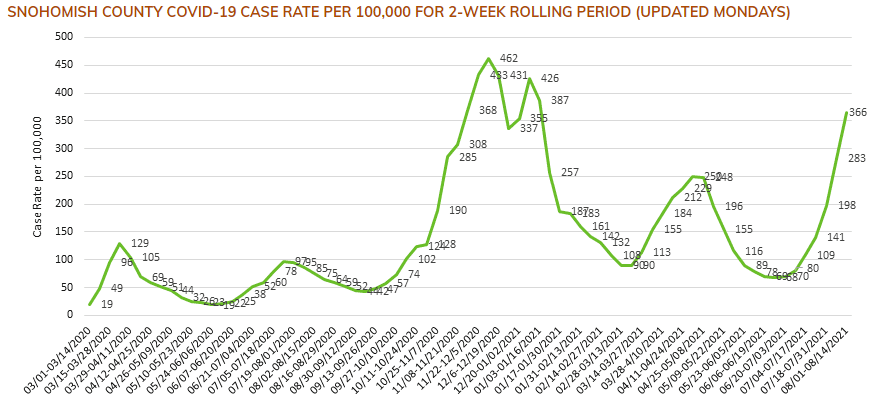 The CDC has stated that people in high transmission areas should continue to wear a mask indoors to maximize protection from the Delta strain and prevent possibly spreading it to others. According to the Snohomish Health District, COVID-19 vaccines are safe and highly effective at preventing serious illness and death, but it is still possible to become infected, but at a much lower rate than vaccinated persons—about 80-90% lower. If you become infected, you can spread it to others.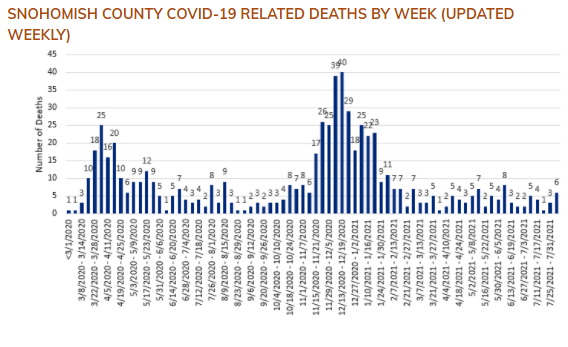 "Masks are primarily about preventing transmission from infected people by covering up the virus at its source," said Dr. Spitters. "Masks also protect those who cannot get vaccinated like the 125,000 children under age 12 who are getting ready to go back to school and not yet eligible for any vaccine."
County Executive Dave Somers shared during the briefing that restrictions on businesses are still on the table, but the priority right now is getting people vaccinated and wearing masks.
"I am comfortable with the current directive [mask] right now," Executive Somers said.