Annual Harvest of Hope Silent Auction & Fundraiser
EVERETT, Wash., September 2, 2021 — Hand in Hand hosts our Annual Harvest of Hope Silent Auction & Fundraiser at Boxcar Park in Everett on Friday, September 10th. Doors open at 6 p.m. and the program begins at 7:30 p.m. We will share inspiring stories of hope, faithfulness, and compassion. Guests will be treated to an uplifting program, a carefully crafted snack box, access to food trucks, lawn games, and more! The cost is $40 per car.
We are proud to bring our Annual Harvest of Hope Fundraiser back for the seventh year in a row. Since March of 2020, Hand in Hand has intensified our community support to meet the needs of those facing hardship due to the COVID-19 pandemic.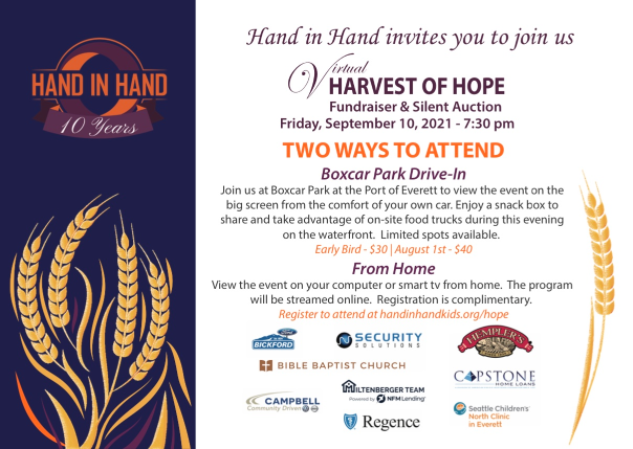 Hand in Hand is aiming to raise $100,000 through our fundraiser to support children and families in need. This year, the need is more critical than ever as Snohomish county residents continue to navigate and recover from life amidst the COVID-19 crisis," said Amber Sosa, Hand in Hand's Grant Manager.
Throughout the pandemic, Hand in Hand has helped 75 families avoid homelessness, provided meals to 19,805 individuals, and clothed 1,956 community members. We have not closed our doors once throughout the pandemic, and we will continue advocating for and supporting families experiencing hardships.
If guests are unable to attend our drive-in viewing option at Boxcar Park, we also offer a free, at-home viewing option. Bidding for the silent auction opens on September 4th at 8 a.m. and closes on September 10th at 8 p.m. You can register in advance by visiting handinhandkids.org/hope. You must be registered in order to bid on auction items.
Hand in Hand exists to foster hope and opportunity for children and families in crisis by providing services focused on protection, provision, and permanence. Through Hand in Hand Safe Place, our Outreach Program, and our newly developed Foster Support Services, we provide extensive resources and refuge to all children and families in need throughout Snohomish County.