Consumers to be charged statewide 8-cent bag fee starting October 1
OLYMPIA, Wash., September 25, 2021 – During the 2020 legislative session, the Legislature passed a statewide ban on single-use plastic bags to reduce plastic pollution. The law was to go into effect on January 1 of this year but was delayed in December 2020 by Governor Jay Inslee due to pandemic-related supply issues and then delayed again on July 13. To view the RCW in its entirety, click here.
The law will prohibit single-use plastic carryout bags and charge a minimum 8-cent fee to consumers for all recycled paper carryout bags and reusable carryout bags made of film plastic. This would apply to restaurants, retail stores, small vendors, festivals, markets, and grocery stores. Starting January 1, 2026, the fee is scheduled to increase to a minimum of 12.6 cents per bag. Consumers can bring and reuse their own bags.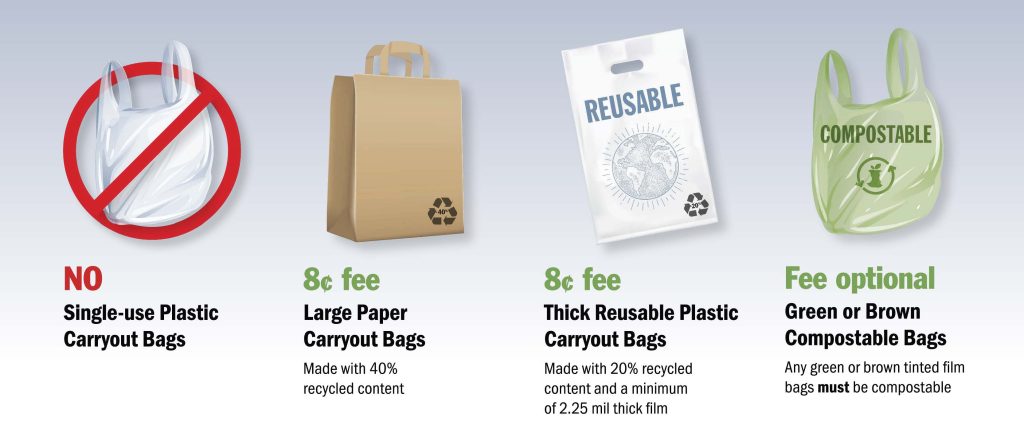 The minimum 8-cent bag charge is for any bag provided to the customer, regardless of whether it is at pickup or point of sale. The bag fee is subject to an additional sales tax since stores are selling the bags to consumers. Below is a list of sales tax rates as of 4Q21 from the Department of Revenue of major cities within Snohomish County:
Lynnwood: 10.5%
Mill Creek: 10.5%
Mukilteo: 10.5%
Edmonds: 10.4%
Mountlake Terrace: 10.4%
Snohomish County (unincorporated): 10.4%
Everett: 9.8%
Marysville: 9.3%
Monroe: 9.3%
Snohomish (city) 9.2%
Lake Stevens: 9%
According to the Department of Ecology, Washingtonians use 2 billion single-use plastic bags per year which poses both physical and chemical threats to the marine environment. When the law becomes effective on October 1, it will:
Prohibit single-use plastic carryout bags in all retail and grocery stores, restaurants, takeout establishments, festivals, and markets.
Require an 8-cent charge for all recycled content paper carryout bags and reusable carryout bags made of film plastic.
The fee may not be collected from anyone using a voucher or electronic benefits card issued under the Supplemental Nutrition Assistance Program (SNAP), Women, Infants and Children (WIC), Temporary Assistance for Needy Families (TANF), or Food Assistance Program (FAP).
Require a minimum of 40% post-consumer recycled content and meet composting requirements in all retail-provided paper bags.
Require that a reusable bag made of plastic film contain 20% post-consumer recycled content and be at least 2.25 mil thick.
Require compliant paper and reusable plastic film bags to be labeled with the above specifications
Create consistent policy and fees across the state.
This ban does not apply to food banks and food assistance programs; however, those programs are encouraged to take actions to reduce the use of single-use plastic carryout bags.
Plastic Bag Ban Enforcement
When the plastic bag ban goes into effect on Oct. 1, 2021, The Department of Ecology established a reporting form for the public to submit an observation of businesses not in compliance with the new requirements. Repeated non-compliance by businesses may result in penalties up to a $250 fine.