Your October 2021 horoscope
Welcome to your October 2021 horoscope by Tony White! If you've survived the "Mercury retrograde" period so far and feel that your equipment, communications, contractual arrangements and travel plans may still be under threat, then you'll be happy to know that Mercury finally turns "Direct" on the 18th of this month. But be cautious, as this could be a high-energy day where things could go awry, simply because you're all pumped up for action after tip-toing with Mercury for too long.
Perhaps the best laid-back day of the month will be around 15th. However, when the Moon is in dreamy Pisces and the Sun is powerfully linked to that, and the ruler of that Sign, the ever-expansive Jupiter; don't be too confident on this day however! Small wonder that your spirits might be so high that they're a little over-extended on the 18th.
Being that Halloween is happening at the end of the month you might think that intensity would be the order of the day then. However, in terms of intensity, we're maybe looking at the 22nd or the 30th for at real glimpse of our darker sides, as the Sun and Moon enter the Sign of Scorpio on those days, respectively!

ARIES: As someone who is somewhat prone to "rush in where angels fear to tread" it could be your cavalier energies are really high on the "Mercury Direct" day of October 18th and 19th. The Moon is actually in your own Sign of Aries that day, so a gut feeling to push on and move forward cold be quite strong.

TAURUS: Taurus is very much the patient "builder" of the Zodiac, where hard work and the putting down of deep roots can be all-important. So plan well for the 18th and beyond, where, because of the "retrograde' effect you're best not committing to anything big until that time is passed.

GEMINI: As very much a verbal and socially active soul, you have probably found the retrograde period harder than ever. Travel plans foiled, communications failing, or you simply not having the right thought or the right words at the right time? Well, cheer up as the 18th and on into the month should be business as usual.

CANCER: Instinctively, you tend to keep your emotions in until your comfort or loved ones is threatened. Hopefully you haven't found too many domestic appliances have broken down, or that urgent delivery to your home delayed? But fear not, as the month unfolds you should find a little more normality to your life and you can look forward to emotionally winding down – at least till "trick or treat" time!

LEO: Respect is a very important thing to you – from others but also for yourself by yourself. So, hopefully the retrograde period has not been too humiliating for you, with plans blocks or promises delayed or diverted for reasons beyond your control. The 18th could be the beginning of a time where you can begin to shine again however.

VIRGO: Worry, worry, and worry! Such is your lot when all those well-laid plans or detailed arrangements prove to be delayed or disrupted by the retrograde energy that's been around. But worry not. With your ruling planet Mercury at last turning "direct" on the 18th, the best laid plans of mice and men can be much more relied on as this month unfolds.

LIBRA: Balance and harmony are really important to you and it's quite possible that those nasty retrograde gremlins have been disrupting a few things around you so far. But panic not; equilibrium should be restored on the 18th, where your flair for creativity or diplomacy could well be on a surer footing that before.

SCORPIO: Hopefully you haven't been making your dastardly Halloween plans too early, as that dark retrograde effect may have been throwing a wrench in the works for you. So keep your thoughts and deeds secret for a little longer this month, at least until the 18th passes and you have a clearer run towards the big day on the 31st.

SAGITTARIUS: Being of a restless nature and always wanting to explore new things and places, this has probably been a frustrating time for you, with plans blocked or communications misdirected. Well, it's definitely time to expand your horizons and contacts after the 18th, when your ambitions may know no bounds.

CAPRICORN: As one who respects tradition and order, it may well has been a trying time for you with so many potential disruptions to your long-term plans during this retrograde period. However, things should brighten up for you after the 18th, where the status quo can hopefully be resumed and you can move forward with a little more certainty.

AQUARIUS: Always unconventional and usually marching to your own beat, you probably can brush through even the most disruptive of retrograde challenges.  But even if you do tend to tread that path less well traveled, you may find your progress is smoother once we get past the 18th this month.

PISCES: As you're always the most likely one to say the wrong thing at the wrong time, or simply misinterpret what others are saying, life has probably pretty normal for you lately. The good thing however is that whereas we can all look forward to that ending on the 18th, you may find that the 15th gives you a special boost where you can live the dream sooner than most people.
OCTOBER Horoscope featured days at a glance…
OCTOBER 1 & 2:  The MOON is in LEO, so you may find that everyone is a little bossy on the turn of the month! Ride the wave of confidence and try to be a little more assertive yourself, if that's not your normal thing.
OCTOBER 3 & 4:  The MOON is in VIRGO on these days, so folks could be a little nit-picky or over critical if you let them. Best cross all the T's and dot the I's at this time, so they have little to complain about.
OCTOBER 5 & 6:  The MOON is in LIBRA, so these are probably calmer days. A great time to be the diplomat and spread oil over troubled waters – or simply spoil yourself with a makeover of some kind.
OCTOBER 7 & 8:  The MOON is in SCORPIO, so probably a time to duck under the radar – or maybe even try to get to the bottom of the passive-aggressive motivations of others.
OCTOBER 9 & 10:  The MOON is in SAGITTARIUS and the Mercury effect pretty much to the fore. So, maybe everyone is a little restless and wayward today – in thought and word if nothing else. Honesty and tolerance is the best policy on a day like today.
OCTOBER 11 & 12:  The MOON is in CAPRICORN, so a day best devoted to business and long-term ambitions. Stability and hard-work can achieve the best results right now.
OCTOBER 13 & 14:  The MOON is in AQUARIUS and VENUS is sextile SATURN, so folks might be somewhat independent and yet serious about relationships at this time. Could be a great day to establish understanding and recognition of boundaries in a partnership however.
OCTOBER 15, 16 & 17:  The MOON is in PISCES and the SUN is eventually square PLUTO, so a time to dream big dreams but not one to enforce your own rules on others – unless you wield that iron fist in a velvet glove that is!
OCTOBER 18 & 19:  The MOON is in ARIES with MERCURY TURNING DIRECT, so a day to start opening up with less chance of delays or disruption. Just don't be too over-confident, or be over-assertive, in the moment however!
OCTOBER 20, 21 & 22:  The MOON is in TAURUS with the SUN entering SCORPIO, so certainly a time to get your head down and put in the effort – although you could be somewhat at odds with yourself in terms of inner motivations.
OCTOBER 23 & 24:  The MOON is in GEMINI, so a good time to reach out, communicate and learn. If in doubt, read a good book or listen to an insightful podcast.
OCTOBER 25, 26 & 27:  The MOON is in CANCER, so the best time to focus on home and family. The nurturing of others, – or yourself – in whatever form is necessary, is somewhat indicated here.
OCTOBER 28 & 29:  The MOON is in LEO again, where we complete the Lunar cycle for the month and return back to where we first started on the 1st and 2nd. So, watch out for those "bossy boots" today – or try not to be one yourself!
OCTOBER 30 & 31:  The MOON is in VIRGO again, so be efficient and tidy in preparing for the big Halloween event – just don't be too nit-picky about it, as you could spoil the fun for everyone else! Happy Halloween everyone!
If you love animation and this October 2021 Horoscope, please support Dr. Horace Scope on Patreon at https://www.patreon.com/Muse2D.
---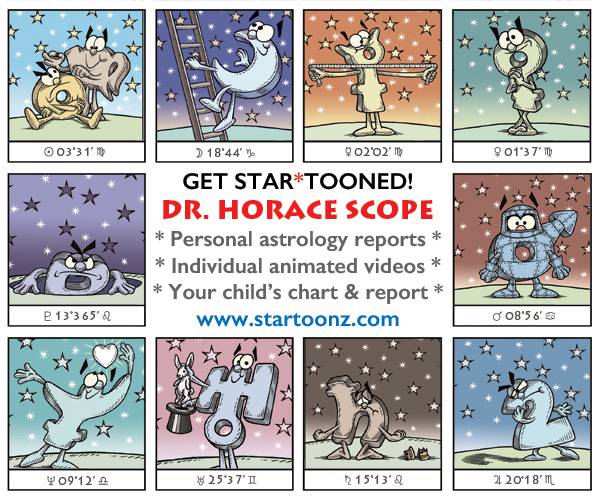 NOTE: Whereas it's popularly believed that astrologers assert that all people of the same Sign of the Zodiac will experience the same things, it is not so.
When we are born our Birth Chart shows specific sensitive points that are unique to us and us alone. Consequently, when the planets move through the Zodiac on a regular basis, they can trigger those sensitive points for us – which of course means that not everyone in a Sign is affected in the same way at the same time.
Therefore it pays us all to know our personal Birth Charts well!