Upcoming Mukilteo City Council meeting
MUKILTEO, Wash., October 17, 2021 – For its 7 p.m. Monday, October 18 REGULAR BUSINESS MEETING the Mukilteo City Council will discuss/vote the following items:
View the full council agenda packet, click here. 
IAFF Local 3482 Vaccination MOU
The impacts of the vaccination mandate on Fire employees who provide health care services (Governor's Proclamation 21-14 and 21.14.1) must be negotiated with the Fire Department labor group (IAFF Local 3482). The IAFF union and the City met twice to discuss the impacts of this mandate and arrive at the MOU presented for Council approval. The MOU identifies key dates and procedures for those employees who may still wish to obtain the vaccine as well as for those who plan to transition from employment. Some highlighted components of this MOU are:
Ability for Fire employees to remain employed using accrued vacation or holiday leave while finishing vaccination process or while planning for transition by Nov. 1, 2021.
Provide transitioning employees options of retirement, voluntary resignation or involuntary separation.
Provide a pathway for rehire of Fire employees if they become vaccinated and wish to request to return
2022 General Property Tax Levy
The proposed Resolution 2021-09 establishes the property tax assessment for the City's needs for the 2022 budget. The Resolution sets the regular levy at $5,820,365.97 including allowable amounts for new construction, state utility values and refunds, as shown below.

The 1% increase equates to an average household impact of $5.96 per year per average home, assessed at $599,600.
Washington State taxing jurisdictions with a population of 10,000 or more may increase property tax collections each year by up to 1%.
The Snohomish County Assessor's office has estimated the assessed valuation of all taxable property within the City of Mukilteo to total $6,038,073,338 which includes $13,468,800 for new construction added during 2021. The proposed property tax levy rate per $1,000 of assessed value decreases from $1.00435549 for 2021 to $0.96394423 for 2022.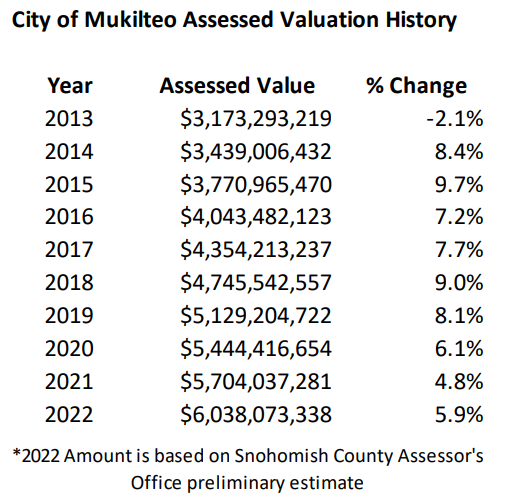 The City can choose to bank the 1% capacity for possible use in a future year, which would reduce revenues into the General Fund for 2022
Mukilteo City Council meeting Time and Location
The council meeting will be 7 p.m. on October 18, 2021. You may attend virtually via Zoom.
For a link to the last meeting, click here.