Local Eat's Spotlight: TAPPED MUKILTEO
TAPPED Mukilteo just opened for business at the beginning of the year. A spot for family, friends, couples, singles, and sports fans, TAPPED pays homage to the Pacific Northwest with its locally sourced menu and seasonal craft beer. I had the Seafood Chowder and the Prime Rib Dip.
First Impressions of TAPPED MUKILTEO
TAPPED Mukilteo is a delicious grub hub just off the Speedway near Kamiak High School. I coordinated with TAPPED's owner, Sean Drought, to meet with him early on a Tuesday morning. As it just opened in February, I reasoned that Drought was likely a busy guy, so I wanted to come in when he was the most available.
One of the first things I noticed about TAPPED was how it was a place of its own — meaning there aren't any other businesses in its lot. This kind of isolation, though, can be both a pro and con, according to Amber, one of the shop's managers. Personally, I like it. The seclusion makes it feel like a kind of oasis — only with seasonal beverages and locally sourced dishes instead of sandy shores and palm trees.
Chatting with TAPPED's owner Sean Drought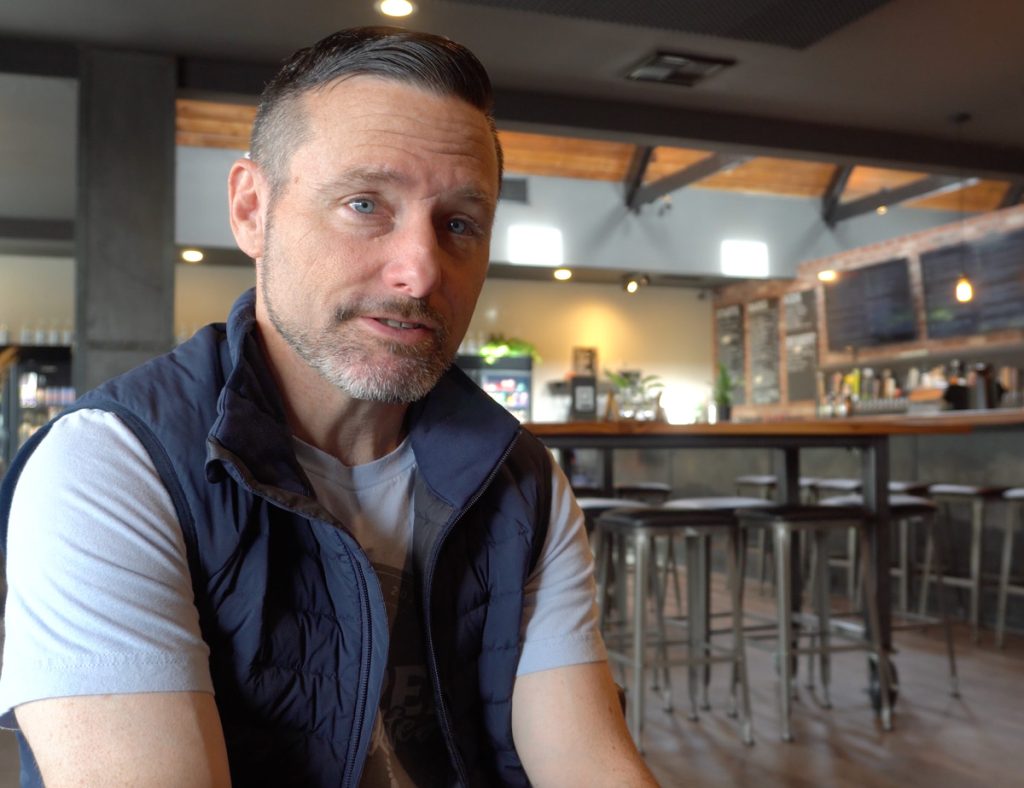 Talking with Sean, it became clear that he has a vision for TAPPED. "It's a welcoming environment," he told me. "It's got sports, but it's not a sports bar. It's got great beer, but it's not a pub. It's got elevated food, but it's not fine-dining. I want people to know that it's approachable, that they can come in for any occasion," And that seems to be the theme for TAPPED — that it provides all the necessary ingredients for its patrons to make it their own.
"It's just a place for everybody," he concluded.
While it is a place for everybody — which I should note how Sean emphasized that TAPPED is family and kid-friendly — I wouldn't call TAPPED "just a place." From what I gathered after talking with the owner and the staff, trying the food, and being in the kitchen, TAPPED is an emulation of its community — capturing both the flavor and spirit of Mukilteo. So I think it's appropriate that the city is in its name.
In addition to being a welcoming environment, TAPPED is an eclectic collection of local flavors. Its claim of serving a Pacific Northwest-inspired menu is substantiated in multiple ways. The first being in the dishes — leaning into PNW staples like seafood and craft beer. Another is the ingredients themselves, and lastly, its focus on community involvement.
As Sean relayed to me, "as far as the menu goes, we try to partner with farms locally. We try to carry seasonal products as far as produce goes. Seafood heavy. Some local ranchers that we get beef from. Local butcher shop we get our meats from. Everything we try to keep as close to home as we can — same thing with the craft beer and the cider."
While TAPPED could have a very extensive menu, given how many ingredients it could pull from the PNW, Sean keeps the selection intimate. "We try to curate it so that when people order something, they know it's going to be good," he says; a wise way to avoid sacrificing quality for quantity.
Another example of how TAPPED emulates Mukilteo is its community involvement, which is Sean's favorite thing about the spot. Speaking to the desire to make an impact on Mukilteo, Sean's home, he said, "that's our goal — is to 'tap' into our community and be able to give back."
And that's not an empty sentiment. TAPPED Mukilteo has participated in multiple community events, including a school supply drive for Mukilteo kids in need, the Lighthouse Festival, and a local charity called Lung Buster, to name a few. And with live performances from local musicians and comedians, its ability to tap into the community is continuously growing.
"As much as we can do, we're going to do," Sean concluded.
THE FOOD
Seafood Clam Chowder: Clams, Cod, Crab, and Baby Shrimp.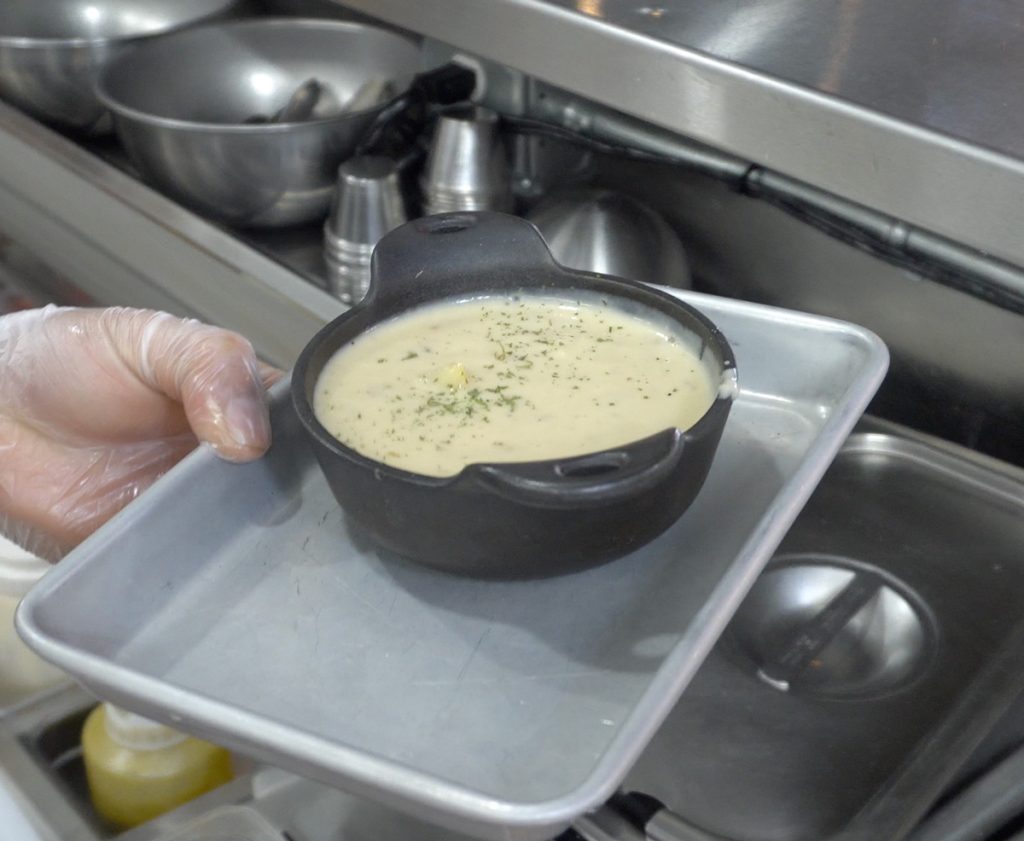 Sean shared with me that their Seafood Clam Chowder is the dish that captures the PNW spirit the most. So I gave it a go, and now I have a new standard for chowder. The texture was hardy, creamy, and smooth, and the flavor was perfectly balanced with just enough veggies to even out the weight of all the seafood. Especially since we're heading into winter soon, I think the Seafood Chowder is a crowd-pleaser.

The Prime Rib Dip: Caramelized Onion, Melted Cheese, Roasted Garlic Aioli, Beef Ju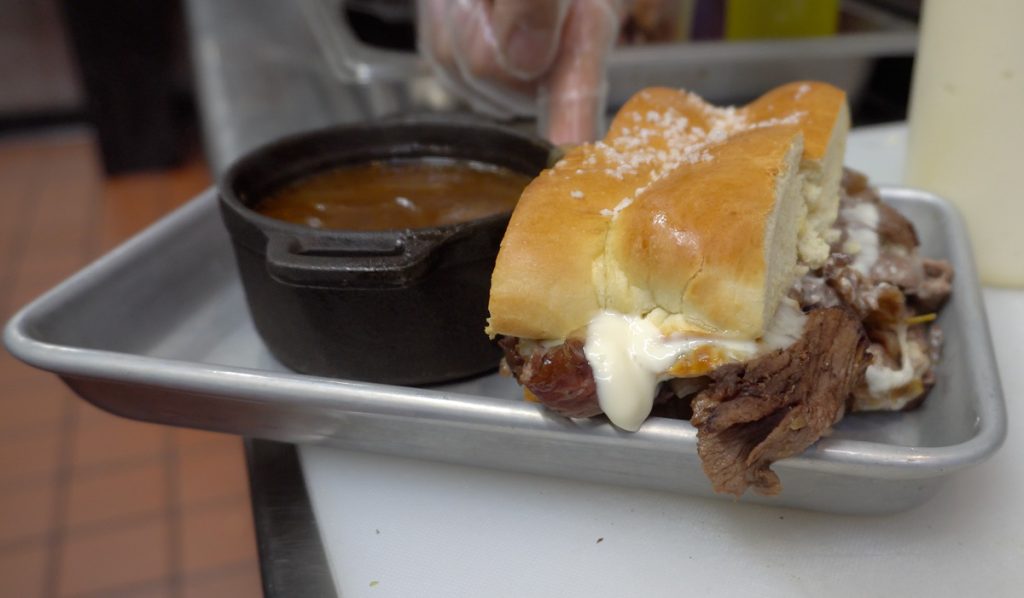 First off, let me say that I have very high standards for sandwiches. It's true I'm a reporter first, but I'm also sort of a foodie with my @bo_thesandwichguy Instagram account. Sandwiches are just my thing — and this thing impressed me. I wasn't prepared for how good the Prime Rib Dip was.
At first glance, I was concerned about the bread falling apart in the dip. I can't tell you how many subs I've had where the bread gets so soggy it almost disintegrates after one dip. But this bread was perfect. It was spongy enough to soak in the Beef Ju but strong enough to maintain its structure.
I was impressed with the quality of every ingredient, actually. I am pleased to report that, while some prime rib sandwiches seek to wow you with humongous portions that overcompensate for their lack of quality, this sub is just the right size to fill you up while also delivering a bold and consistent flavor.
For me, the x-factor of this dish was the salt added to the top of the sandwich. I think it was just your standard big-pretzel salt that you'd find at any sports concession, but that salt accentuated all the other flavors emitting from the sandwich. Really a genius move, in my opinion.
RATING
Before I issue my official rating in this review, I want to touch on the atmosphere and beverage selection.
The interior of TAPPED is open enough to spare customers the cramped feeling but small enough to feel cozy. Amber, the previously mentioned manager, also informed me that just about everything inside the building is new or upgraded. The only things they didn't replace before opening were a big mixer in the kitchen and the tile floor in the kitchen and just behind the bar.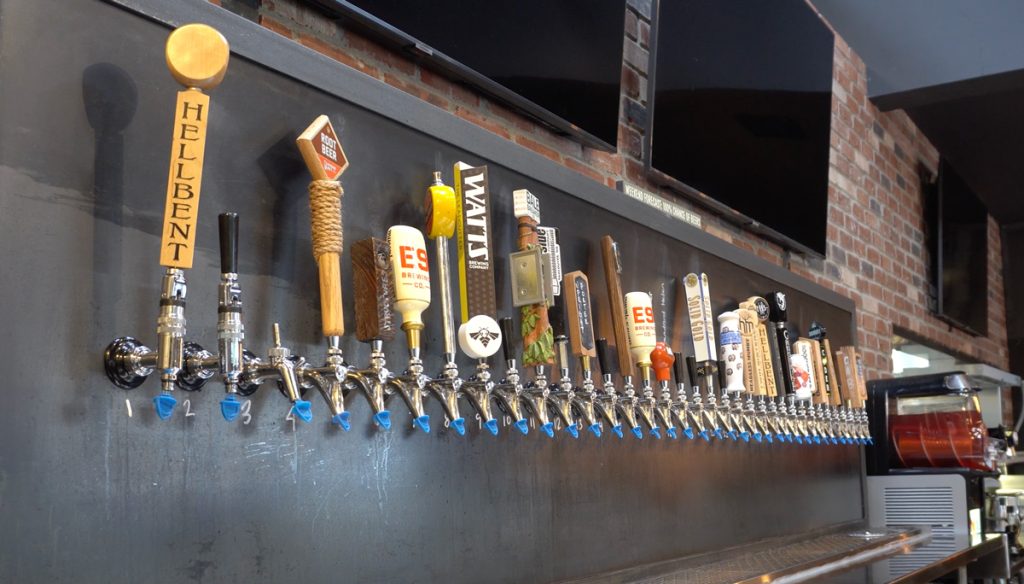 The beverage selection here is top tear as well. In addition to all the tap options, there is a whole wall of canned and bottled beers, wines, and ciders. Amber also informed me that their jockey system is set up to keep the beer chilled at all times (bonus). I really appreciate both the seasonal and local aspects of the selection too.
Ultimately, I'm going to give TAPPED Mukilteo a "10,000 Golden Forks" rating; one fork for each time I said "wow" to myself while I was there.

What's Next for TAPPED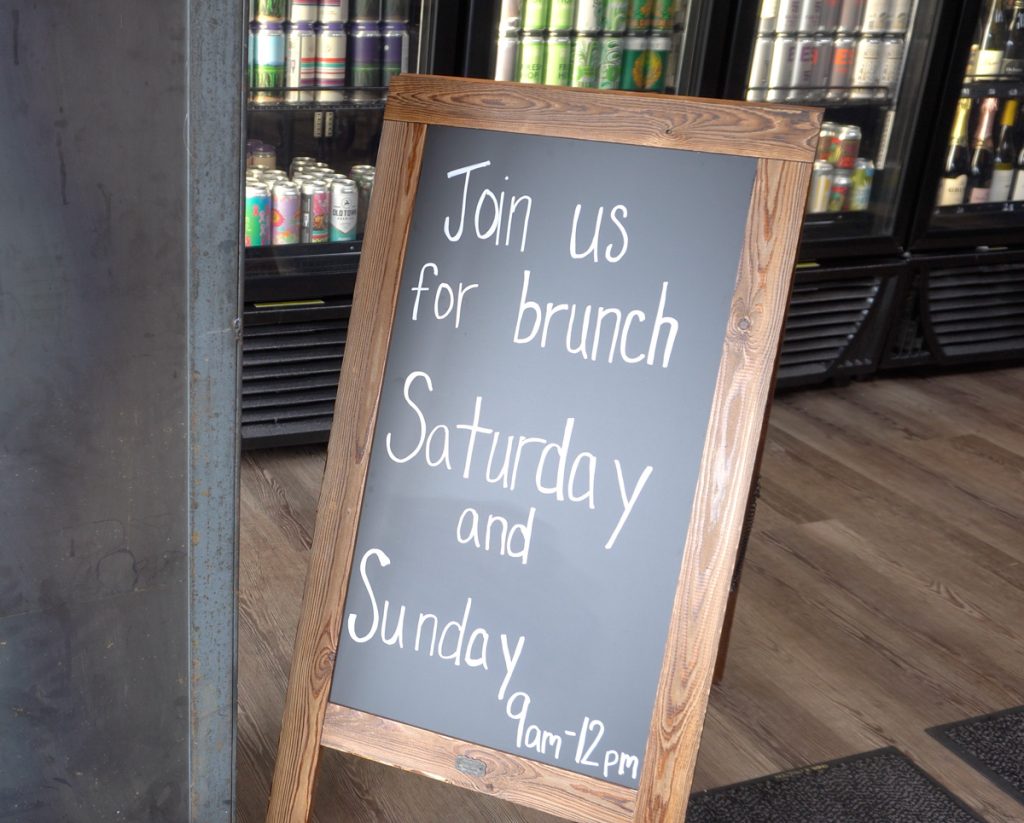 TAPPED is beginning to serve brunch on Saturdays and Sundays from 9 am till noon. Sean also spoke about a new catering program they have for events and parties. After reiterating that they're a kid-friendly establishment, Sean wants to get the message out that they serve quality food. "A lot of people driving by don't know that we have great food," he said, explaining that for some, it may just look like a tap house. He also invited people to come watch Seahawks, Kracken, and Mariners games with TAPPED.
To stay up to date on events at TAPPED Mukilteo, follow them on Instagram: @tappedmukilteo. TAPPED is located at 10809 Mukilteo Speedway, Mukilteo, WA 98275.