Public invited to Day of the Dead event in Lynnwood
Please join us for this celebration of Mexican culture!
The Day of the Dead is one of the most important Mexican holidays. Normally celebrated on November 1 or 2, it is a time for families to honor their departed by creating altars and offering them flowers, food and drink. People also dress as catrinas (skeletons) and write poems (often satirical) called calaveritas literarias (literary skulls).
This Day of the Dead celebration, sponsored by the WAGRO (Washington-Guerrero) Foundation and the City of Lynnwood, features a contest of Altars, Catrinas, and Calaveritas Literarias and is calling for contestants. A jury will determine the winners in each category and the first, second and third prizes have a monetary award.
This event is free and open to the public.
When: Saturday, October 30, 2021, 12-4 PM
Where: Lynnwood City Hall, 19100-44th Ave W, Lynnwood, WA 98036
Sponsors: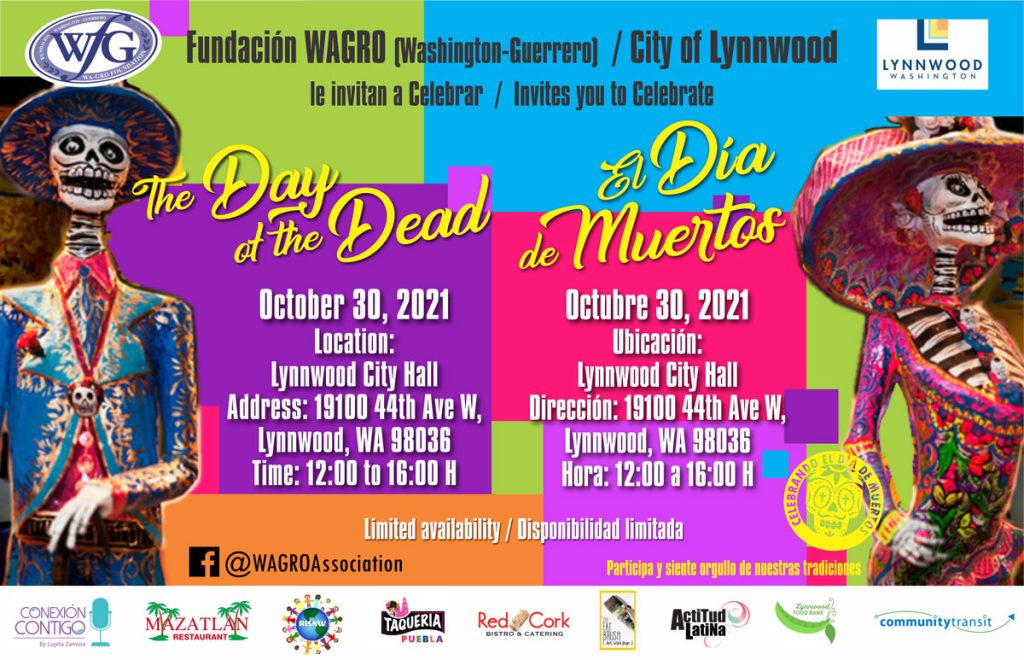 Conexion Contigo Radio
MAZATLAN RESTAURANT -Mountlake Terrace
Taqueria Puebla
Red Cork Bistro & Catering
The Fat Brush: Art workshop
Actitud Latina
The Lynnwood Food Bank
Community Transit
Community Foundation of Snohomish County
Refugee & Immigrant Services Northwest
City of Lynnwood, WA – Government
Those interested in participating email wagrofoundation@gmail.com.
For questions or further information contact: Julieta Altamirano-Crosby at 206-850-2329