Maryland high school teacher Keishia Thorpe wins $1 million Global Teacher Prize
United States teacher Keishia Thorpe, an immigrant from Jamaica who has opened up college education for low-income, first-generation American, immigrant and refugee students, has been named the winner of the Varkey Foundation Global Teacher Prize 2021, in partnership with UNESCO.
According to the Varkey Foundation, the purpose of the Global Teacher Prize is to recognize one exceptional teacher "who has made an outstanding contribution to the profession as well as to shine a spotlight on the important role teachers play in society."
By sharing stories of heroic teachers making a positive impact on young people's lives, the prize aims to "bring to life the exceptional work of millions of teachers all over the world."
This year's Global Teacher Prize contest received over 8,000 applicants and nominations from more than 120 countries. The Varkey Foundation believes that the efforts of teachers across the globe deserve to be recognized and celebrated.
Keishia's win was announced on November 10, 2021, at the UNESCO Headquarters in Paris, France. Her motto to her students is, "Don't let your past affect your future."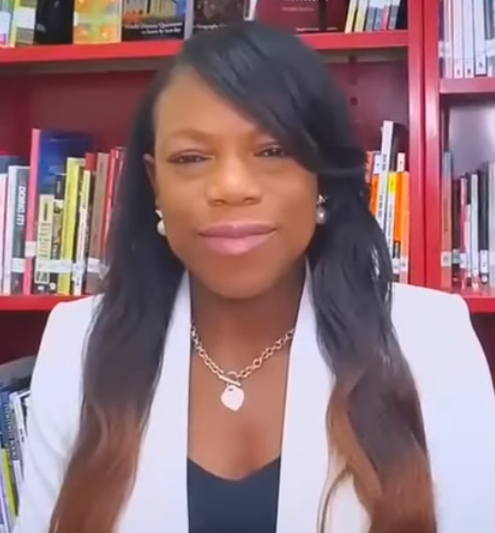 Keishia, an English teacher at International High School Langley Park, Bladensburg, Maryland, was selected from over 8,000 nominations and applications for the Global Teacher Prize from 121 countries around the world.
Keishia Thorpe currently teaches English to 12th-grade students at the International High School Langley Park, Bladensburg, Maryland, United States, a school where 100% of her students are English language learners and 95% identify as low-income. Keishia completely redesigned the 12th grade curriculum for the English department to make it culturally relevant to her students who are first-generation Americans, immigrants, or refugees from mostly Africa, the Middle East, the Caribbean, and South and Central America. As a result of her interventions, her English Language Learners have shown a 40% increase in their reading, which contributed to the school meeting its growth-to-target rate with a 10% increase in WIDA scores for 2019-2020 and the highest in the school district for ELLs.

Keishia dedicates a huge amount of time encouraging her high school students to apply for college, assisting them with their applications and helping them gain fully funded scholarships. She has helped her senior students in 2018-2019 alone, win over $6.7 million in scholarships to 11 different colleges with almost 100% of them going tuition-free.

Keishia's caring goes way beyond the classroom. One of her greatest achievements was to co-found (along with her twin sister, Dr. Treisha Thorpe) U.S. Elite International Track and Field, Inc, a non-profit giving 'at risk' student-athletes across the globe an opportunity to use their talents as a vehicle to access fully funded scholarships to U.S. colleges and universities. U.S. Elite has built a network of U.S. college coaches with whom student-athletes are paired, with a view to earning full scholarships. To date, she has helped over 500 students get full athletic track and field scholarships. U.S. Elite has achieved over 90% college graduation of student members, approximately 20% pursued a Master's degree, and 8% post-graduate degree.

Keishia also established an Annual Scholarship and Athletic Convention, where college coaches and admissions and compliance teams inform economically disadvantaged student-athletes about college admissions and interact with them one-on-one, allowing many to get recruited there and then. Keishia was honoured with the Medal of Excellence from the Governor of the state of Maryland for her work in influencing equitable policies in education and named the National Life Changer of the Year in the entire USA for 2018-2019, an award given to teachers who inspire and go above and beyond for their students and "exemplifying excellence, positive influence, and leadership."
Spruce Elementary teacher one of the finalist
Jennie Warmouth, a second grade teacher at Spruce Elementary, was one of the 50 finalists in a global teacher contest. Warmouth's ability to make standardized curricula personally applicable for her students makes her an outstanding educator.
Back in October Warmouth told the Lynnwood Times was very humble on her nomination and honored fellow educators of the Edmonds School District.
"I feel honored, excited and humbled to be included in the Top 50 teacher finalists worldwide!" Warmouth said upon hearing the news. "I work alongside so many exemplary educators in the Edmonds School District — all of whom are also worthy of this honor."
Warmouth attended the ceremony virtually and is excited for fellow educator and winner Thorpe.
"I am so thrilled that Keisha Thorpe was selected! She is an incredible educator who has devoted her career to improving students' access to higher education. She is a true changemaker and I can't wait to see how her impact is amplified through this global platform."
For a full list of the top 50 finalist, click here.
---
Content Source: Global Teacher Prize