Thanksgiving dinner without the hassle: where to find free or takeout meals
Thanksgiving is a holiday centered on gratitude and food, but it can also be expensive and stressful to spend hours in the kitchen whipping up a feast for friends and family. Luckily for residents in the area, many local businesses are offering to do the heavy lifting.
What better way to say thanks to the emergency workers in our area than to support local businesses while giving yourself an easy, stress-free season for the whole family?
Takeout meals for the holiday
Lynnwood
The following is a list of Lynnwood-based food services that offer ready-to-eat Thanksgiving meals this year for your convenience.
Navi's Catering Kitchen, 5903 196th Street Southwest, Lynnwood, Washington, 98036
Navi's Catering Kitchen will be providing hot, made-from-scratch, family-style meals on Thanksgiving day between 11 a.m. and 6 p.m. The meals include herb-roasted turkey (pre-carved dark meat and white meat), honey-glazed ham, dinner rolls with sweet honey butter, cranberry jelly, turkey gravy, and individual pecan pies.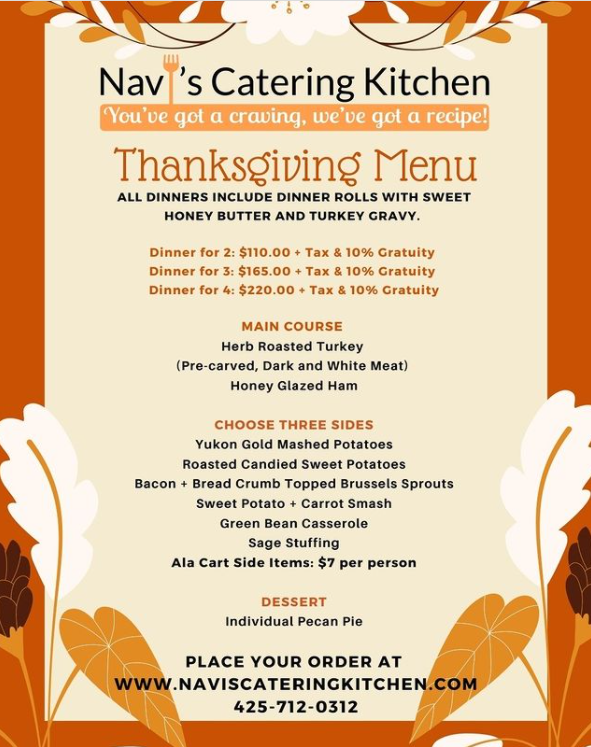 To order a dinner package, click here and select your pickup time slot and three sides from the following options:
Garlic mashed potatoes
Candied sweet potatoes
Roasted Brussel's sprouts topped with bacon and homemade breadcrumbs
Sweet potato and carrot smash
Greenbean casserole
Traditional sage stuffing
As well as the three sides included in a meal package, additional sides can be purchased for $7 per person, and sweet cream berry biscuits can be added on for $3 per person.
Dinner package prices are as follows:
Dinner for two: $110 (plus tax and 10% gratuity)
Dinner for three: $165 (plus tax and 10% gratuity)
Dinner for four: $220 (plus tax and 10% gratuity)
Meal packages are built for two people minimum and as many packages can be purchased to meet the needs of any family size.
For more information or to place your order, visit www.naviscateringkitchen.com.
Chef Dane Catering, 19514 44th Ave W #A, Lynnwood, WA, 98036
Chef Dane Catering will be offering Thanksgiving catering meals including roasted turkey with sage gravy, classic creamy mashed potatoes, traditional stuffing with celery and onions, roasted Brussel Sprouts balsamic with pine nuts, harvest salad (mixed greens, roasted delicate squash, pepitas, dried cranberries, and apple cider vinaigrette), orange zest cranberry sauce, and molasses oat rolls.
Dessert options include pumpkin cheesecake with a chocolate crust ($8 per slice /$60 whole pie), cranberry tart with orange glaze and an almond crust ($8/$60), and seasonal cookies and bars ($30 per dozen).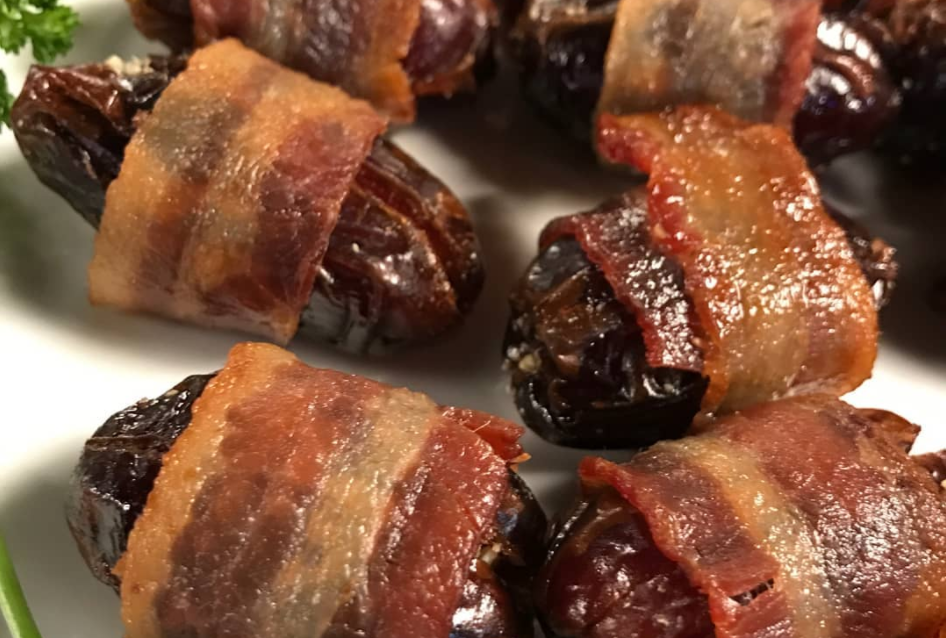 Additional addons can also be purchased, including the vegetarian entree quinoa stuffed delicate squash with parmesan and pecans ($8), bacon-wrapped dates stuffed with blue cheese ($36 per dozen), spinach artichoke dip crostini ($16, serves four).
Catered Thanksgiving meals from Chef Dane are $35 per person and must be ordered by Monday, November 22. Meals can be picked up at their kitchen in Lynnwood on November 24, between 3 p.m. and 6 p.m. or delivered for a $15 charge.
For more information or to place your order, visit http://www.chefdane.com/.
Whole Foods Lynnwood, 2800 SW 196th ST Ste 100, Lynnwood, WA, 98036
Whole Foods location in Lynnwood are offering take-out Thanksgiving meals for families of 4 to 12.
The dinner for twelve includes a classic whole roasted turkey, spiral sliced ham, green beans and roasted shallots (vegan), creamed spinach and kale, roasted butternut squash with cranberry and sage (vegan), creamy mashed potatoes, traditional herb stuffing, turkey gravy, spiced brown sugar ham glaze, cranberry orange sauce (vegan), brioche rolls, apple pie, and pumpkin pie – all for $299.99.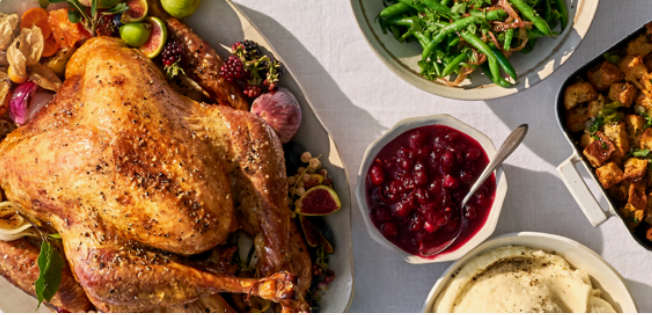 The dinner for eight includes a salt and pepper prime rib roast, creamed spinach and kale, cider-roasted Brussels sprouts and pepitas, truffle parmesan mashed potatoes, and red wine just – all for $229.99.
The dinner for four includes beef wellington, creamed spinach and kale, cider roasted brussels with pepitas (vegan), truffle parmesan mashed potatoes, and red wine jus – all for $139.99.
Whole Foods is located at 2800 SW 196th street in Lynnwood. Thanksgiving meals must be placed 24 hours in advance and can be ordered at https://www.wholefoodsmarket.com/.
City of Snohomish
Trails End Taphouse and Restaurant, 511 Maple Ave Ste. B, Snohomish, WA, 98290
Trails End Taphouse and Restaurant will be closed on Thanksgiving Day but is offering to-go Thanksgiving meals that can be picked up Wednesday, November 24. Their meals include turkey, cranberry sauce, mashed potatoes, green bean casserole, milk rolls, and stuffin' muffins. Dessert options can also be added, including pumpkin cheesecake and peanut butter pie. The price is $40 per person.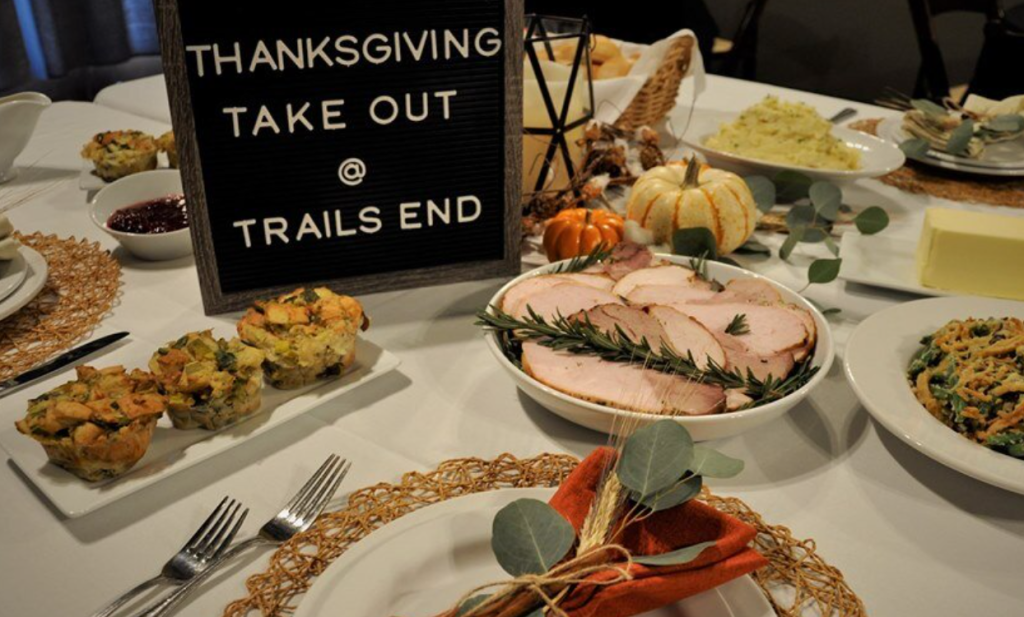 To submit an order, visit https://trailsendtaphouse.com/thanksgivingdinnertogo and a member of their catering staff will reach out to you Tuesday, Wednesday, or Thursday for payment.
City of Everett
Emory's on Silver Lake, 11830 19th Ave SE, Everett, WA, 98208
Emory's on Silver Lake will be serving Thanksgiving dinner at their restaurant in Everett from 12 p.m. to 6:30 p.m. on Thanksgiving Day. The Thanksgiving menu includes roasted turkey with turkey gravy, savory sage dressing and cranberry chutney, accompanied with bistro mashed potatoes and seasonal vegetables. The price is $36 per adult and $18 for children under 12.
They are currently accepting reservations for parties 12 or under. To check availability, call 425-337-7772. To view their entire menu, which will also be available Thanksgiving Day, click here.
Edmonds
Demetris Woodstone Taverna, 101 Main Street, Edmonds, WA, 98020
Demetris Woodstone Taverna is offering "reheat n' serve" Thanksgiving meal kits this year which include all of the following items (modifications can not be made):
Roasted turkey breast
Turkey leg confit
Sliced honey glazed ham
Seasonal salad
Four cheese baked mac
Vanilla yam puree
Garlic mashed potatoes
Country gravy
Brioche truffle stuffing
Bacon jam fried brussels sprouts
Orange cranberry sauce
Fresh baked rolls with honey butter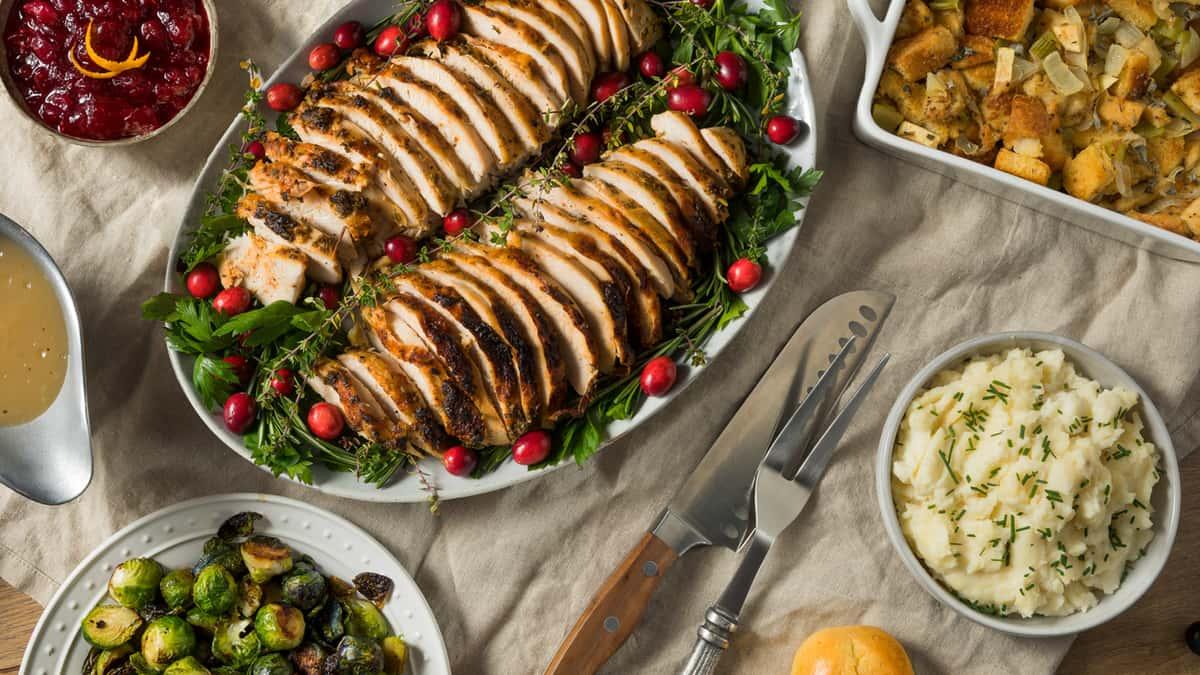 Customers can also choose to add on apple pie and wine options. The price is $47 per person with a 4 person minimum. Pre-order your meals by Tuesday, November 23, and pick up Thanksgiving Day between 10 a.m. and 2 p.m.
Demetris urges whoever is interested to place their orders quickly as quantities are limited. To order, click here.
Free Meals around Snohomish County
The past year has been a trying time for many, but no one should be left hungry on Thanksgiving or any other day.
For those in search of free meal services in Snohomish County, the following services are available, many of which would not be made possible without the hard work and donated time of their volunteers.
Everett
The Volunteers of America will be holding a drive-thru Thanksgiving at the Everett Mall from 2-5 p.m. on Friday, November 12, and Friday, November 19.
Free Thanksgiving meals will also be given away at the Everett food bank on Broadway, compliments to the Volunteers of America, on November 15, 17, and 18 from 10:30 a.m. to 3 p.m.
The Volunteers of America are always looking for volunteers to aid in their over 400 programs and services throughout the nation. If you are interested in helping, visit www.voa.org/find-an-office.
Edmonds
Westgate Chapel Church is happy to announce that they are returning to host their free Thanksgiving dinner on 22901 Edmonds Way. The event is free, offering a homemade Thanksgiving dinner including turkey, mashed potatoes, gravy, vegetables, and pumpkin pie. Everyone is invited and welcome. The church urges those interested to arrive early as there are no reservations.
"We look forward to seeing many families gather together at our table," Susie Pravitz of Westgate Chapel said.
The Edmonds Food Bank is currently looking for volunteers to help Mondays and Tuesdays and drivers to pick up food 7 days a week. It takes over 150 volunteers and over 3,000 volunteer hours to keep the Edmonds Food Bank running. You can download an application and background check by visiting https://edmondsfoodbank.org/volunteer/, and you can donate to the food bank on weekdays from 9 a.m. to 3 p.m.
Edmonds Food Bank will be distributing food Monday, November 22, from 3-5:30 p.m., and Tuesday, November 23, from 9 a.m. to 12 p.m. before Thanksgiving. Delivery options are also available to ADA Edmonds area residents or those 60 years or older.
Lynnwood
Lynnwood Food Bank will be offering free Thanksgiving meals on Saturday, November 20, from 9 a.m. to 1 p.m. by last name. Below is the schedule for meals:
9 a.m. to 10 a.m.; S-Z
10 a.m. to 11 a.m.; M-R
11 a.m. to 1 p.m.; A-F
The food bank is currently looking for volunteers to help sort dry goods and organize the food bank on Mondays, sorting fresh and frozen on Tuesdays and Wednesday mornings, and distributing food on Wednesday and Friday mornings. For information on signing up, visit https://www.lynnwoodfoodbank.org/get-involved.
To be Featured
If your business or organization would like to be added to the page, email the Lynnwood Times at editorial@lynnwoodtimes.com.