Sound Transit Board to hold first Elected Leadership Group meeting for Everett Link Extension on Nov 29
Sound Transit will hold its first Elected Leadership Group (ELG) meeting on November 29th from noon to 2 p.m. as part of the first phase of Alternatives Development of Everett Link Extension. The meeting will be the first of six meetings to be held through 2022.
The ELG is composed of Sound Transit Board members and other local elected officials in the corridor. The purpose of the group is to build consensus around key decisions and work through project issues as needed. The ELG will ultimately make recommendations to the Sound Transit Board to aid the Board's identification of a preferred alternative and other alternatives to move forward for environmental review.
The November 29 ELG meeting will take place as a video and telephone conference due to ongoing COVID-19 precautions. Information on how to watch or hear the virtual meeting can be found at the link below:
https://www.soundtransit.org/get-to-know-us/news-events/calendar/elected-leadership-group-meeting-1-2021-11-29
The Everett Link Extension adds six Snohomish County stations to the growing light rail network. The 16-mile project extends Link service north from Lynnwood City Center to the SW Everett Industrial Center, SR 526/Evergreen Way, and to Everett Station. Light rail will provide fast, reliable connections along one of the state's most congested freeway corridors. Because this is both the longest and northernmost project in the Sound Transit system, Sound Transit and partner agencies are laying groundwork together now. Through December 10, Sound Transit is seeking public feedback during the early scoping process, with additional public involvement opportunities throughout 2022.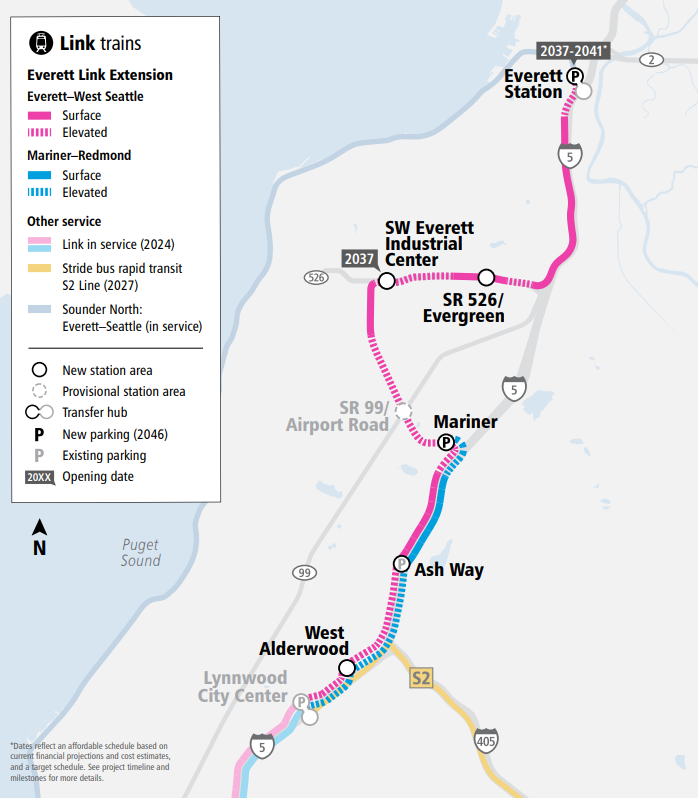 The Everett Link Extension project will travel through the communities of Lynnwood, unincorporated Snohomish County and Everett. The expanding regional transit network will be part of a 116-mile network extending regional light rail from Everett to Tacoma, and from densely developed Seattle neighborhoods to Redmond and Issaquah. To provide feedback during the early scoping process and to learn more about Everett Link Extension, please visit https://everettlink.participate.online/