Lynnwood Times gives back
LYNNWOOD Wash., December 16, 2021 – Yesterday the Lynnwood Times presented a check in the amount of $250 to the Lynnwood Food Bank to support their efforts in ensuring that no Lynnwood resident goes without food.
"The Lynnwood Food Bank helped me out when I needed it," Mario Lotmore, Publisher and owner of the Lynnwood Times said. "The least I can do is it give back to help others.
"I am an operations guy. Alissa and her crew have an impressive efficient and well-organized operation. The volunteers are polite and respectful. Lynnwood is blessed to have such great people putting others before self."
Alissa Jones, Executive Director of the Lynnwood Food bank, shared with Lotmore that next Wednesday is going to be one of the busiest days of the year.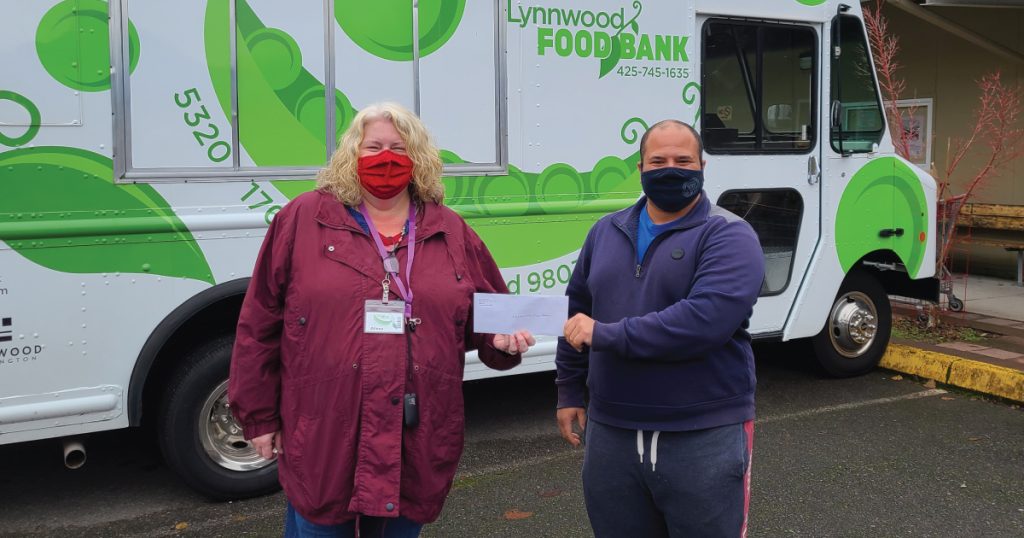 "We have a lot of hams and turkeys to give everyone," Jones said. "What would really help this time of the year is monetary donations. We know the food preferences and where to get it."
Jones shared that hopefully next year the Food bank will offer Ethiopian, Spanish, Korean, and Slavic food choices.
The facility distributes food on Wednesdays from 11 a.m. to 5 p.m. and Fridays from 10 a.m. to 1 p.m. If you would like to volunteer visit https://www.lynnwoodfoodbank.org/get-involved.
To donate to the Lynnwood Food Bank, click here or call 425-745-1635.