Everett Mayor Cassie Franklin appointed to Sound Transit Board
SNOHOMISH COUNTY, Wash., December 23, 2021 – Snohomish County Executive Dave Somers and the Snohomish County Council have appointed Everett Mayor Cassie Franklin to the Sound Transit Board of Directors, effective January 1, 2022. Mayor Franklin will fill the seat of outgoing Everett City Councilmember Paul Roberts, a longtime member of the Board and advocate for Snohomish County residents.
"Mayor Cassie Franklin is a strong partner, well-respected regional leader, and effective advocate for better transit options for Snohomish County's residents," said Snohomish County Executive Dave Somers. "I look forward to working with her to ensure that Link Light rail is delivered as quickly as possible for our residents, while keeping a close watch on budgets. I thank Paul Roberts for his expert guidance and nuanced understanding of our regional transit system. The entire region is better because of his work on the Sound Transit Board."
Sound Transit is governed by an 18-member Board made up of local elected officials proportional to the population included in the Sound Transit district. Three members are from Snohomish County; 4 from Pierce County; and 10 from King County. The last seat is held by the Washington State Secretary of Transportation. Executive Somers and Lynnwood Mayor Nicola Smith are the two other Board Members from Snohomish County.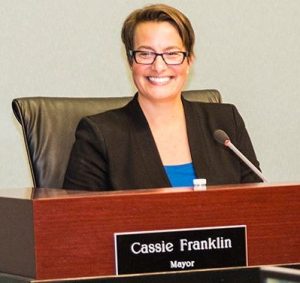 "I am honored to join Sound Transit's Board of Directors, especially at such an important phase in the planning and execution of the Everett Link Extension," said Cassie Franklin, Mayor of the City of Everett. "I'd like to thank Councilmember Paul Roberts for representing Everett's interest on this Board for so many years. As I join this board I will work hard and be a fierce advocate to ensure the light rail extension reaches our community as quickly and cost-effectively as possible!"
Mayor Cassie Franklin was first elected to the Everett City Council in 2015, elected Mayor in 2017, and reelected in 2021. In addition to being Mayor of the largest city in Snohomish County, she serves on the Puget Sound Regional Council, the Economic Alliance Snohomish County Board of Trustees, and the Executive Board of Greater Seattle Partners. In 2018, she was appointed by Governor Jay Inslee to the Choose Washington New Mid-Market Airplane Council and was one of just 36 individuals selected to participate in the Department of Defense's prestigious Joint Civilian Orientation Conference.
Sound Transit builds and operates regional transit service throughout the urban areas of Pierce, King and Snohomish Counties. Transit services include Link light rail; Sounder trains; ST Express Bus; Tacoma Link light rail; and soon, Bus Rapid Transit. With voter-approval, Sound Transit is in the process of planning and building the most ambitious transit expansion in the country.
Content Source: Snohomish County Press Release