Lynnwood Times Person of the Year: Executive Director Van Dinh-Kuno
LYNNWOOD Wash., January 6, 2022 – The Lynnwood Times proudly presents the 2021 Person of the Year Award to Van Dinh-Kuno, the Executive Director of Refugee & Immigrant Services Northwest (RISNW). For over three decades, Dinh-Kuno has helped thousands of immigrants and refugees across Snohomish, Whatcom, Skagit, San Juan, and Island Counties.
Dinh-Kuno's efforts have been especially crucial in 2021, given the events that took place in the fall. After President Biden withdrew all American troops from Afghanistan, hundreds of refugees arrived in the state. Under Dinh-Kuno's direction, RISNW has been providing essential services for these displaced families as they work to make Washington their new home.
"You know, I thought I've just been doing my job. And I didn't believe people recognized my work and my contributions to our community. So I'm just speechless. I don't know what to say," Director Dinh-Kuno said upon accepting the 2021 Person of the Year Award. 
"This is really, really, the highest honor in my career."
Statements from Governor Inslee, Executive Somers, and Lynnwood Councilwoman Altamirano-Crosby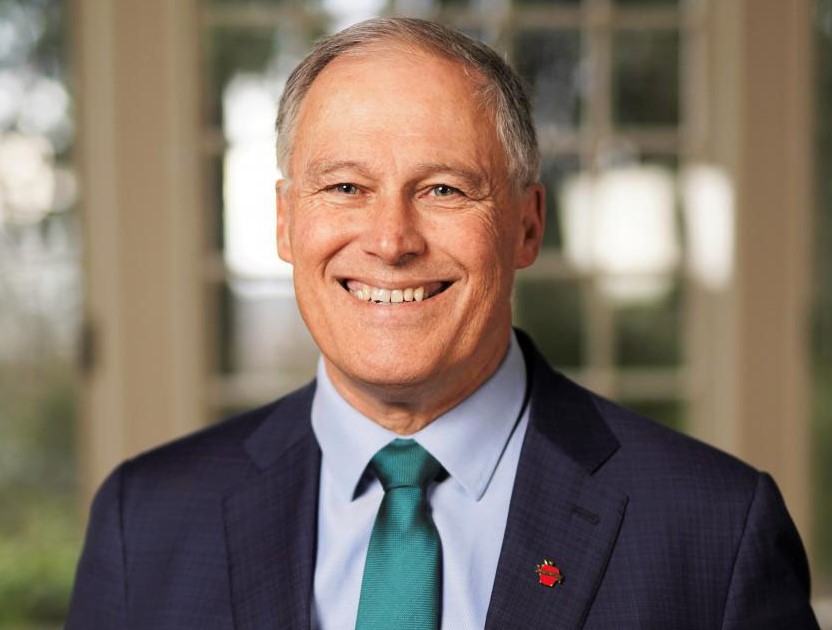 The Times is not alone in honoring Van Dinh-Kuno's work. Governor Jay Inslee also recognizes her years of service. "Van Dinh-Kuno is someone who has made a lasting impact in the lives of many," said Gov. Inslee.
"Over the years, she has worked diligently to bring voice and visibility to the needs and priorities of our diverse ANHPI communities. She has been hands-on in Olympia, a key organizer in the annual ANHPI Lobby Day, bussing thousands of Washingtonians to Olympia and connecting them with their elected officials so their voices can be heard."
"Her influence has helped make Washington one of the most welcoming and supportive states for immigrants and refugees, ensuring we are first in line to receive refugees in need, and promoting continued investments into a social safety net providing vital resources," he continued.
"She understands the urgent needs of ANHIP's that have only deepened during the COVID-19 pandemic and has been in the front lines providing direct support to people who experienced acts of violence or discrimination in the rise of anti-Asian hate. Washington is a better state because of Van Dinh-Kuno and her work," Gov. Inslee concluded.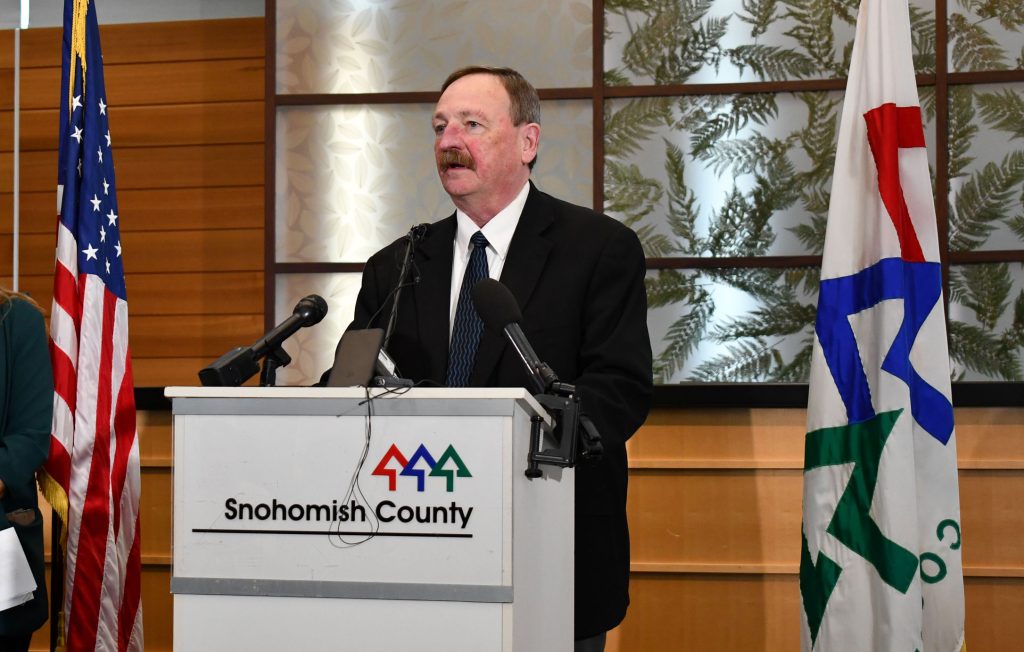 ​​Snohomish County Executive Dave Somers also commented on the Lynnwood Times' 2021 Person of the Year. "Van Dinh-Kuno represents all that is great about Snohomish County and the Pacific Northwest," he said.
"She is compassionate, a tenacious advocate, a true public servant, and someone who has made our community safer, more welcoming, and a better place for everyone. Her work at Refugee and Immigrant Services Northwest has been transformative for hundreds of thousands of people who needed help in starting their new life in America. I am grateful for her unrelenting passion for helping some of our most vulnerable neighbors."
"This honor is well deserved," Exec. Somers continued. "On behalf of Snohomish County, we congratulate Van and her extraordinary staff at RISNW."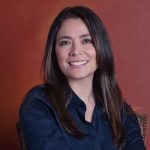 Lynnwood Councilwoman Julieta Altamirano-Crosby recalled working with Dinh-Kuno as a Spanish interpreter for her first job in the United States several years ago.
"Van is an extraordinary leader and mentor," Altamirano-Crosby said. "She always follows through, and we share a common goal to serve our community to make tangible changes. I appreciate her friendship, her trust, and her values. We still work together providing vaccines to BIPOC communities through Covid-19 Vaccine Equity Partnership (VEP)."
Dinh-Kuno thanks her incredible staff
Dinh-Kuno also made it a point to recognize her phenomenal staff at RISNW, all of whom were once refugees themselves. 
"The job I've done, I haven't done alone," she said. "I have a team of staff, and they are incredible. And I think they should be honored." 
"All of my staff—they are first-generation refugees," she continued, explaining how they fled from various wars. 
"One of my senior staff members came from Bosnia. She lived during the wars. There were rockets shooting in her area every single day. She witnessed death every single day of her life. Her name is Vahida Polovina," she said.
Polovina has not only been able to "overcome all that sadness," as Dinh-Kuno explains but has also earned the trust of countless other refugees. "All of the refugees come to her regardless of what country they're coming from," Dinh-Kuno said. 
"Another refugee on my staff, Kamal [Acharya], lived 20 years in the refugee camp in Bhutan before he was able to migrate here to the United States," she continued. "But you know, all of my staff, they never look back. They're looking forward to better themselves, and they are at the forefront, helping every refugee who walks through the door of my agency." 
"I am a former refugee. I came from Vietnam."
When Director Dinh-Kuno met with Lynnwood Times' staff to share some details for our report on Afghan Refugees, another story emerged.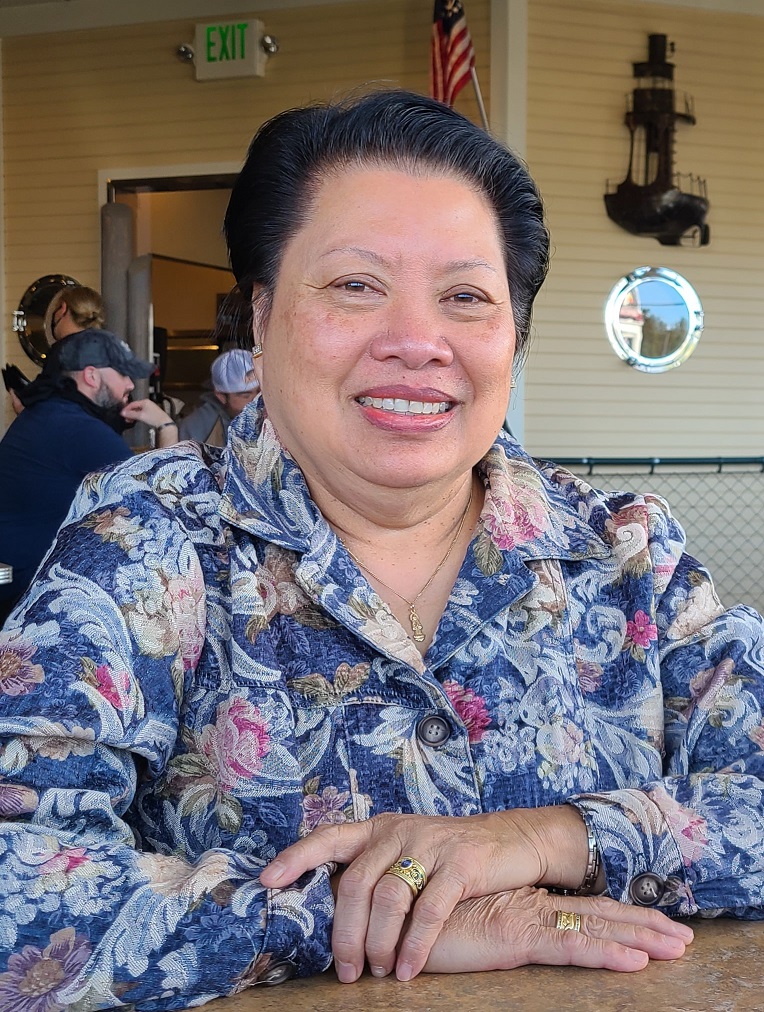 It was the beginning of November, and we sat down with Dinh-Kuno at a corner booth in Mukilteo's Speedway Cafe. Over coffee and orange juice, she explained to us the plights of the Afghan families coming into the U.S. with nothing but the clothes on their backs.
She also shared personal anecdotes about helping Iraqi women obtain driver's licenses in the '90s, pressing people in power to give COVID-19 vaccines to refugees and immigrants, and helping individuals on their long pathway to citizenship. We were amazed by her wealth of knowledge, experiences, and decades of dedication to serving the underserved. 
There was a brief pause in the conversation as we processed the impact she must have made throughout her career. We asked what inspired her to start helping refugees and immigrants. "I am a former refugee. I came from Vietnam. I escaped like the Afghan people have escaped," she answered.
"I'm thankful I came to this country [when I was] much younger, so I had the opportunity to go through the education system of this country and succeed. I came with my parents, my grandmother, and my ten siblings."
Escaping Vietnam
When she was just a teenager, Dinh-Kuno undertook an incredible exodus from a war-torn Vietnam. Bringing a large family safely across the globe is no small feat, and Dinh-Kuno says they could not have done it without her father's leadership. 
Her father, Colonel Hoi Dinh of the Vietnamese Artillery Army, was adoringly referred to by his children as "The Sergeant."
"You have to understand, you grow up in a military family, right? Your father is just like a Sergeant; he tells you what to do, and if you follow the orders, you will survive. That's what it is," Dinh-Kuno said. 
"The Sergeant" leads his family through Saigon Harbor's Gates.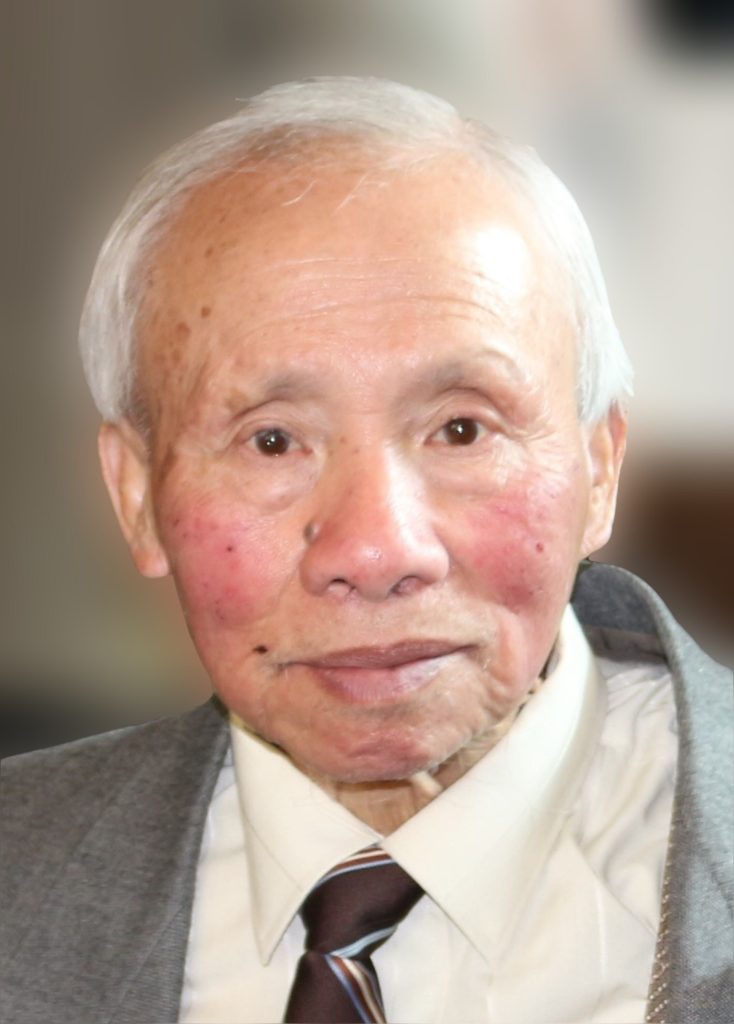 As she related to us how her family traversed a vast crowd at Saigon Harbor in Vietnam, it was clear that her dad was her hero. "When we escaped, my father was in full uniform with insignias and a gun on his hip. He was charging ahead because you have to see [through] a sea of people around you," she said as her eyes glowed with the light from the cafe's window.
Decades later, she still remembers the orders her father gave that day. "He told my older brother, 'you take care of grandma.' He told his wife, 'you're taking care of the younger one,' and he told my second [oldest] brother to take care of his two younger brothers. He told me I had to take care of my two younger sisters, who were a couple years younger than me. And he told my other sister, 'you're taking care of one sister,'" she said. "And so that's how we were able to get through the gate at Saigon Harbor." 
Her father's military status was also instrumental in getting their family through the harbor. "He brought out his [military identification] and the American Military Police opened the gate, and they allowed us to go through," she explained. 
Lost in the Pacific Ocean
Though they were relieved to have made it onto a boat together, their time at sea wouldn't be easy. Dinh-Kuno recalls being lost in the Pacific Ocean for eleven days and running out of fuel and food. 
"We didn't have much water or food, so some of the people in my boat died. We didn't know where we were going, and we went in circles with a storm pounding on us," she said, thanking God that the storm inadvertently kept them alive with the rainwater it provided.
After eight days on the water, a U.S. helicopter flew over them. U.S. Navy boats came to their rescue just a few hours later. "The [U.S.] Navy boats came out, and they pumped fuel to our boat and gave us canned food and crackers," Dinh-Kuno said. 
"They gave us canned food, and they didn't give us a can opener, and some people used knives and were pounding on the cans and got cut and things like that," she recalled with a chuckle. 
From the Philippines to Guam, from Guam to America
The U.S. Navy officials pointed them towards the Philippines, and Dinh-Kuno and her family would arrive at Subic Bay three days later. Thanks to her dad's connection with the U.S. government, they were loaded onto a C-130 cargo plane and flown to Guam. 
"We stayed in Guam for a week. They gave us all the immunization shots—we had no privacy whatsoever," Dinh-Kuno said, describing a large table at which they were instructed to sit and remove their shirts. "You'd just take your shirt off, and they'd inject you, and we didn't even know what we got," she recalled.
After a week in Guam, Dinh-Kuno and her family were transported to America. "They transported us to Arkansas. We stayed in the refugee camp for four months. And we got sponsored by the Lutheran church to go to Minnesota." 
"When we got to Minnesota, there was snow on the ground, and I came from a country where the average temperature was 80—so we got cold," she laughed. "From there, we were at the mercy of the community and church." 
New orders from "The Sergeant."
Once she and her large family made it to the states, her father gave some new orders. "'You go to medical school, you go to engineer school, you go to this school.' He told me to go to medical school; that's why I have a degree in Biochemistry," Dinh-Kuno explained. "But when I looked at the [Master's] medical school for four years plus three years—I had no money for it. So when I got my Bachelor's, I got a job immediately so I could support myself and help my dad out."
Dinh-Kuno earned a Bachelor's in Biochemistry from the University of Minnesota at the beginning of the 1980s. She spent the next five or so years researching ways to increase the shelf life of food products and make livestock and vegetation grow larger and faster. "We were worried about having enough food in the year 2000," she explained.
As is traditional for many Asian cultures, Dinh-Kuno's parents followed her oldest brother to Washington state, where he worked as an engineer for Boeing. Dinh-Kuno moved to Mukilteo in 1985 when her father began to have medical needs. He would later pass away in 2020. 
Thirty-six years of serving refugees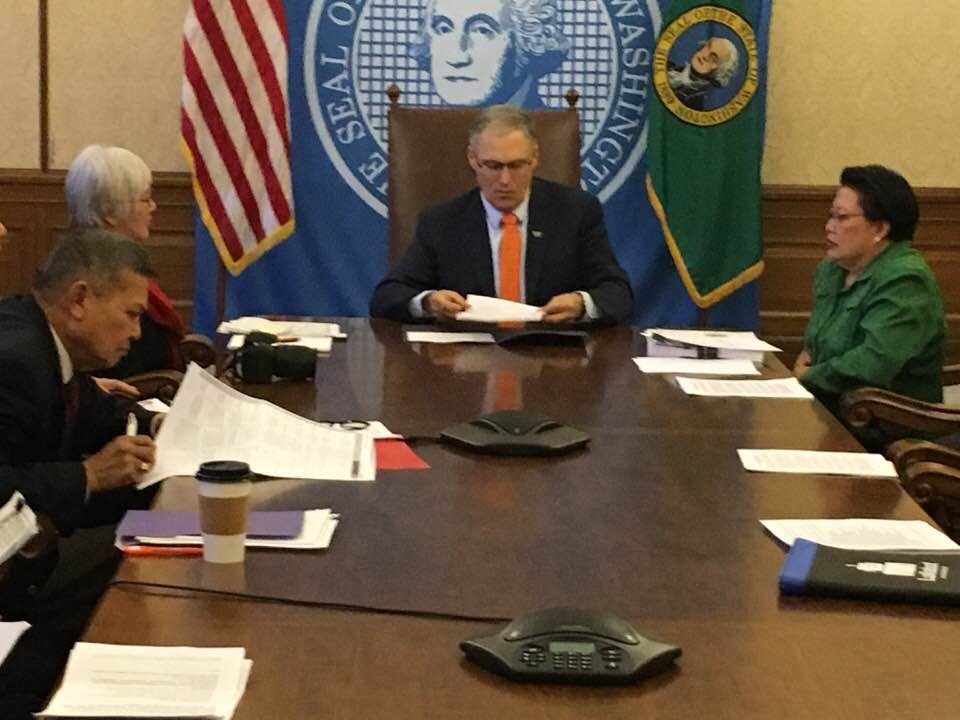 Despite her older brother admonishing her to get a job at a Biochem company in Bellevue, Dinh-Kuno saw an open position at RISNW for helping refugees to find employment. Upon reading the job description, she thought to herself, "hmm, that's interesting."
Soon after, she got a phone call. "They said, 'Hey, we want to offer you the job! When can you start working?' And at that point, I was really scared. I knew nothing about Washington. So I went to the Lynnwood Library, and I talked with the Librarian who helped me find the employers directory," she said. "I focused on the companies that had a hundred employees or less and began making cold calls."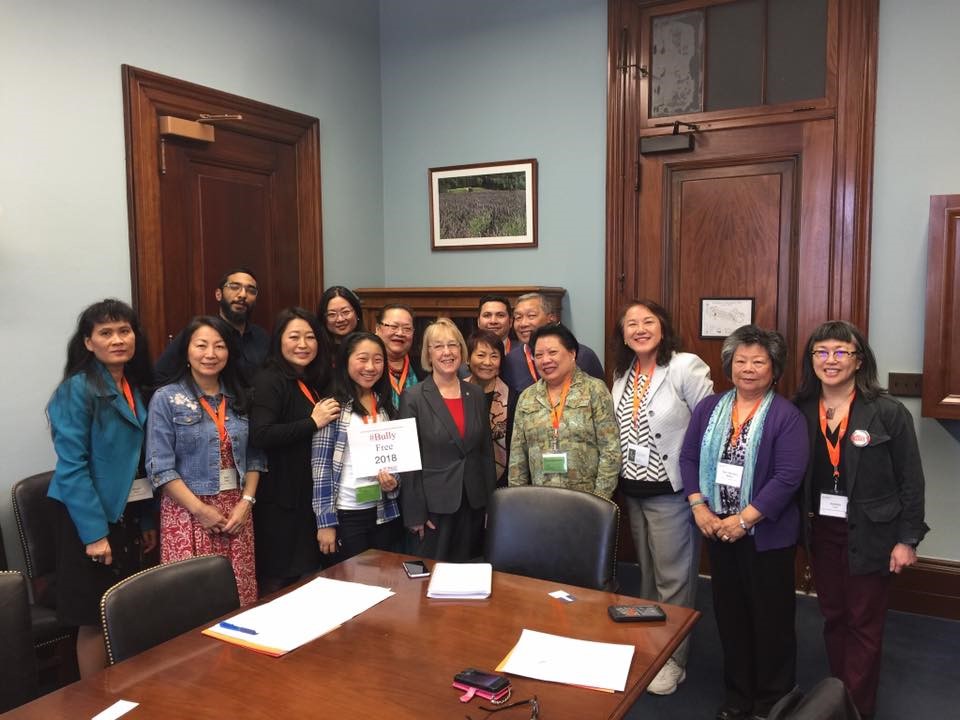 Eventually, Dinh-Kuno didn't have enough refugees to fill all the open positions she was finding from those calls. So she began coordinating with refugee services in Seattle too.
A couple of years later, the Executive Director position became available. Dinh-Kuno applied immediately and competed against 30 other applicants for the job. She has been the Executive Director of Refugee & Immigrant Services Northwest for 34 years—making for 36 years of serving refugees in total. She also earned a Bachelor's in Human Services from Western Washington University in 1987.
What it takes to be the Executive Director of RISNW
With our cups now empty in the Mukilteo Cafe, Van Dinh-Kuno mentioned her plans to retire in the very near future. We asked what attributes she would look for in an Executive Director candidate.
"It doesn't take a lot to do this job," she told us. "The most important element is to be a director who serves the underserved population and truly provides the services as if you wanted them provided for yourself or for your loved ones—and that's it. No more, no less."
Director Dinh-Kuno's message to all refugees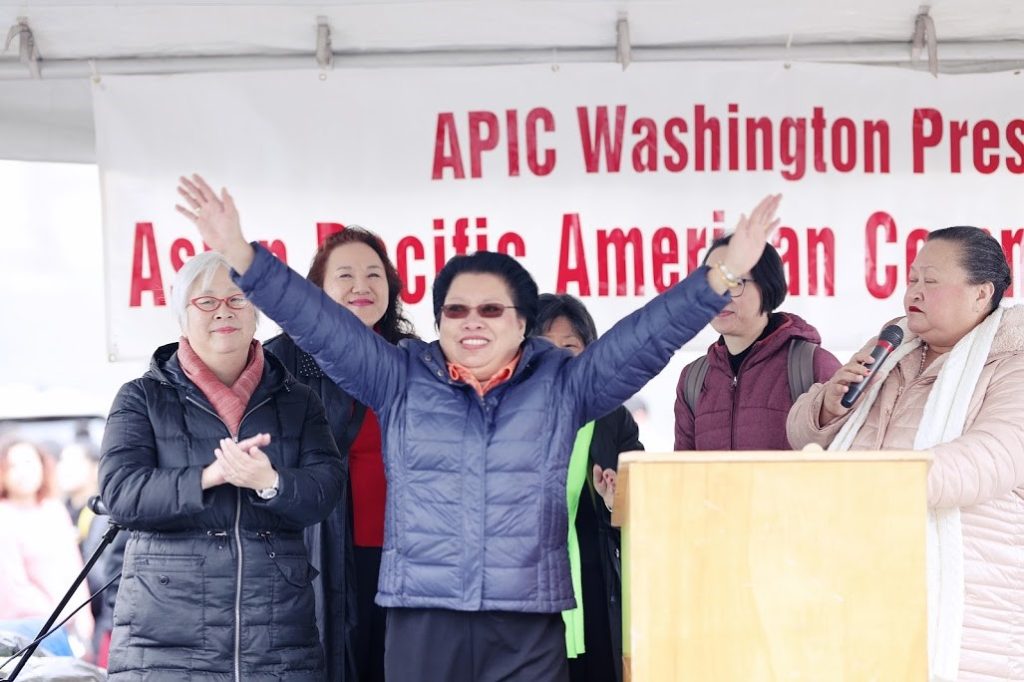 Dinh-Kuno stated that her agency helps around three thousand refugees per year. Multiply that by 36, and she has helped more than 100,000 refugees across Snohomish County over the course of her career. "And they vote," she added.
And those 100,000 aren't just lives helped, and livelihoods improved. Those are generations that Director Dinh-Kuno and her team have helped set up for success.
When presented with the 2021 Person of the Year Award in late December, we asked Dinh-Kuno if she would like to say anything to all those she has helped. She offered the following statement:
"I've spent 36 years helping the refugees who've come here from all over the world. I remember people from Poland, and Romanians, Bosnians, Serbians, Albanians, Ukrainians, Estonians, Vietnamese, Cambodians, Lebanese, Burmese, Bhutanese, Congolians, Iranians, and Iraqis, Sudanese, Somalians, and in the last three months, predominantly Afghans. 
If I had the opportunity to stand in front of all the refugees I've been helping throughout the last 36 years, I would tell them, 'Welcome to America! I'm so happy you are here, and it's an honor to serve you and [help] give you a better life—and you're safe. It's an honor I've been performing for the last 36 years, and I will continue to do it as long as there are refugees who will need my help.'"