Families press for anti-hazing legislation
OLYMPIA, Wash., January 17, 2022 – Sam Martinez, a freshman at Washington State University, was found dead from alcohol poisoning at his fraternity house just weeks into the 2019 school year. He was the victim of a hazing tradition at his fraternity.
Now his mother is pressing for anti-hazing legislation that would prevent future tragedies. Jolayne Houtz said her goal since her son's death has been to "try and save a life for the one that was taken from us two years ago."
The two anti-hazing bills proposed in the Washington state House seek to increase the penalties associated with hazing and improve accountability in colleges and organizations.
House Bill 1751 was heard in the House College & Workforce Development committee on Thursday. If passed, the anti-hazing bill would expand the definition of hazing, require hazing education for all staff and students of institutions of higher education, and require institutions to make public reports on hazing and other misconduct by student organizations. A committee vote is scheduled for January 20.
House Bill 1758 has been referred to the House Public Safety committee. If passed, the bill would increase the penalties and statute of limitations for hazing. A hearing for the bill has not yet been scheduled.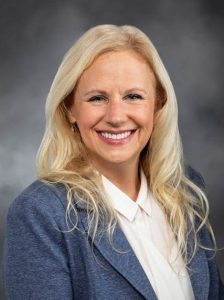 According to Rep. Mari Leavitt, D-Pierce County, approximately 100 deaths associated with hazing have occurred in the U.S since 2000. Washington established legislation prohibiting hazing in higher education in 1993, and currently only 44 out of 50 states have hazing-related laws in place.
"Prevention, education, reduction, transparency, accountability that's what's before you today," said Leavitt.
Leavitt said that 55% of students report hazing as a result of participating in clubs, organizations, and athletics on campus, and 95% of those cases go unreported.
"All the parents like me, first generation of immigrants to this country, who don't have any experience with fraternities or the Greek system. I am here for them today," said Hector Martinez, Sam Martinez's father. As hard as it is for any parent to understand the risks associated with hazing, immigrants face additional language and cultural barriers.
Kathleen Wiant lost her son Collin in 2019 to hazing. For her this bill is about changing a culture where hazing is acceptable. She said she believes "reprehensible acts like beating and waterboarding are dressed up with words like tradition, and ritual and brotherhood, and a rite of passage…We need to call it what it really is: it's abuse and it's barbaric."   
Houtz said it is important for organizations to show they have changed.
"How will we know it's safe for students to join again unless we can see and verify for ourselves that they have reformed?"
William Carlson said Sam Martinez was his best friend since the fourth grade.
"This bill can give all those people a chance of living a complete life and not have their friends or children be a breaking news story," Carlson, said.
---
Content Source: Azeb Tuji. Lynnwood Times in partnership with the Washington State Journal. The Washington State Journal is a non-profit news website operated by the WNPA Foundation. To learn more, go to wastatejournal.org.