Remembering Dr. Martin Luther King, Jr.
Dr. Martin Luther King Jr., born on Jan. 15 of 1929 in Atlanta, Georgia, was a civil rights activist and pastor of Dexter Avenue King Memorial Baptist Church. Born as Michael King Jr., his father, King Sr., was so fascinated with the Protestant Reformation that he changed his then 5-year-old son's name to be after Martin Luther.
Coincidentally, both Martin Luther and Martin Luther King Jr. were pivotal in leading movements that influenced culture and the lives of so many people on a deeply personal level.
King Jr. took after his father's involvement in church and political leadership. An example to his son, King Sr. was a leader in the National Association for the Advancement of Colored People and a pastor at Ebenezer Baptist Church in Atlanta.
Education and Readings
King's formal education consisted of a Bachelor of Arts from Morehouse College and a Bachelor of Divinity from Crozer Theological Seminary. He then went on to get his doctorate in Systematic Theology from Boston University.
Greatly influenced by the writings of Mohandas Gandhi, he advocated for peaceful protests and civil disobedience — the rebellion against laws that are viewed as unjust.
Impact
King was one of the most prominent figures of the civil rights movement.
As the first president of the Montgomery Improvement Association in 1955, the year King finished his doctorate, he helped organize one of the most significant protests of the civil rights movement. The Montgomery Bus Boycott — known for Rosa Parks' refusal to give up her bus seat to a white man, brought recognition and broadened acceptance of their efforts.
In 1957, Martin Luther King was chosen as the first president of the Southern Christian Leadership Conference where efforts were made to continue the strategy and success that the Montgomery Bus Boycott gained.
Later in his career, he gave the infamous, "I Have a Dream" speech on Aug. 28, 1963 where an approximated 250,000 people attended outside of the Lincoln Memorial.
"I have a dream that my four little children will one day live in a nation where they will not be judged by the color of their skin but by the content of their character," stated King during his oration.
King was part of the grander effort of many to abolish racial discrimination. Through the movement, the Civil Rights Act of 1964 was passed and ended segregation and employment discrimination. In 1965, the Voting Rights Act was passed, prohibiting racial discrimination in voting.
King also made international efforts to address and fight colonization in Africa and Asia.
Malcolm X: King's Rival and Friend
According to sources, King and his "rival" Malcolm X only met once and interacted for a few minutes, but the two had a lot in common. Both were sons of Baptist ministers that were politically active, both spent time in jail and both were dedicated to the fight for the rights of African Americans.
Martin was critical of Malcolm's approach and vice versa. However, their opposing ideas and mutual awareness of each other's work, in the long run, sharpened each other.
Malcolm X eventually left his affiliation with the Nation of Islam shortly after his Hajj, or pilgrimage to Mecca, and started gravitating toward a non-violent approach. He even expressed wanting to help King's cause.
King and his wife, Coretta Scott King, wrote letters of remorse to comfort Malcolm's wife, Betty Shabazz after Malcolm's assassination. King even told her to reach out if she needed anything during her time of grieving.
Controversies
In more recent years, many have become aware of the grievous allegations that came out against King — purporting that he was unfaithful to his wife.
J. Edgar Hoover, the director of the FBI at the time, practiced highly controversial methods for gathering evidence on King. Hoover reportedly was suspicious of King and suspected he had communist ties, placed bugs in his home and hotel rooms, and recorded King's phone calls.
King received letters from the FBI threatening to expose their collected evidence to the public and therefore ruin his reputation.
Marriage to Coretta Scott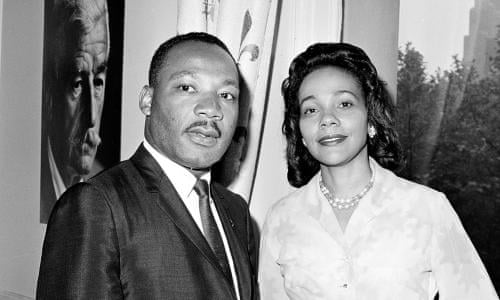 King married his wife, Coretta Scott King on June 18, 1953. King exalted his wife for her strength. The couple had four children: Yolanda, Martin Luther III, Dexter, and Bernice. Mrs. King maintained and modeled a respectful and supportive demeanor that complemented her husband's highly public career.
Assassination
Dr. King was assassinated on April 4, 1968 in Memphis, Tennessee while standing on the balcony of the Lorraine Motel. Mrs. King remained unmarried until her death in 2006. The couple's burials are together at the King Center in Atlanta, Georgia.