Ki Seung Cho named President of the Korean Sports Association of Washington State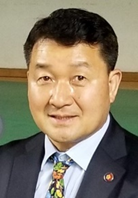 LYNNWOOD, Wash., January 18, 2022 – This month, the election commission of the Korean Sports Association of Washington state appointed Ki Seung Cho as its President. He had previously served as vice president and is honored to step into his new role. The Korean Sports Association president serves as an ambassador promoting the unity of all cultures across all sports.
Mr. Cho looks forward to developing a program to encourage the Korean community, and all communities of Washington state to participate in sporting activities with the goal of improved health through active exercise. He will strive to develop a program that promotes positive relationships, helps establishes new friendships and allow participants to learn and appreciate each other's cultures.
Since 1995, Mr. Ki Seung Cho has owned and operated Master Cho's Taekwondo in Lynnwood, Washington instructing students of all ages in Taekwondo. In Seoul, South Korea, December 2021, Mr. Ki Seung Cho passed his promotion test and achieved the rank of 9th degree black belt from Kukkiwon, the official governing organization of Taekwondo.
He currently serves as the director of the Taekwondo Association for the Disabled in Washington State. Mr. Cho was a long-term member of the American Taekwondo Association, served as auditor of the Korean Taekwondo Association in America and was President of the Seattle Washington Korean Association.  Mr. Cho graduated from Chosun University's College of Physical Education in South Korea.  He is very generous with his time, giving back to the community, since his arrival in Washington State.