Inslee announces end to outdoor mask mandate Feb. 18.
OLYMPIA, Wash., February 10, 2022 – Washington remains the only state on the West Coast to not announce discontinuing its indoor mask mandates after Gov. Jay Inslee announced Wednesday, February 9, that the state will lift its outdoor mask mandate beginning February 18. Washington is now one of four states nationwide with indoor mask restrictions.
"Today is not the day to lift all of the masking requirements," Inslee said at a press conference Wednesday. "We are obviously having conversations and an intensive review of what day it will be."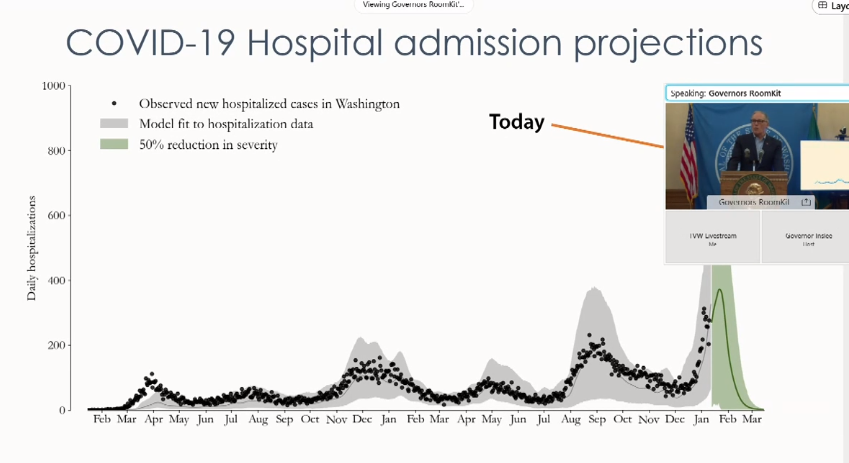 Inslee cited decreasing COVID hospitalizations as evidence the state has seen the worst of the Omicron variant.
The current mask mandate requires everyone 5 years or older to wear a mask in public indoor seatings and at large, outdoor, events of more than 500 people such as concerts, sporting events, and fairs.
Inslee said at a press conference Wednesday he'll announce next week a date when Washington can expect to see a lift of the indoor mask policy.
A recent study conducted by Monmouth University found that 70 percent of Americans agreed with the statement that "it's time we accept COVID is here to stay and we just need to get on with our lives."
The Monmouth survey found that support for vaccine mandates has dropped to 43% from 53% in September, and support for masking and social distancing guidelines dropped to 52% from 63% over the same period.
"It's very disappointing that the governor chose only to announce an end to the outdoor mask mandate – something most people had forgotten even existed," Sen. John Braun, R-Centralia, said. "Our rate of decline in cases is better than Oregon's, but they and California both announced dates for the end to their mask mandates. Somehow the science is different in here? I don't know if he is indifferent or just unprepared. Come on, governor the people of Washington deserve more."
Senate Republicans sent a letter to the governor on February 1 requesting he remove the statewide mask mandates, increase the Medicaid reimbursement rates to long-term care facilities to discharge more patients from hospitals, and de-emphasize the current focus on testing.
"It's time to end the mandates, as we requested in a letter to the governor. Ending the mask mandates would help lessen the burden on schools, retail businesses and the hospitality industry, as well as on families across the state," Sen. John Braun said.