Accused child rapist worked at multiple Lynnwood daycares
LYNNWOOD, Wash., Feb 16, 2022 – Evan Root, who was arrested for first-degree child rape and first-degree child molestation, worked in several daycares throughout the Lynnwood area with children as young as three-years-old.
Root was employed by Kindering daycare until he self-reported an ongoing CPS investigation that led to administrative leave and subsequent termination on December, 16, 2021. He worked for Kindering for less than three months.
According to Allison Morton, Chief Development Officer for Kindering, a criminal background check conducted prior to employment came back with no findings.
"We're not aware of the serious nature of the CPS and subsequent criminal investigations until it was seen in the news," Morton told the Lynnwood Times. "Kindering is committed to providing the highest level of care and concern for children and their families engaged in our services and stands alongside any victims of abuse."
According to his about.me website, Root worked in the Children's Ministry of Mill Creek Foursquare church, which operates a daycare unlicensed in the state of Washington.
The incidents leading up to Root's arrests however took place at a residence in Bothell and no incidents similar were witnessed or reported by either Kindering or Mill Creek Foursquare Church occurring on their grounds.
Chris Manginelli, Lead Pastor at Mill Creek Foursquare Church, informed the Lynnwood Times that the church has an intensive screening process and never leaves volunteers or employees alone with the children.
Manginelli issued the following statement:
"Our hearts break when harm comes to a child. While we do not know the identity of the victim or the family, we are praying for all that are involved in this tragic situation. We have not been contacted by the authorities, nor do we anticipate we will since this matter is unrelated to the church. However, if the authorities do contact us for any reason, we intend to fully cooperate. Mill Creek Foursquare Church has been part of this community since 1992 and we make the safety of children a high priority. All of our children's workers, whether paid or volunteer, are run through a screening process and we implement policies so that children are not alone with an adult."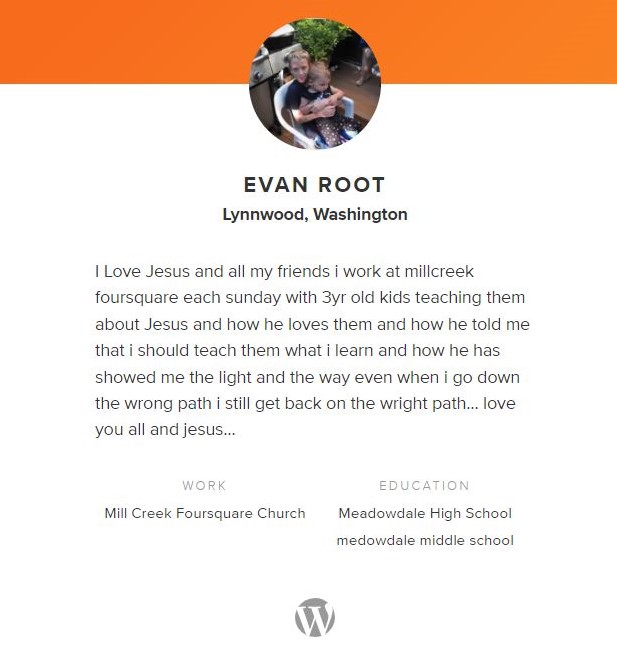 While applying for permits with Snohomish County Public Works, retail cannabis store Motorplace CUP, opening just a few hundred feet from Mill Creek Foursquare Church, were challenged by the church who issued the point that Washington State law prohibits retail cannabis stores within 1,000 feet of daycares.
However, when Snohomish County Public works requested the church provide proof of a state-issued license, Foursquare Church did not. Additionally, the Washington State Liquor and Cannabis board, under their investigation leading up to the approval of licensing for Motorcup, did not find evidence of a state-licensed daycare.
County code defines "daycare" as "any type of group day care programs licensed by the state of Washington for the care of children" (SCC 3091D.040).
Details of Evan Root's Arrest
On February 10, the Sheriff's Office Special Investigations Unit (SIU) Detectives arrested Root (21) for first-degree child rape and first-degree child molestation.
In 2019, the suspect was hired by a family via an online babysitting service to provide child care for their children multiple days per week at their residence in unincorporated Bothell. The suspect provided child care for the family for approximately four months in 2019 and then started again during the summer of 2021.
During this time, the 7-year old victim's sibling observed inappropriate interactions between the suspect and the victim and reported it to a parent. The incident was first reported to Child Protective Services (CPS) and on January 21, 2022, CPS referred the case to law enforcement.
Sheriff's Office Special Investigation Unit (SIU) detectives began investigating the case and learned the suspect was actively employed Kindering daycare in Lynnwood. His employment there was terminated due to the active criminal investigation.
With the assistance of Child Interview Specialists and medical providers at Dawson Place, SIU detectives conducted an investigation and developed probable cause to arrest the 21-year-old suspect for first-degree child rape and first-degree child molestation.
On Thursday, Feb. 10, the 21-year-old suspect was arrested at his Lynnwood residence without incident. He was transported and booked into the Snohomish County Jail for first-degree child rape and first-degree child molestation on an inclusive $250,000 bond. As of February 16, Root is still in registered in the Snohomish County jail and a second court hearing is scheduled for the same day.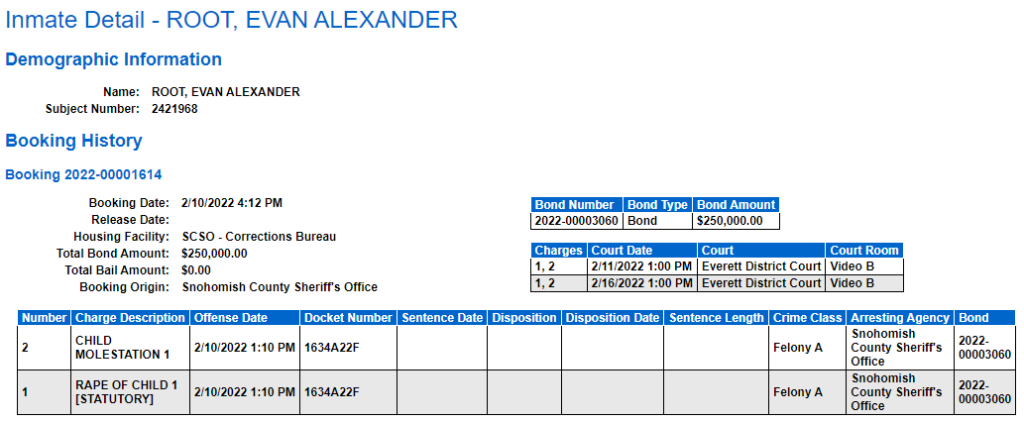 A person is guilty of rape of a child in the first degree when the person has sexual intercourse with another who is younger than twelve years old and not married to the perpetrator and the perpetrator is at least twenty-four months older than the victim. Rape of a child in the first degree is a class A felony.
A person is guilty of child molestation in the first degree when the person has, or knowingly causes another person under the age of eighteen to have, sexual contact with another who is younger than twelve years old, and the perpetrator is at least thirty-six months older than the victim. Child molestation in the first degree is a class A felony.
Class A felonies, which are the most serious, are punishable by prison sentences which can include life, as well as fines of up to $50,000.
Other potential victims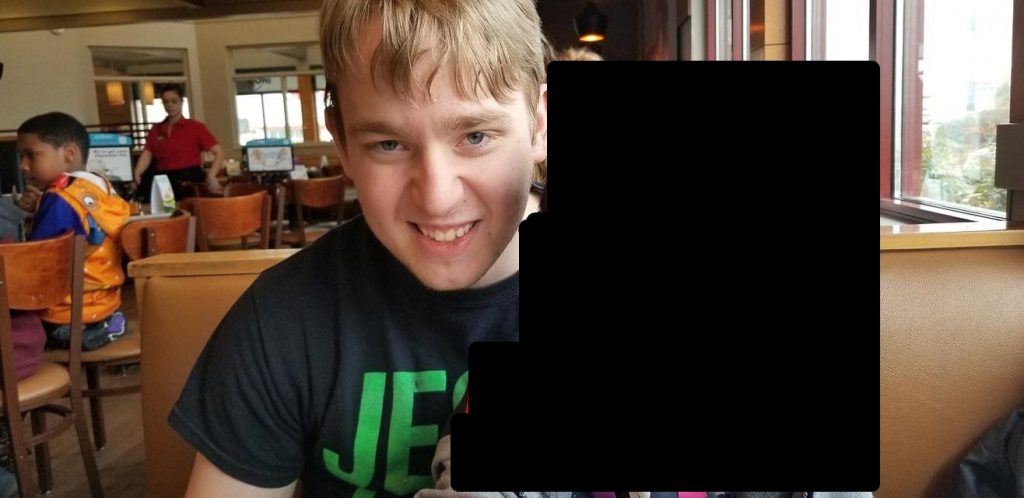 The suspect, Evan Root, was actively employed at various daycare and behavioral learning centers in Edmonds, Lynnwood, Mountlake Terrace, and Seattle. According to Root's LinkedIn account, it lists that he also worked at the following places:
Kids Foundation Academy, Edmonds, Lead Preschool Teacher, started Aug. 2021
Kyo, Mountlake Terrace, Behavioral Therapist, May 2021 – Aug. 2021
MeBe, Seattle, Behavioral Technician, Mar. 2021 – May 2021
Autism Spectrum Therapies, Lynnwood, Behavioral Technician, Dec. 2019 – Mar 2021
If you suspect your child may have come in contact with Evan Root, please contact the Snohomish County Sheriff's Office at 425-388-3393.