Correction: [1:30 p.m. Mar 7, 2022] The article was updated to correct a reference to former Mayor Smith that should have been attributed to Mayor Frizzell.
Correction: [1:30 p.m. Feb 18, 2022] The article was updated from reflect that "Aunt Bette" was Elizabeth Wallace and not Betty Lou Gaeng.
LYNNWOOD, Wash., February 17, 2022 – The "I Love Lynnwood" initiative had its official launch event and unveiled the "Love Your New Neighbor" sculpture at the Lynnwood Convention Center around 11 a.m. Monday.
Multiple local leaders, such as Parks, Recreation & Cultural Arts Department Head Lynn Sordel, supported the kickoff and spoke on the importance of such a launch. The "I Love Lynnwood" Facebook page bio self-describes as "a movement to support local businesses, increase tourism, and shed light on the importance of diversity and inclusiveness in our region."
Janet Pope, Executive Director of the Lynnwood Public Facilities District and event host, said the "Love Your New Neighbor" sculpture is a "beautiful contribution" to the Lynnwood arts and cultural landscape. The LPFD owns and is responsible for the maintenance of the Lynnwood Convention Center and the surrounding 13 acres of land.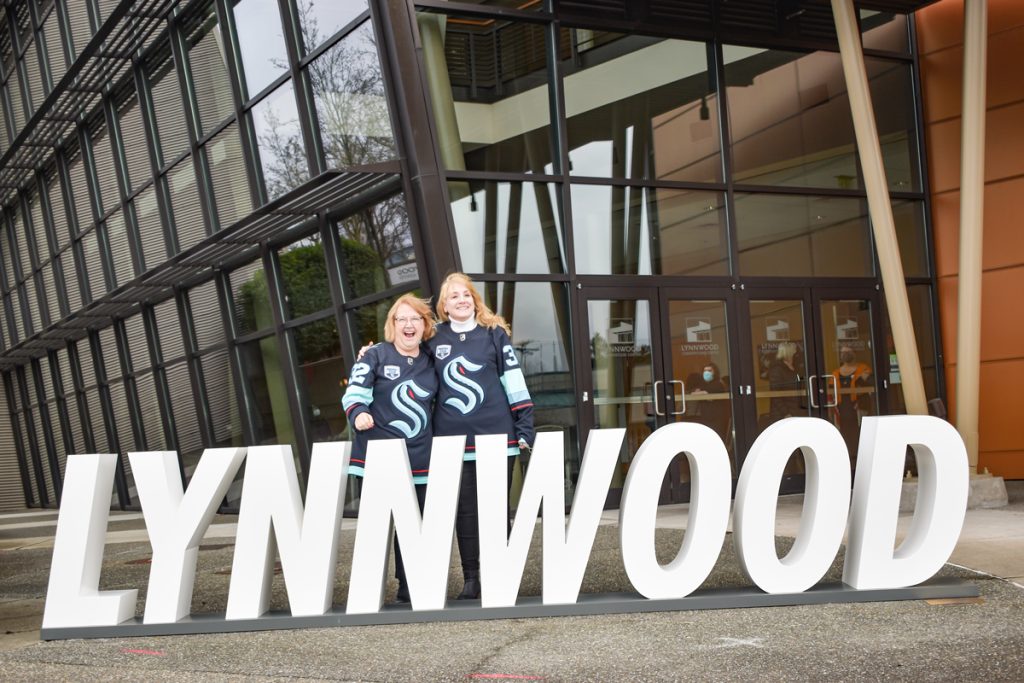 "The LPFD is so honored and grateful to have this beautiful piece on our property and is a bold statement of what we want our community to stand for," Pope said.
Newly elected Lynnwood Mayor Christine Frizzell thanked the Arts Commission and the History and Heritage Board in her remarks and gave a brief history of the initiative.
"I Love Lynnwood" grew out of a 2016 workshop called "For the Love of Lynnwood" where participants described Lynnwood as a lovable city. Mayor Frizzell had never thought of a city being "lovable" but only livable, as in providing essential services but not anything else. That all changed about 10 years ago and with the "I Love Lynnwood" project.
"The idea of creating a lovable city through public art, strong neighborhoods, and community projects…the more we come together the more that we realize how truly alike we are, not that different from the person sitting next to us," Frizzell said.
In 2018, Lynnwood Convention Center General Manager Sara Blayne and City of Lynnwood staff member Fred Wong brainstormed how to bring the "Love Lynnwood" theme into the future. It was City of Lynnwood History and Heritage Commissioner Cheri Ryan's idea to display a sculpture as Amsterdam and many other European cities have.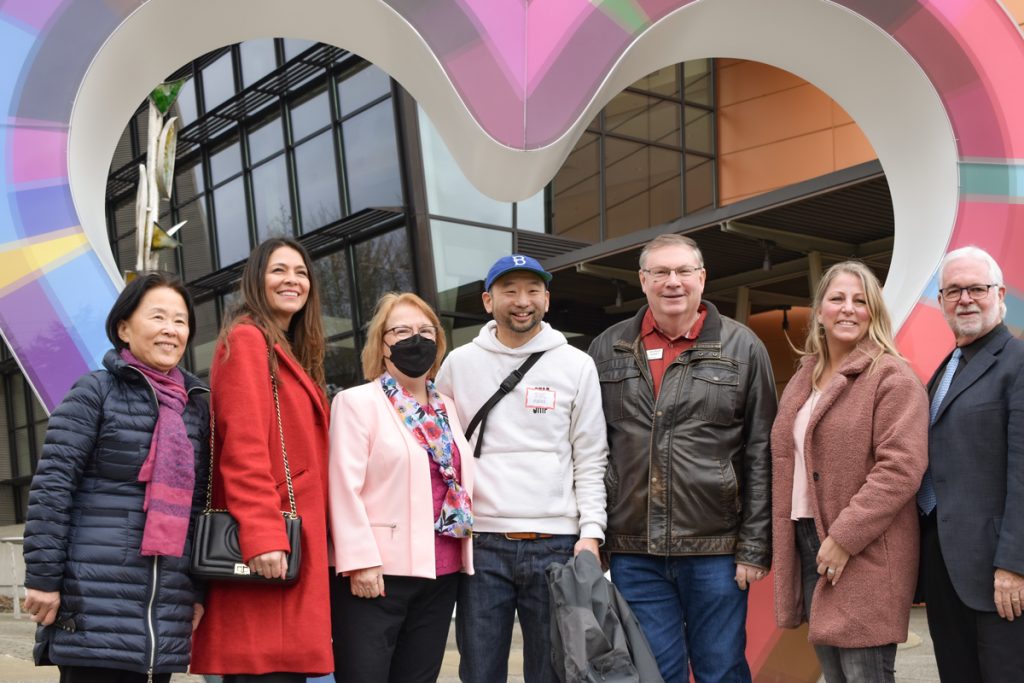 Smith then introduced artist B.K. Choi who sculpted the "Love Your New Neighbor" piece now adorning the grounds of the Lynnwood Convention Center.
Choi's family moved from Seoul to Lynnwood in 1991. His inspiration for the "Love Your New Neighbor" sculpture came from Lynnwood's official historian Betty Lou Gaeng, who visited from Alaska for the event. Gaeng told him about Lynnwood's history of being settled by European immigrants, how they sojourned for a place to call home, same as his family did years later.
Choi talked about a traditional Korean handicraft called a jogakbo. "Jogak" means "piece" or a "fragment." "Bo" is a "cloth" "for covering or wrapping." Jogakos are composed of many differently sized shapes, sizes, and colors yet balanced to fit together harmoniously as a whole greater than the sum of its parts despite the irregularities, like Lynnwood.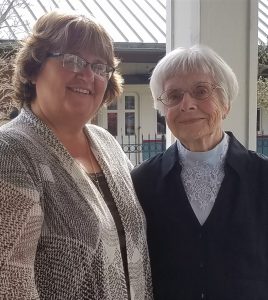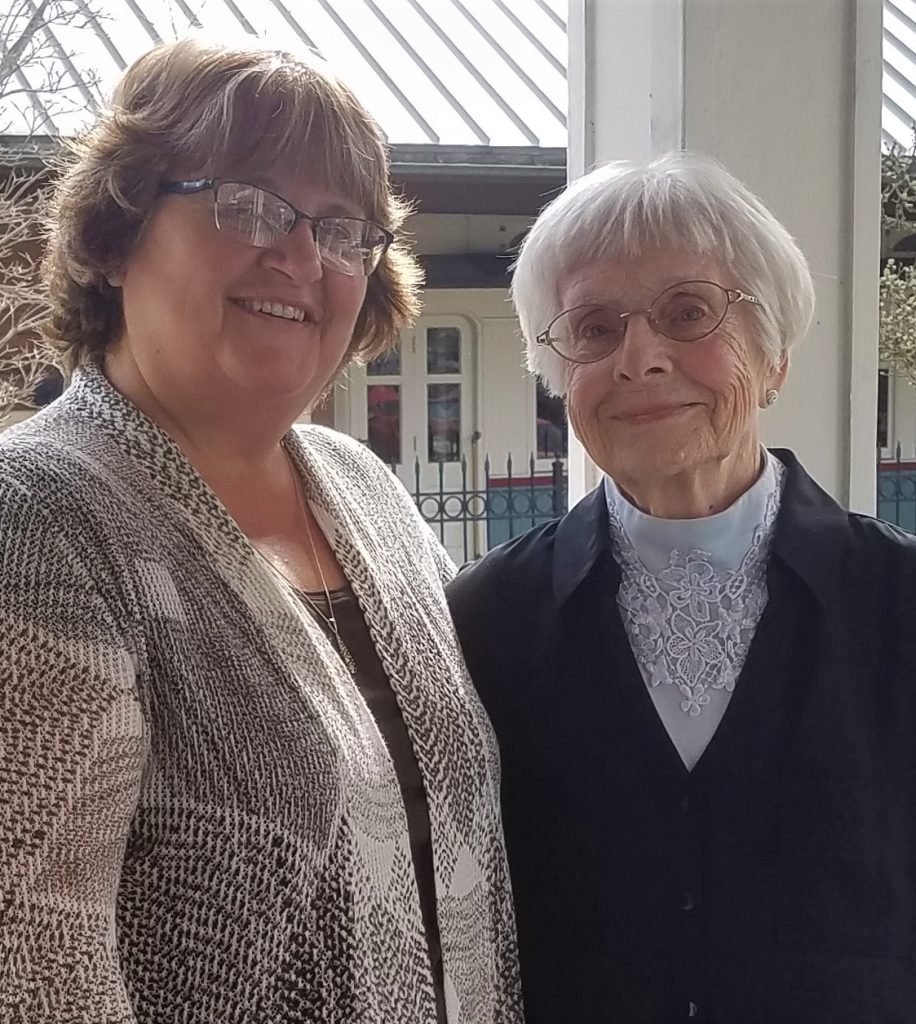 "My hope is that Lynnwood continues to be the kind of place that welcomes new arrivals and creates not only the physical space but also the economic, social, and emotional space for them to thrive," Choi said.
Next up was Cheri Ryan who her history in the area. Elizabeth Ruth Wallace, moved from Montana to Alderwood Mall and was of Hungarian and Swiss ancestry. Wallace and her seven siblings lived on 36th Ave, then called North Trunk Road, and went to Alderwood Grade School. Ryan grew up around 13 of their cousins. The donation for the sculpture was from the Elizabeth Ruth Wallace Living Trust of which Ryan is the trustee.
"We thought everyone lived next door to their family," Ryan said. "Alderwood Manor never lost its heart, and it soon became Lynnwood."
In 1997, Seattle Times reporter Stephen Clutter wrote a story on Lynnwood preserving its history while receiving an I-5 interchange on 196th St. In that article, Clutter remarked that detractors claimed Lynnwood's problem "is that it's a city without a heart or a history." That statement stuck with Ryan throughout the years Ryan and took umbrage with it at the event.
"There's a lot of rich history and a real heart to our community," Ryan said. "We are ecstatic that the heart of Lynnwood is here [in Alderwood Manor]."
Unveiling of "Love Your New Neighbor" sculpture
Unveiling of "Love Your New Neighbor" sculpture