Young leaders inspired to fight for social justice at student leadership conference
EDMONDS, Wash., April 20, 2022 – The Edmonds School District hosted a student leadership conference focusing on the theme "Becoming Leaders of Change" at the Edmonds Center of the Arts today.
Notable speakers included Superintendent Dr. Gustavo Balderas and Dolores Huerta, civil rights activist and co-founder of the National Farmworkers Association.
"I never thought I'd become a superintendent of a public school system. I never saw people that looked like me in my teachers…so representation matters," Superintendent Balderas said. "I'm here to say, be proud of who you are and don't let any limits be placed upon you. Be your best selves because you are the future and I'm proud to be your superintendent."
Keynote speaker Dolores Huerta
Celebrity and historical keynote speaker Dolores Huerta then took the stage. Her work in social justice dates to the civil rights movement of the 1960's when she led the Delano Grape Strike of 1965. She was also the lead negotiator of the workers' contract that was created because of that strike.
"A lot of young students will say to me I wish I would've been around in the 60's because there was so much going on. You had the women's movement, the environmental movement, the LGBTQ movement, the civil rights movement…well that was kind of the beginning. This is like the 60's on steroids," Huerta said. "Now it's your turn to not only keep what we gained in the 60's but to build on it and make it better."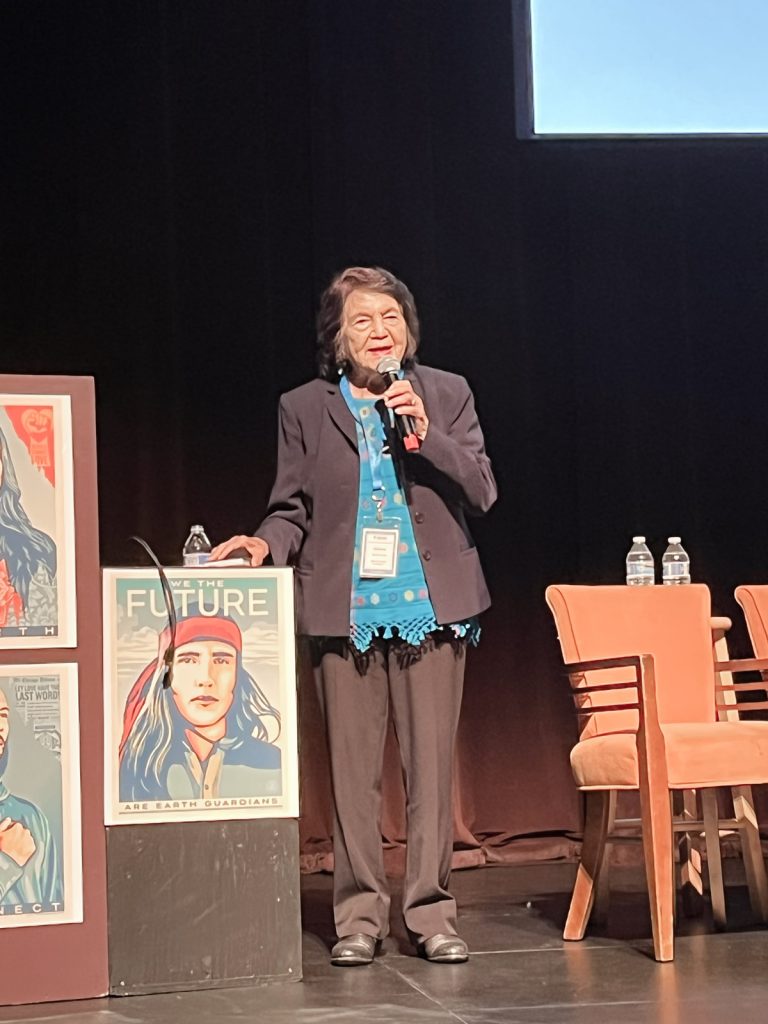 Huerta is the recipient of numerous awards for her community service and advocacy for workers', immigrants', and women's rights including the Eugene v. Debs Foundation Outstanding American Award, the United States Presidential Eleanor Roosevelt Award for Human Rights, and the Presidential Medal of Freedom, the highest civilian honor in the United States. She was the first Latina inducted into the National Women's Hall of Fame in 1993 and even has a day named after her in California – "Dolores Huerta Day" on April 10.
After speaking, Huerta was joined by seven high school students and members of the student leadership committee who took turns asking how they can be leaders of change and social justice in their community. A key theme of Huerta's responses was the importance of education.
"Education is key. A lot of the issues we have today, a lot of the challenges come from ignorance," Huerta said.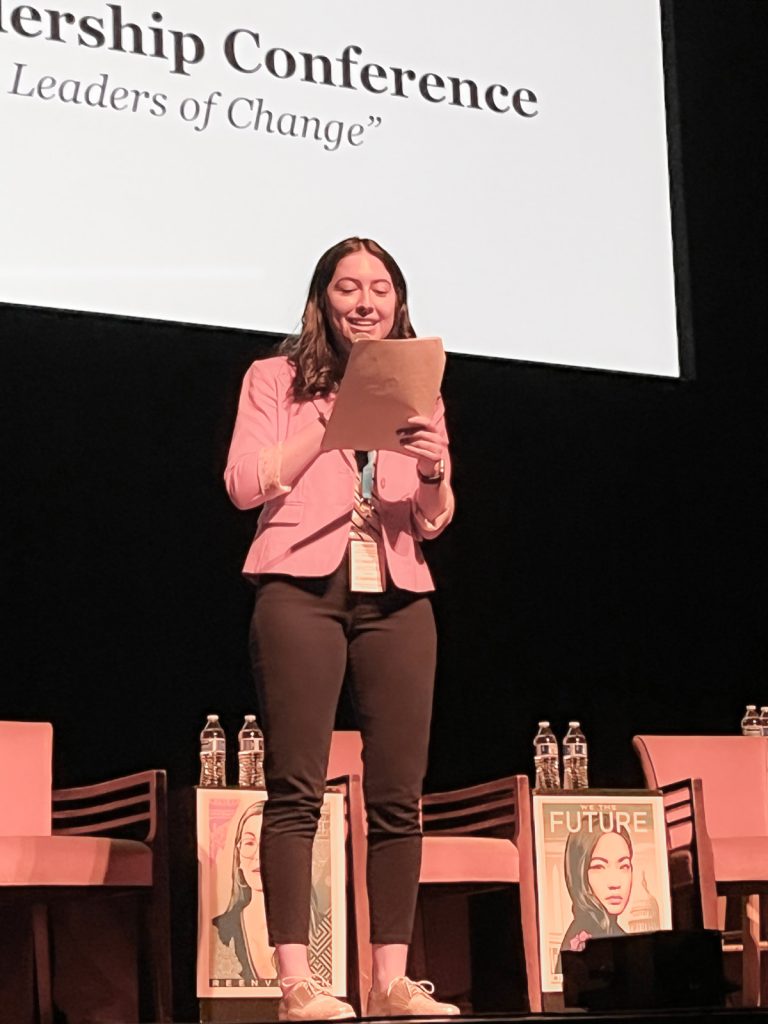 Huerta was first contacted to speak by high school student and Student Leadership Committee member Isabel Vergara Ramos, a senior at Edmonds-Woodway High. Ramos, who's grandmother greatly benefitted from the work Huerta championed for as a farm worker in California, chose to write a paper about Huerta and her advocacy work.
In one of its meetings, the committee was deciding on who to host as a keynote speaker and Ramos pitched the idea to reach out to Dolores Huerta. To her surprise, Huerta responded.
"I've read everything there is to read on her and I've studied for so long and I just can't believe she's here right now, it's definitely surreal," Ramos told the Lynnwood Times.
After high school, Ramos will be attending the University of Washington as a pre-med student when she graduates later this year.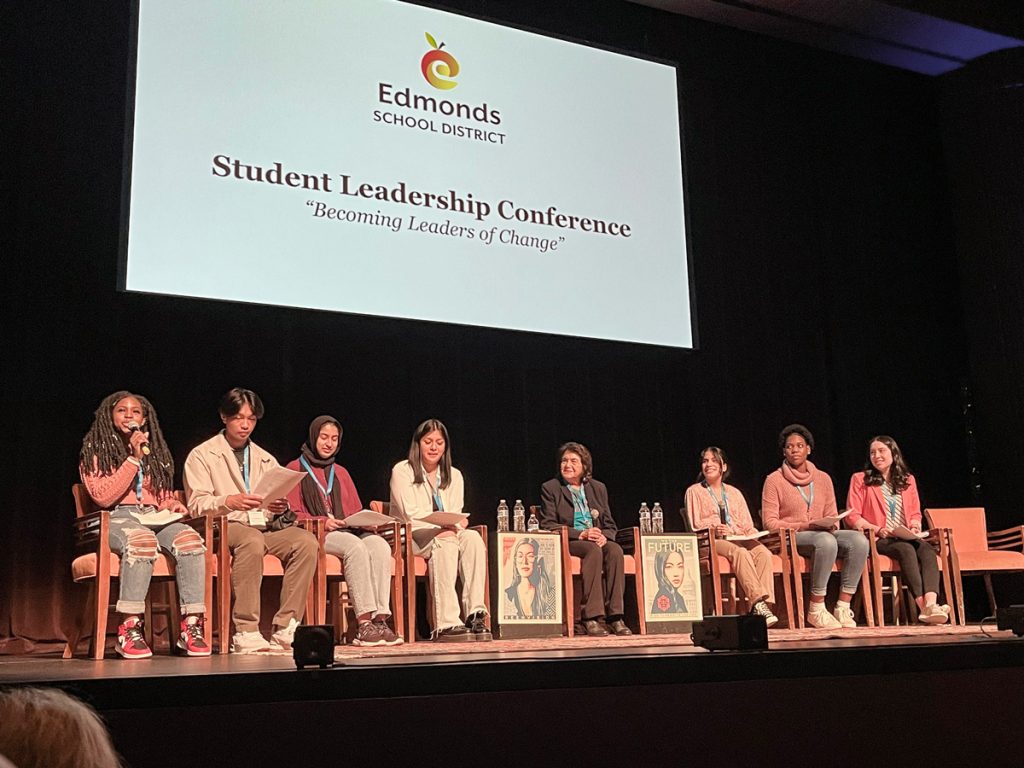 Other student members on the panel were Nova Rosette-Perez, Anthony Guinto, Saley Keita of Lynnwood High School; Hibbah Khan of Edmonds Woodway; Elizabeth Lopez of Meadowdale High School; and Jazzma Pennerman of Mountlake Terrace High School.
Background of student leadership
Dr. Victor Vergara, Executive Director of Equity and Student Success, began having conversations with Superintendent Balderas, about two years ago, how to provide students with a larger platform for voice. Out of the Superintendent Student Advisory Committee, a committee made up of student leaders in grades 9-12 from each of the district's high schools, the Student Leadership Committee was formed.
The Committee meets monthly with Superintendent Dr. Gustavo Balderas and district leadership and also participates monthly in a professional development meeting, with a focus on creating a more equitable education system across the district.
The first Student Leadership Conference was originally scheduled for last October but due to COVID and a commitment to having an in-person event, the committee decided to postpone until April 2022, which Dr. Vergara told the Lynnwood Times just gave them more time to hash out the details.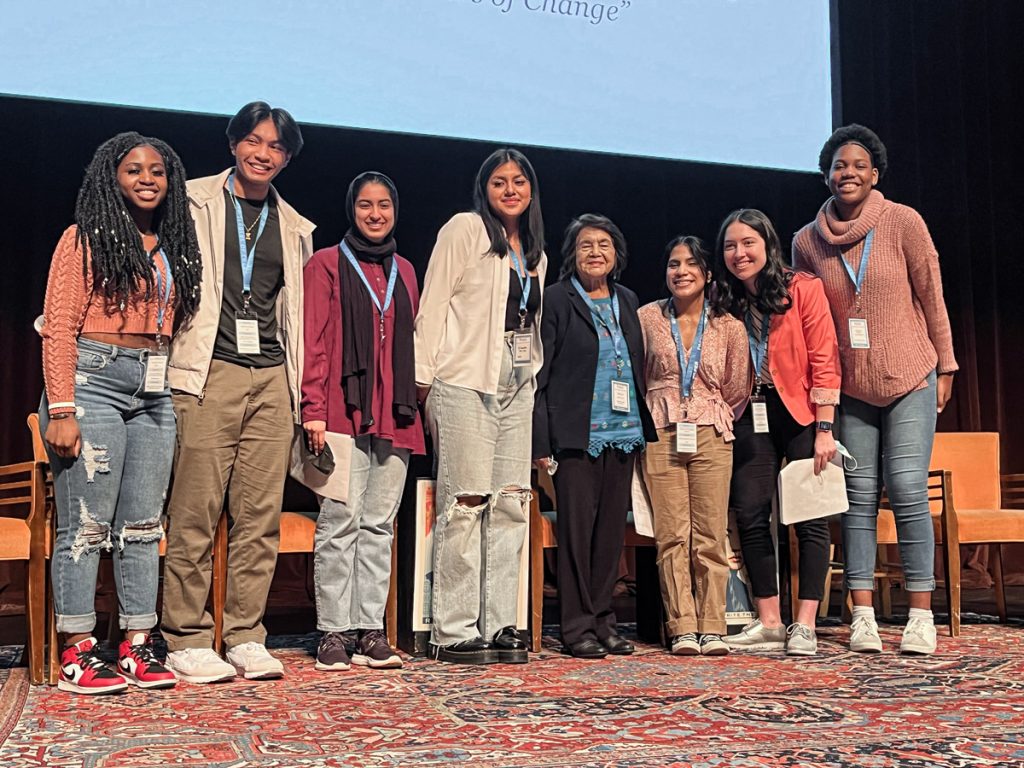 "It took a long time to work out the logistics but being here today is just a dream come true," Vergara told the Lynnwood Times.
The event was made possible through sponsorship from Rick Steves, Hazel Miller, and the Edmonds Foundation.