Cut by Curt: Crafting a life post-diagnosis
At the age when most Americans retire, Curtis Gregory, 61, from Redmond, WA, opened his own business: Cut by Curt Woodworking. Curt specializes in crafting unique cutting boards, but he's recently branched out to cabinets and even made an intricate chessboard the size of a coffee table. But the passionate owner behind Cut by Curt never anticipated becoming a craftsman because just a few years earlier—Curt was in a wheelchair. 
From card dealer to woodworker
For 20 years, Curt worked in casinos, "at any little casino between Arlington and Tukwila," he says. Starting out as a security guard escorting dealers to their cars, he decided to become a dealer himself when he noticed how much they brought home in tips.
"It's easy money, and it's a crazy business to be in," he says.
Near the end of his casino career in 2019, though, Curt mysteriously lost 50 lbs. The noticeable weight change warranted concern from his coworkers, though Curt says, "I didn't think anything about it."
But after a lump had formed on his abdomen, Curt decided to see a doctor. "I get it checked out, and they tell me, 'Hey, you got stage four lung cancer. You're terminal.'"
Curt knew the diagnosis would dramatically affect his life, but he never counted on it leading him to open his own small business.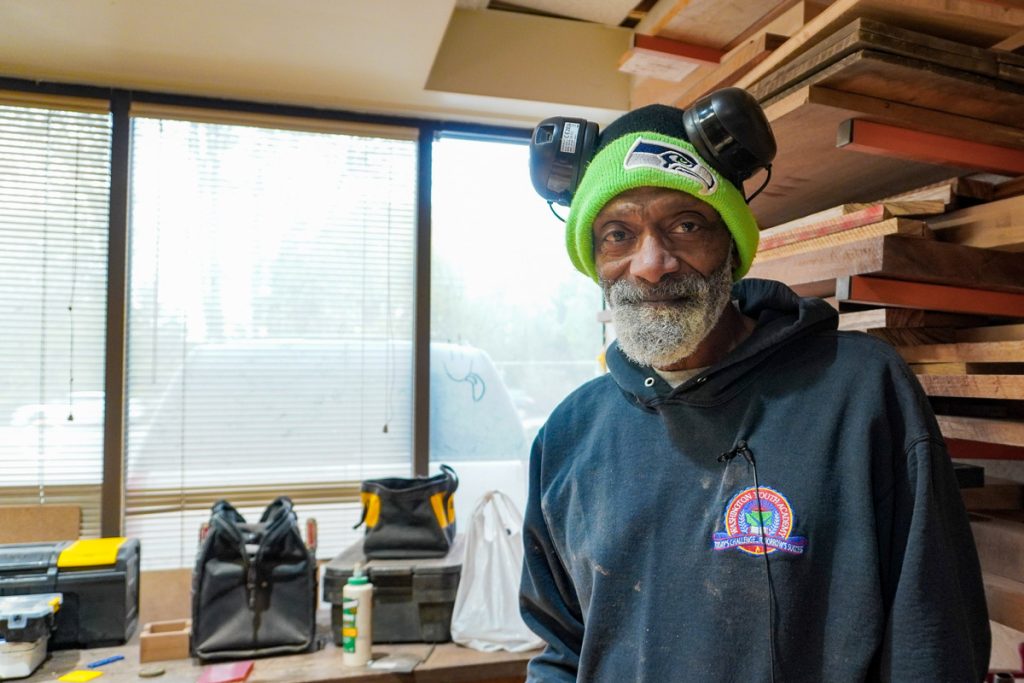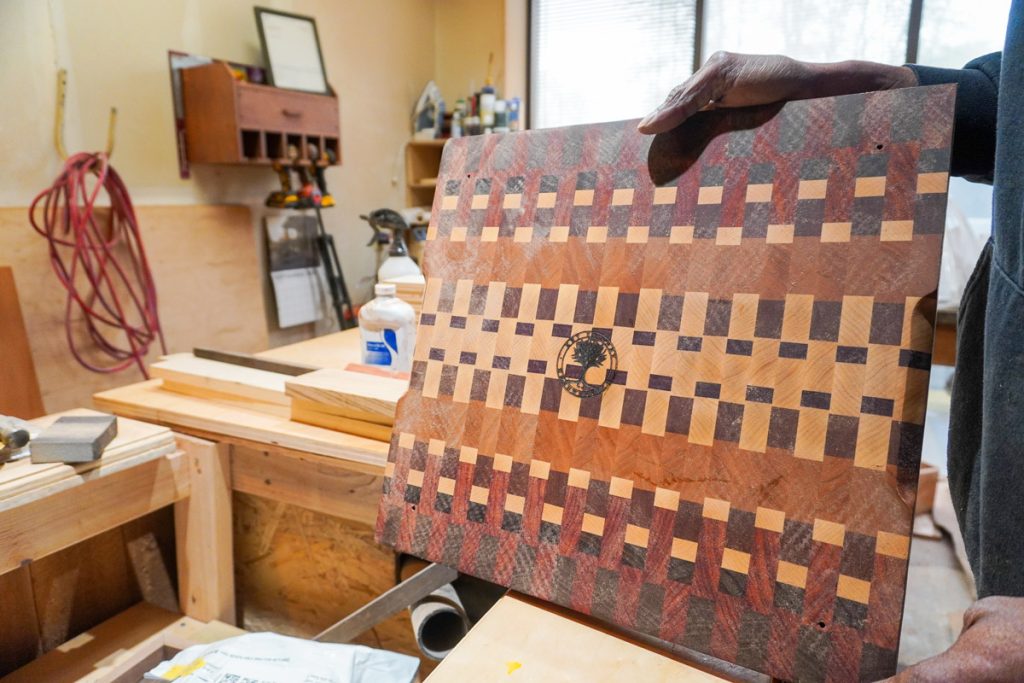 Once diagnosed, Curt continued dealing cards until December 2019, when he was no longer physically able to work and found himself in a wheelchair. "I couldn't walk, you know, since I couldn't walk, I couldn't work," he recalls.
Thanks to his service in the U.S. Navy, Curt received medical assistance through the Department of Veterans Affairs. Within the first year of treatment, Curt felt well enough to leave his wheelchair behind, and continues to go in for treatment every six weeks.
After regaining his strength, though, Curt became restless.
"I got tired of sitting at home," he says. "I saw someone making cutting boards, and I said, 'Hey, I can do that!'"
Cut by Curt open for business
Despite his battle with cancer—and the fact that he had never dabbled in this sort of craftsmanship before, Curt began teaching himself woodworking out of his garage in 2020.
After making a few cutting boards and even fashioning his own workbench, Curt had become so enamored with woodworking that he set out to find a workspace of his own.
"My girlfriend got tired of the dust," he laughs.
One day while he was picking up wood from a shop in the Seattle area, he spotted a posting in a woodshop for a space to rent and immediately seized the opportunity.
Now with a space of his own, Curt officially opened Cut by Curt, a name his niece suggested, in April 2021. Cut by Curt is best known for its beautiful cutting boards and intricate designs. Curt says that one board takes three days to make "because each cut is a glue-up and each glue-up has to sit overnight."
Curt is particularly excited about the unique qualities of each board he designs. "Not one of them is identical. Every single one is different," he says. "And I like that. [Customers] like that too; everybody has a one-of-a-kind."
Curt estimates he's created over 80 cutting boards in the last year. He's also made and installed a custom maple kitchen countertop for his neighbor and is currently undertaking his first cabinet commission.
When he first started woodworking, Curt never imagined it'd lead him to own a business. "I was just doing it 'cause I had nothing to do. I never intended to sell a single board," he recalls. "I gave one to a friend. She loved it, showed it to a friend."
In fact, Curt had initially hoped to sail the world after he retired. "But I think I enjoy doing this more than I would being on a sailboat," he laughs.
While he might not be traversing the globe, Curt has been shipping his woodwork across the states. In only a couple of years, he went from making a single cutting board to hanging a map in his shop with pins in it marking each spot he's shipped one of his pieces to around the country.
Curt is also in disbelief of his own skillset and reiterates how helpful the other woodworkers at his shop have been. "I never thought in a million years that I would get even to this level, never."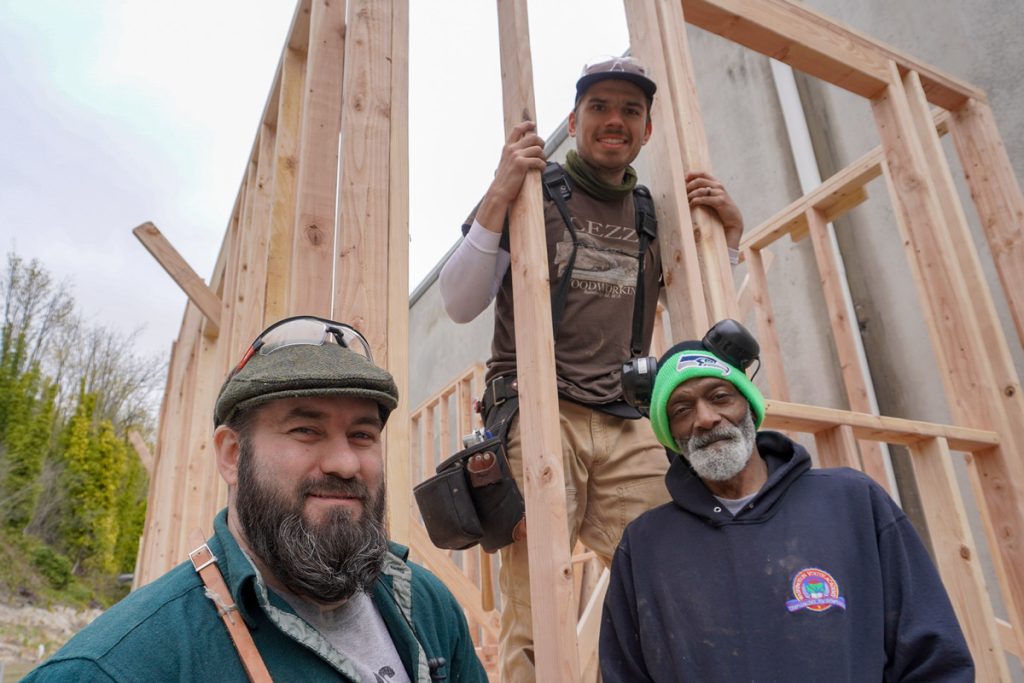 "It would have taken me five years to get to the skill level I'm at now if I hadn't met the guys in this shop," he says.
Curt's passion for improving his craft reinvigorates his spirit every day, despite his diagnosis. "The learning curve—I think that's what I love about it," he says. "I come to work, and I learn every day."
That's not to say he is never challenged. In fact, it's the opposite; it's the triumph over mistakes that Curt thrives on.
"Greatness is not defined by your successes. Greatness is defined by how you rebound from your failures. And there are a lot of failures learning this stuff," says Curt, recounting how he accidentally cut a shelf on the wrong side of the cabinet he's building—a mistake that cost him $125.
"But I'm almost guaranteed to not make that mistake again," he says with a smile.
Curt believes the thrill of the craft has kept him in good spirits three years after being told he was terminal.
"I get to learn every day, and that—I think it keeps me alive."
A diagnosis is not a life sentence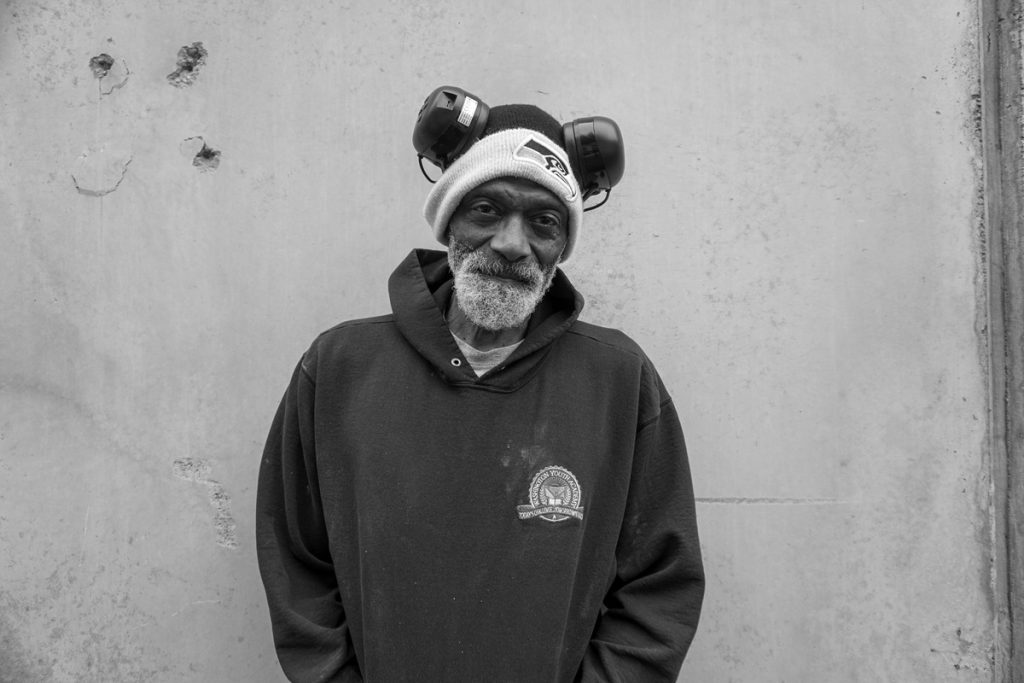 Despair and self-pity aren't part of Curt's nature—a fact that 13-year-old Anthony Schmidt of Instagram fame noticed when the two of them met last year.
Between working at the casino and picking up woodworking, Curt got into photography and began joining photography groups on social media, and that's when he came across Schmidt's impressive forced perspective work on Facebook.
Inspired by Schmidt's work and the success he's earned at such a young age, Curt messaged his mother. "I was like, 'this kid is incredible,' and she said, 'well would you like to meet him?' And I had no idea they were just in Woodinville. So she invited me over to their house, and she knew I had cancer."
Meeting with Schmidt would have a lasting impact on Curt.
"What ended up happening was, right as I was leaving, Anthony says, 'So I hear you have cancer. How long do you have?' and I go, 'you know, Anthony, nobody really knows how long they have. And he goes, 'Well, it's pretty cool that you live your life 'cause it's just a diagnosis; it's not a life sentence.'"
Curt says that Schmidt changed his life. "Three and a half years ago, they told me I was terminal. I'm still here. And watching [Anthony] grow his little business—the kid inspires me."
Schmidt's mother later commissioned Curt to craft a 34″ x 34" chessboard for the young photographer. It took him about three weeks to complete the project, but Curt says that of all his pieces, he's most proud of that one.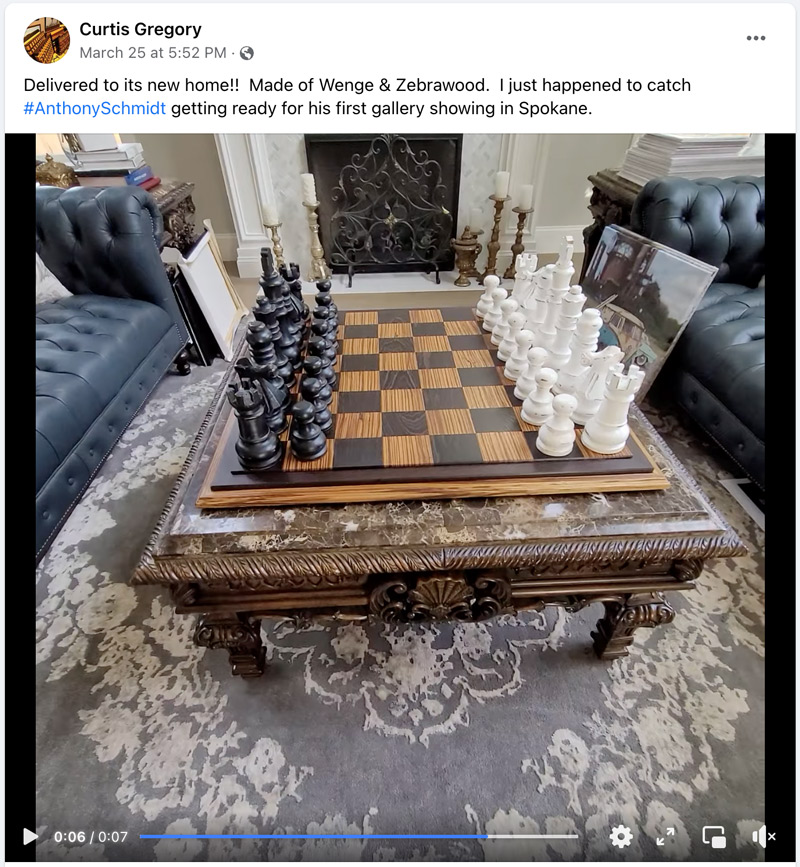 "My heart goes into this stuff"
Curtis Gregory, according to his own definition, exemplifies greatness. He's not only rebounded from his devastating diagnosis, but he's living life as fully as he can and refuses to be relegated to his medical status. And through his hand-crafted pieces, Curt believes he has found a way to leave a lasting impression after he's gone.
"I know this sounds like a sales pitch, but it's not: my heart goes into this stuff," he said while tapping on one of his boards. "And it has to be right, and I care. I don't want people to buy my board and then think, 'I'm never going to do this again.'"
"You can go to Ikea and buy something and put it together, and I guarantee you, it won't be the same as if I made it for you. I don't believe you can buy something from Ikea and be able to give it to your grandkids 15 years from now. This you can."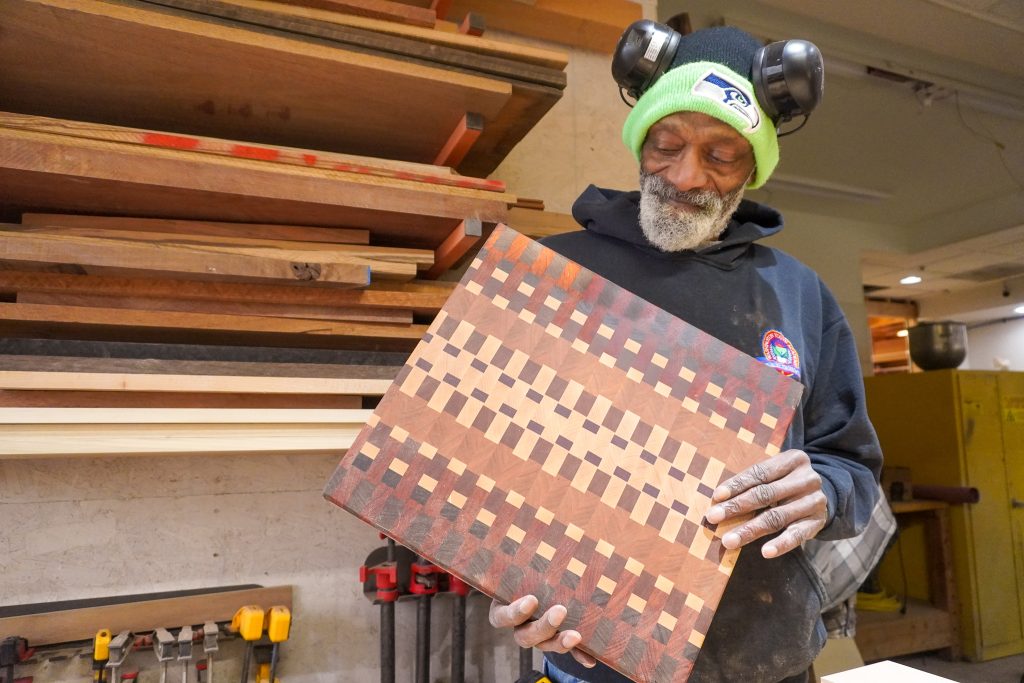 Support Cut by Curt
To support Cut by Curt, visit board-creator.com, or visit Cut by Curt's Facebook page or Instagram profile. Curt takes commissions and hopes to create an epoxy table for someone eventually.