Marysville man travels to Poland to help Ukrainian refugees
MARYSVILLE, Wash., April 30, 2022 – Marysville man Suavek Lobrow, 62, watched the war in Ukraine unfold from his TV on the other side of the world. But after three weeks of witnessing the suffering of his fellow human beings, Lobrow felt compelled to take action. On Tuesday, March 8, Lobrow told his employer at Damar Aerosystems he intended to cash in three weeks' vacation time immediately. Three days later, Lobrow was on a plane to Poland.
Helping Ukrainian refugees in Poland
Lobrow chose to go to Poland not only because it's where he's from but because it shares a 310-mile-long border with Ukraine and has welcomed millions of refugees since the Russian military action against Ukraine started on February 24, 2022.
He landed in Poland with three principal purposes in mind: First, to aid the people of Ukraine who've fled their homes. Second, to help the volunteers provide resources and relief to Ukrainian refugees; and third, to find a trustworthy organization to which he could donate the $5,000 he brought with him.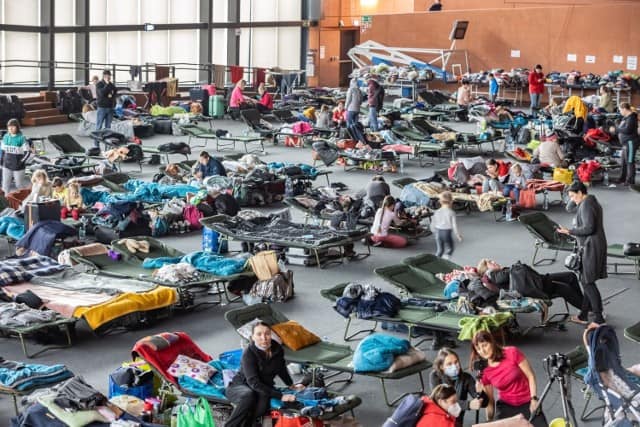 "I've been watching for three weeks before I left for Poland," Lobrow said in a video he uploaded to Facebook while a Polish news network aired footage of a wartorn Ukraine behind him. "And I just couldn't watch anymore."
"I just had to go. I had to contribute to all of the efforts of the thousands and thousands of volunteers in Poland helping those millions of people who crossed the border in the first three weeks of the war."
Lobrow's hope is that making these videos and sharing his experiences in Poland will bring the plight of Ukrainian refugees closer to peoples' hearts. In fact, that hope is what motivated him to make a Facebook account in the first place.
Until a few weeks ago, Lobrow never had a social media profile. He's always been busy with work and playing with his grandchildren. But on March 31, he created his first account. "Just for one reason, to be able to communicate with all of you," he said.
Lobrow rented a station wagon upon his arrival in Poland and volunteered as a driver. He spent the majority of his time in the country driving refugees between train stations, airports, refugee centers, and hospitals and estimates he transported between 75 to 100 Ukrainians. Most of them, according to Lobrow, were women, children, and seniors, as so many Ukrainian men stayed behind to fight.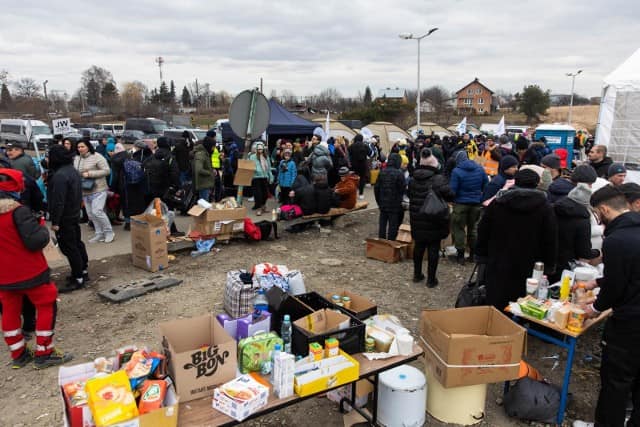 It wasn't uncommon for him to drive refugees from one resource center to another according to their needs. Lobrow specifically recalls a Ukrainian grandmother who had cancer and her grandson who had special needs. As he drove them to a refugee center that could accommodate their unique situation, the woman's forty-year-old son explained to Lobrow how he was one of the few men who left Ukraine so that he could care for his mother and son.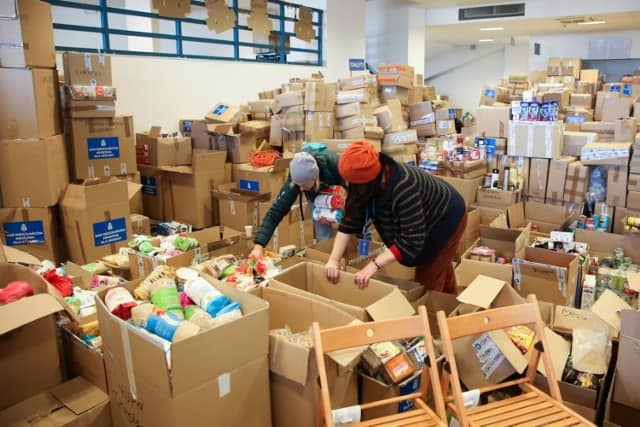 And every Ukrainian Lobrow transported had a story. Many fled their homes at a moment's notice. Others shared with him through tears stories of Russian troops killing their family members in front of them.
There were a few sleepless nights when he was called to transport refugees to a hospital, like when a 5-year-old at one of the centers in Warsaw broke his hand.
Supporting other volunteers helping Ukrainian refugees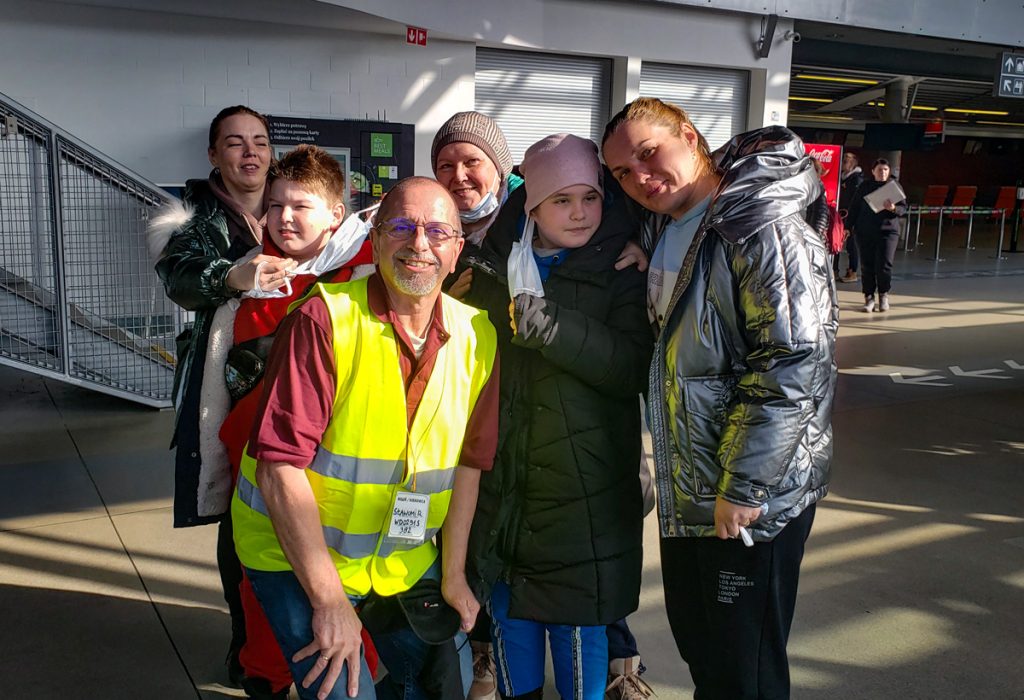 "When I was watching TV here, those first three weeks of the war, I also heard the cry for help—the cry from the volunteers," Lobrow said in another Facebook video. "Some of them, they put in 12 to 14 hours a day—and they put money, time, effort. And I thought, 'if I go to Poland, perhaps I'll be helping the people of Ukraine, but also I will be helping those volunteers.'"
Upon his arrival at one of the refugee centers in Poland's capital, Lobrow was greeted with sympathy, hugs, and appreciation from fellow volunteers. He met people who had flown in from countries like Spain, Italy, and Scotland. A comradery quickly formed among himself and other volunteers as they shared similar stories about not being able to sit idly by while so many suffered.
"If you can spare the time, go; go and help," Lobrow said in the video.
Finding a trustworthy organization
Lobrow arrived in Poland fully intending to donate $5,000 to a good cause but was determined to find an organization trustworthy enough to ensure his money would actually help those in need. "As little time as I had, I was fearlessly searching for a good company to work with. And luckily, I came across the Open Dialogue Foundation," Lobrow recalled.
According to its website, the organization's objectives include "the protection of human rights, democracy and the rule of law in the post-Soviet area." Lobrow found the Open Dialogue Foundation right near the end of his stay and met with some of the foundation's members who were assembling bulletproof vests and distributing them to the Ukrainian Military and National Guard.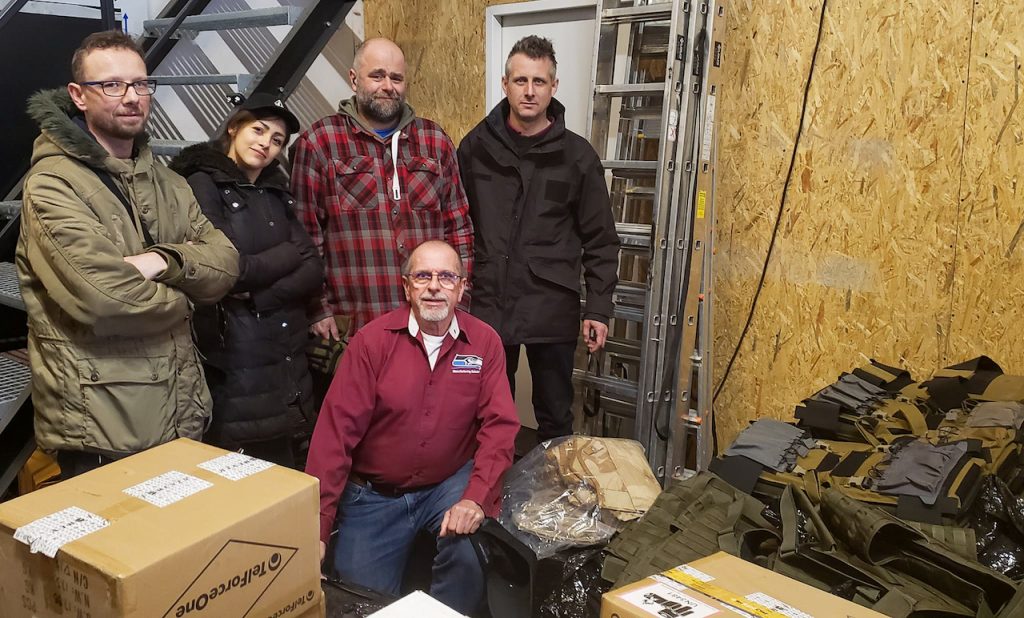 He was able to work directly with them during his last two days in Poland, helping them move their equipment and inventory from a temporary warehouse to a new location.
"The best way to figure out who they are, what type of people they are, is by working with them," he said. "And I did that, and they are as real as it gets. These are real people—hands-on. They deliver thousands of pieces of equipment to Ukrainian Military and Ukrainian National guards. They deliver thousands of bulletproof vests that they assemble."
After coming to know the people behind the organization, Lobrow donated his $5,000 to the Open Dialogue Foundation. "I put my money into that organization and I hope you guys do the same thing."
Speaking to the rationale behind the vests, he said, "There are a hundred different ways to help, but I didn't want to give them guns. I wanted to give them something else that is protecting their lives, something that increases their chances for survival."
"I asked myself, 'what can I do for the people who stayed behind volunteering trying to defend their country?' These bulletproof vests are one of those things. If I send twenty or forty vests to one of those units, maybe I have saved one of those lives."
Poland's great capacity to empathize with the Ukrainian people
Lobrow himself was a political refugee. He and his family fled Poland in 1988 amid its economic crisis and immigrated to the US the following year. Lobrow spoke with the Lynnwood Times about the Polish people's great capacity to empathize with the people of Ukraine.
"We have a very similar history of fighting for freedom against Moscow rule. All my childhood and youth years, we were fully aware of that situation," he said. This wary sentiment towards Russia is shared among many from the baltic countries who've lived through the Russification of their homelands.
Despite being from countries that speak two different languages, Lobrow said it was easy communicating with Ukrainian refugees because most of them, like himself, were forced to learn Russian when they were young.
To Lobrow, the Russian invasion is not only a threat to Ukraine but to many other countries in the region, including Poland, Lithuania, Latvia, and Estonia.
"If Ukraine loses the war, all of those countries bordering Russia and Belarus are next in line," he said. "So Ukrainians are not fighting just for their freedom, but for Polish freedom. They're fighting with their lives for freedom, not just for Ukraine."
"The results of these things are always the same," he said solemnly. "The people pay the ultimate price—the innocent people pay the ultimate price. And death isn't the worst thing that can happen to you, trust me. The things these refugees have gone through, it's heartbreaking."
Closer to People's hearts
In addition to his hopes of bringing the issue closer to people's hearts, Lobrow launched his own fundraiser on gogetfunding.com, in partnership with the Open Dialogue Foundation, with a $20,000 goal. "This amount would supply an additional 40 bulletproof vests and other supplies that will save lives!!! I worked with them on the ground in Poland and saw first hand [The Open Dialogue Foundation's] commitment to saving lives of Ukrainians," his fundraiser reads.
As of the time of this reporting, Lobrow has already raised over $5,000 from 30 different donors. To donate to the bulletproof vest fundraiser, click here. To read more about The Open Dialogue Foundation, click here.