Two Lake Stevens students place in top 10 at DECA competition
LAKE STEVENS, Wash., May 4, 2022 – Two Lake Stevens High School students, Alizabeth Busby and Jasela Sianipar, placed in the top 10 at an international competition last month, winning out against 150 other teams in the School-Based Enterprise (SBE) event at the Distributive Education Clubs of America (DECA).
DECA is a not-for-profit student organization with more than 150,000 members in the United States, Canada, Guam, Puerto Rico, and Germany. Their high school division competitions are designed to prepare students to lead careers in finance, marketing, management, and hospitality. 
Busby and Sianipar competed at DECA's 2022 International Career Development Conference (ICDC) in Atlanta, Georgia, on Apr. 23 – 25. By the end of the three-day conference, they found themselves on a stage accepting awards in front of thousands of people.
"Placing top 10 for the SBE event at ICDC was a huge accomplishment," says Alizabeth Busby, a Lake Stevens High Senior who goes by Liz. "It was very exciting being able to walk on stage to receive our awards in front of all of the DECA members and seeing our hard work pay off."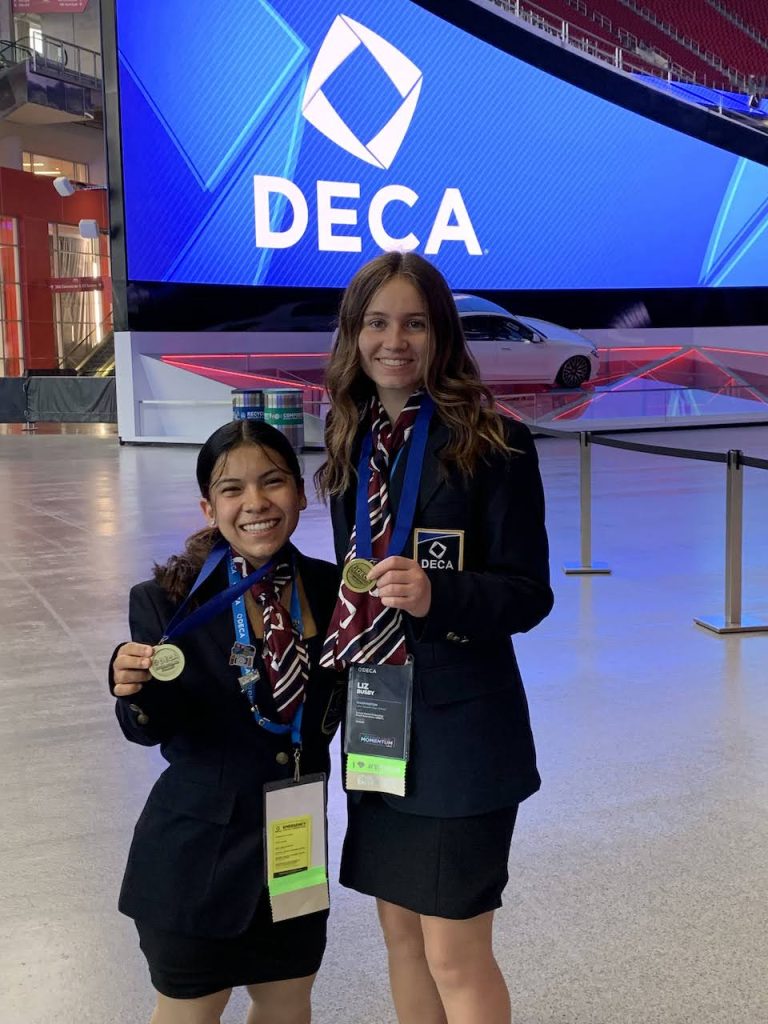 "When Liz and I heard our names being announced for the Top 10 at the DECA International Competition, we were so excited," recalls Jasela Sianipar, a Lake Stevens Junior. "It felt really rewarding and revealing knowing that all our hard work throughout this past year and teamwork has paid off."
As Busby and Sianipar indicated, their efforts began long before this year's ICDC. Lake Stevens High School's DECA Advisor Karen Morton shared with the Lynnwood Times how the duo has been working with Lake Stevens High School's SBE, "The Cove," which is the school's student store, in preparation for the competition.
"Both Jasela and Liz worked tirelessly to complete the 20-pages of written documentation that qualified them for the international DECA competition," explains Mrs. Morton.
"To prepare for the international competition in Atlanta, GA, they prepared a presentation showcasing the Human Resources Management function of […] The Cove. I am very proud of their performance," Mrs. Morton continues. "They demonstrated the ability to communicate effectively in a written and oral format."
Mrs. Morton's mentorship had a positive impact on both students, who credited her for helping them place in the top ten.
"I would like to thank Mrs.Morton and Felicity Speirs for their guidance in having a successful project, my family for giving me my entrepreneurial spirit, and my partner, Jasela, for making the project more fun," Busby said.
"I would like to thank our advisor, Mrs. Morton, for guiding us through how to efficiently plan and write our SBE written project," said Sianipar. "I also want to thank Mrs. Morton again, Mrs. LaCoursiere, and Mrs. Morton (at Monroe High School) for giving us tips on how to present our project before competing in front of our judges at ICDC. Also, to Liz, my SBE partner, for the encouragement and positivity along the way!"
After high school, Busby plans on studying business administration at Grand Canyon University and continuing her DECA career in the collegiate division. After earning her undergrad, she plans on running her own business, "which is still to be determined," says Busby.
For Sianipar, she is certain she wants to go to college, but as she has another year of high school before her, she hasn't quite decided what she wants to study and where. "But [I] hope to further my business knowledge into someday owning my own business!" she says.