April 2022 unemployment unchanged at 3.6%
Total nonfarm payroll employment increased by 428,000 in April, and the unemployment rate was unchanged at 3.6 percent, the U.S. Bureau of Labor Statistics reported on May 6, 2022. Job growth was widespread, led by gains in leisure and hospitality, in manufacturing, and in transportation and warehousing.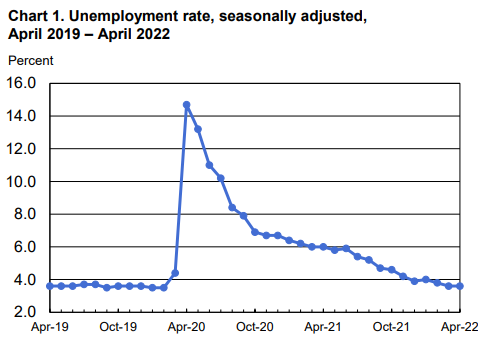 The number of unemployed persons was essentially unchanged at 5.9 million. These measures are little different from their values in February
2020 (3.5 percent and 5.7 million, respectively), prior to the coronavirus (COVID-19) pandemic, meaning the unemployment rate is at pre-pandemic levels.
Among the major worker groups, the unemployment rates for adult men (3.5 percent), adult women (3.2 percent), teenagers (10.2 percent), Whites (3.2 percent), Blacks (5.9 percent), Asians (3.1 percent), and Hispanics (4.1 percent) showed little or no change over the month.
Among the unemployed, the number of permanent job losers remained at 1.4 million in April, and the number of persons on temporary layoff was little changed at 853,000. These measures are little different from their values in February 2020.
In April, the number of long-term unemployed (those jobless for 27 weeks or more) was little changed at 1.5 million. This measure is 362,000 higher than in February 2020. The long-term unemployed accounted for 25.2 percent of all unemployed persons in April.
Both the labor force participation rate, at 62.2 percent, and the employment-population ratio, at 60.0 percent, were little changed over the month. These measures are each 1.2 percentage points below their February 2020 values.