Weekly Market Insights: Tighter Money Policy, Market Drops
With the Fed in focus, the markets experienced wide price swings over the course of last week, as technology companies led the market lower.
The Dow Jones Industrial Average slipped 0.24%, while the Standard & Poor's 500 declined 0.21%. The Nasdaq Composite index dropped 1.54% for the week. The MSCI EAFE index, which tracks developed overseas stock markets, fell 1.99%.1,2,3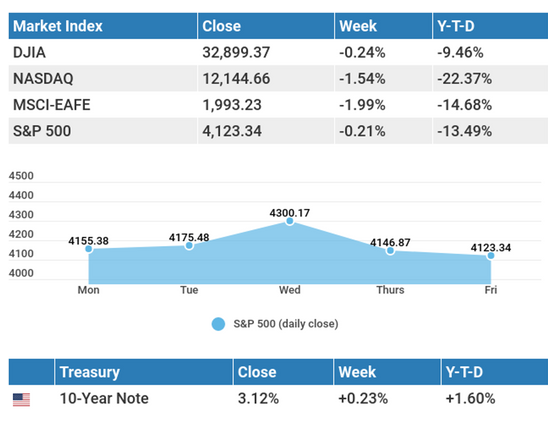 Weekly Market Insights: A Wild Week
After successive daily gains to begin the week, stocks staged a powerful relief rally in response to Wednesday's Federal Open Market Committee (FOMC) announcement, aided by Fed Chair Powell's comment that a 75-basis point hike was not under active consideration.
Stocks, however, dropped the following day as investors reassessed the implications of a tighter monetary policy. Also on Thursday, the yield on the 10-year Treasury Note closed above three percent. News that worker productivity fell 7.5% and labor costs rose 11.6% in the first quarter fanned inflation fears and added to investor unease. Despite a better-than-expected employment report, stocks closed out the week with another day of losses amid volatile trading.4
Fed Raises Rates
The May 2022 FOMC meeting resulted in an increase of 50 basis points in the federal funds rate, the largest rate increase since 2000. In a post-meeting press conference, Fed Chair Powell said additional 50 basis point hikes are likely, acknowledging that inflation was much too high and sending assurances that he was committed to price stability.
The Fed also announced that it would begin reducing its $9 trillion balance sheet by $95 billion a month, a step the markets had been anticipating.5
This Week: Key Economic Data
Wednesday: Consumer Price Index (CPI).
Thursday: Producer Price Index (PPI). Jobless Claims.
Friday: Consumer Sentiment.
This Week: Companies Reporting Earnings
Monday: Tyson Foods, Inc. (TSN).
Tuesday: Occidental Corporation (OXY), Sysco Corporation (SYY).
Wednesday: The Walt Disney Company (DIS), Rivian Automotive, Inc. (RIVN).
Thursday: Affirm Holdings, Inc. (AFRM).
Footnotes and Sources
The Wall Street Journal, May 6, 2022
The Wall Street Journal, May 6, 2022
The Wall Street Journal, May 6, 2022
CNBC, May 5, 2022
CNBC, May 4, 2022
IRS.gov, February 16, 2021
mondaycampaigns.org, February 22, 2022
---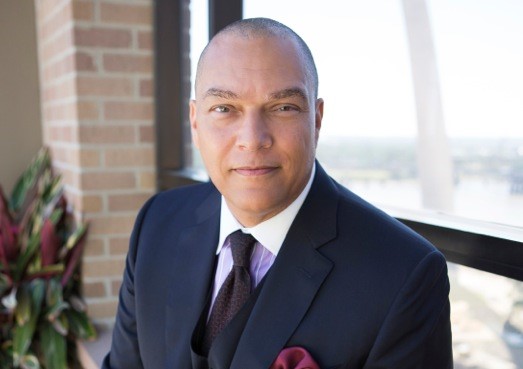 Paul Ellis, CIMA® may be reached at 425.405.7720 or paul.ellis@elliswealthmanagement.net.
This material was prepared by MarketingPro, Inc., and does not necessarily represent the views of the presenting party, nor their affiliates. This information has been derived from sources believed to be accurate. Please note – investing involves risk, and past performance is no guarantee of future results. The publisher is not engaged in rendering legal, accounting or other professional services. If assistance is needed, the reader is advised to engage the services of a competent professional. This information should not be construed as investment, tax or legal advice and may not be relied on for the purpose of avoiding any Federal tax penalty. This is neither a solicitation nor recommendation to purchase or sell any investment or insurance product or service, and should not be relied upon as such. All indices are unmanaged and are not illustrative of any particular investment.
Investment Advisor Representative, Cambridge Investment Research Advisors, Inc., a Registered Investment Advisor. Registered Representative, Securities offered through Cambridge Investment Research, Inc., a Broker/Dealer, Member FINRA/SIPC. Cambridge and Ellis Wealth Management, LLC are not affiliated. The information in this email is confidential and is intended solely for the addressee. If you are not the intended addressee and have received this email in error, please reply to the sender to inform them of this fact. We cannot accept trade orders through email. Important letters, email, or fax messages should be confirmed by calling (425) 405-7720. This email service may not be monitored every day, or after normal business hours. This material distributed via the MarketingPro system.