Local Eats Spotlight: Red Rock Subs
EVERETT, Wash., May 24, 2022 — Red Rock Subs is a well-loved sub shop off Broadway in Everett. Having been in business for nearly 20 years, Red Rock has stood the test of time despite being in an area unfavored by critics. The shop's longevity can be attributed to its commitment to serving quality ingredients and caring for customers and employees.
Red Rock Subs is located at 3514 Broadway, Everett, WA 98201. You can follow them on Facebook @redrocksubs and Instagram @redrocksubs. To view their online menu, click here.
Success despite the naysayers
Elaine Kwak opened the shop back in 2002. An article from the Everett Business Journal, printed that same year, covered Kwak's new business venture and details her commitment to making wholesome, fresh sandwiches.
"We'll stay within our cost margins, but we're going to use better foods," she told the paper, explaining how she planned to spend less on plastic and paper items and more on exceptional ingredients—like opting for green leaf lettuce instead of the cheaper iceberg.
Elaine's enthusiasm didn't thwart the nay-sayers at the time who speculated that Red Rock wouldn't be successful due to the location. The paper described the area as a "seamy underbelly" full of transients and loitering.
"We will be hitting 20 years in November," says Red Rock General Manager Dionne Kaneaiakala. "So I believe that she definitely beat the odds there, and the people who said she couldn't make it."
In addition to being in business for two decades, Red Rock Subs has even won several awards over the years, winning LiveInEverett's Best Sandwich Shop in Everett Award in 2017 and the Everett Herald's Best Sandwich Shop Award in 2018 and 2019.
A family-oriented small business
When chatting with Kaneaiakala, who's worked at Red Rock for eight years, it's clear that the shop has a special place in her heart. "Elaine gave me an opportunity to work when nobody would," she said.
Eight years later, Kaneaiakala is still with Red Rock because she loves being a part of the family-oriented business. "This is a family-owned business," she says, "and so it's been super helpful to have the family be a part of my family and really just work with me. So I stay for the family."
Tragically, Elaine Kwak died of cancer in February 2020, just a month before the global pandemic.
Red Rock endures tragedy and survives the pandemic
Amidst the loss of the original owner and in the face of an unprecedented challenge for small businesses, Kaneaiakala joined forces with Elaine's daughter and nephew to ensure the shop would endure.
"[Red Rock] was her baby," Kaneaiakala says. "There were a lot of standards that she had as far as in the quality of food. Some of those we got nervous about because there was a shortage in food and in product," she said, describing the struggles Red Rock faced during the pandemic. "There was a [shortage] everywhere—even customer-based."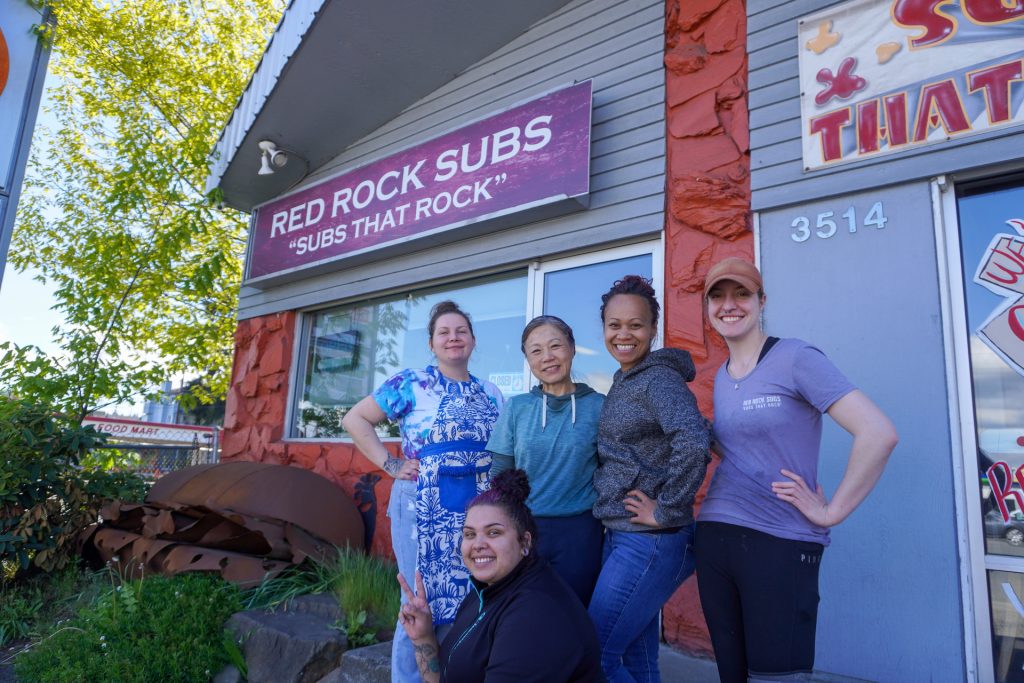 Kaneaiakala and Elaine's nephew, Matthew, witnessed an abrupt decrease in business as the COVID-19 virus spread. They even asked each other, "How are we going to survive this?"
"So I said, 'we're going to do this.' I reached out to the community, reached out to a couple radio stations, reached out to a couple of newspapers, put us online—made sure we were up and running online," she recalls.
The main goal of Kaneaiakala's outreach was to let the public know that Red Rock Subs still had its doors open for business.
"The community definitely came back. We had a lot of catering orders. We may not have had as much business coming through the doors, but we catered to a lot of hospitals in the area—you know, 'cause our front line people are still out there, and they're still hungry," she says.
"It was really awesome that they supported us. Our regular customers were happy that we did not close."
Red Rock Subs not only made it through the pandemic but beginning this week, they're extending their hours of operation, opening at 10 a.m. and closing at 5 p.m.
Elaine's sister-in-law, Vivian Kwak, became the new owner of Red Rock in March of this year and believes Elaine would be pleased with the shop's current success. "She'd be proud," says Vivian. "She believed in certain things, like good ingredients, and we're keeping up with her standard."
THE FOOD
The Pot Roast Sub
Also known as "The Original," the Pot Roast Sub is the shop's most famous menu item. Of course, putting pot roast, grilled onions, cheddar, and garlic mayo between bread sound good in theory, but Red Rock really pulls it off thanks to their delicious mayo and unbeatable pot roast recipe. The filling to bread ratio is well-balanced on this sub, too, and the bread retained its structure very well and didn't get soggy—definitely worth the try.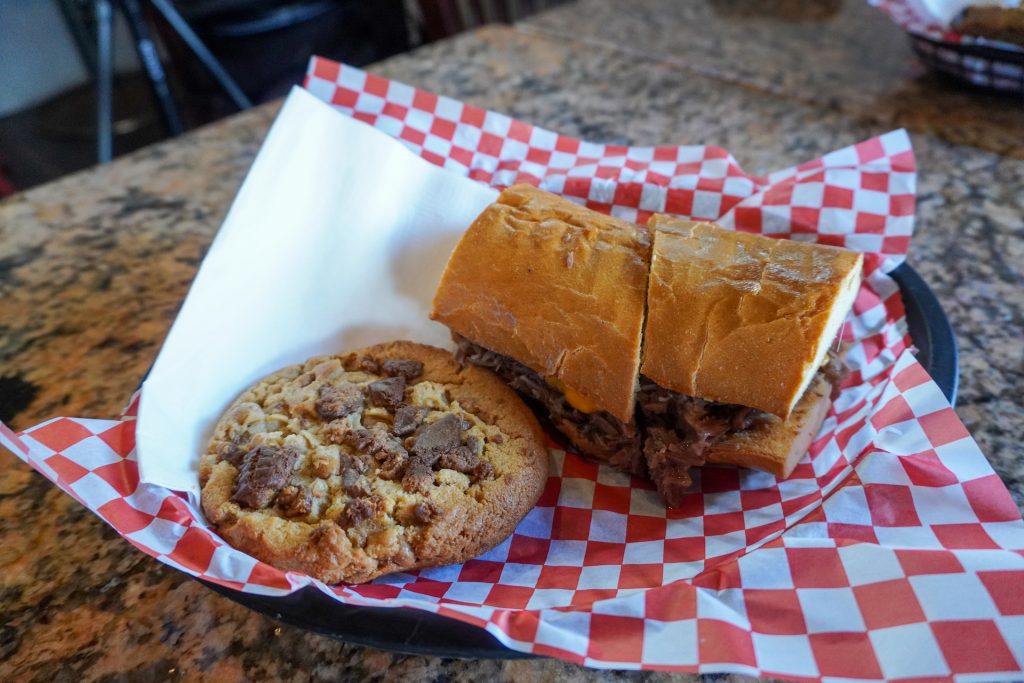 The California Club
This sub gets turkey, swiss, avocado, garlic mayo, dijon, tomato, and, when they have them, sprouts. I'm used to California-style subs being dressed with regular mayo or even ranch, so I was delightfully surprised by the garlic mayo, dijon combo. It was a new take but still stayed true to its name. And with super fresh ingredients, like crisp green lettuce and perky tomatoes, this is the ideal summer sandwich, in my opinion.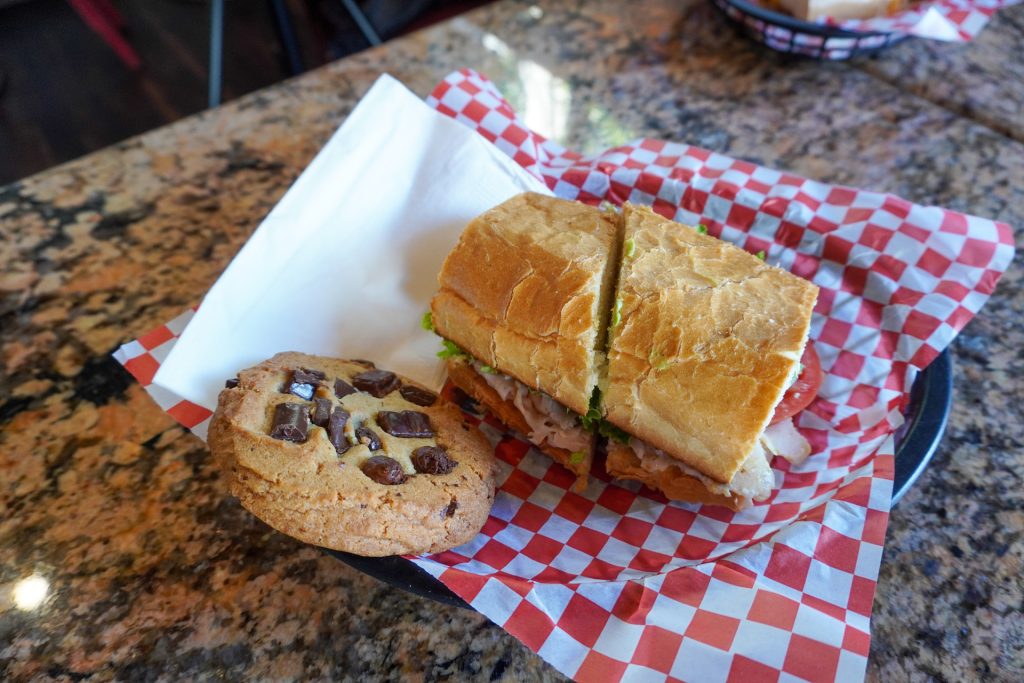 Cookies: Chocolate Chunk and Peanut Butter Cup
I am a tremendous fan of cookies and thus have high cookie standards. I can tell you that Red Rock's cookies are top-tier. The peanut butter cup cookie (seen next to the Pot Roast Sub) is superbly tasty, but the texture of the Chocolate Chunk (Kaneaiakala's favorite, seen next to the California Club) was incredible. Usually, with bigger cookies, they run the risk of being too dry, but the Chocolate Chunk cookie was perfectly moist and just had just the right coloring for a chocolate chip cookie.
RATING
Overall, Red Rock Subs is a small shop that packs a big bite. Never mind what the critics say about the area, the friendly employees and good sandwiches make it a pleasant experience. If I had to rate this shop, I'd give them the "MUST TRY, WORTH THE DRIVE, SANDWICH SURPRISE!" award.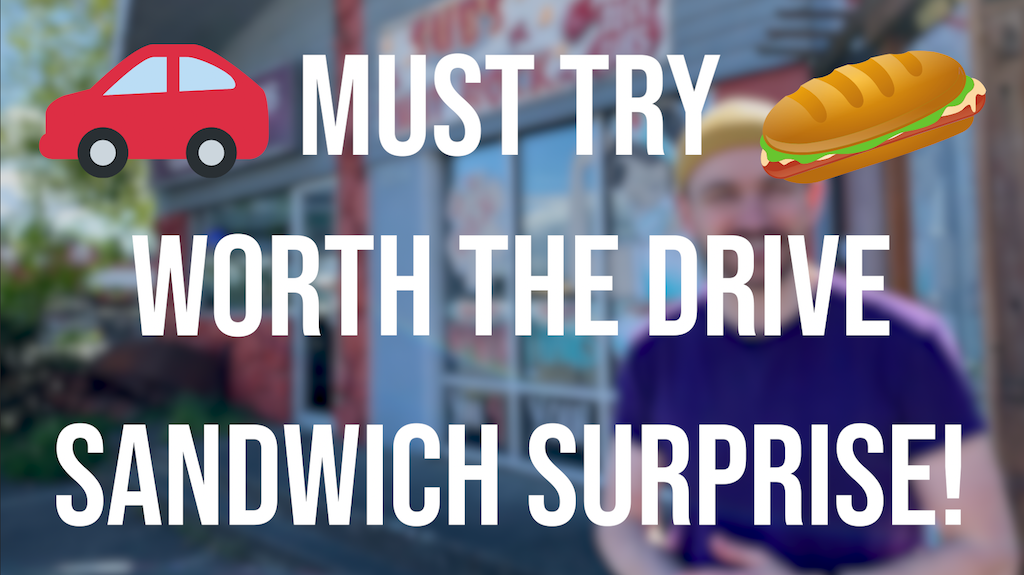 Have a favorite grub spot in Snohomish County? Let us know where we should go for our next Local Eats Spotlight segment by emailing Bo at bojohn.brusco@lynnwoodtimes.com.