Bail set at $1 million for Daleway Park murder suspect
LYNNWOOD, Wash., May 25, 2022 – Today, Leif Gunnar Smith appeared in Everett District Court for the alleged murder of 70-year-old Carl Bridgmon that occurred on April 5, 2022, at Daleway Park. Bail was set for $1 million. Bridgmon's was caught in the middle of an altercation between four individuals and gunned down as he sat in his car at Daleway Park.
Lynnwood Detectives arrested Smith, a 21-year-old Marysville resident, yesterday and booked him into the Snohomish County Jail on multiple charges including Assault 1, Assault 2, Robbery 1, and Aggravated Murder 1. If convicted, Smith faces life in prison.
Below is the Snohomish County Jail booking made yesterday of Leif Gunnar Smith.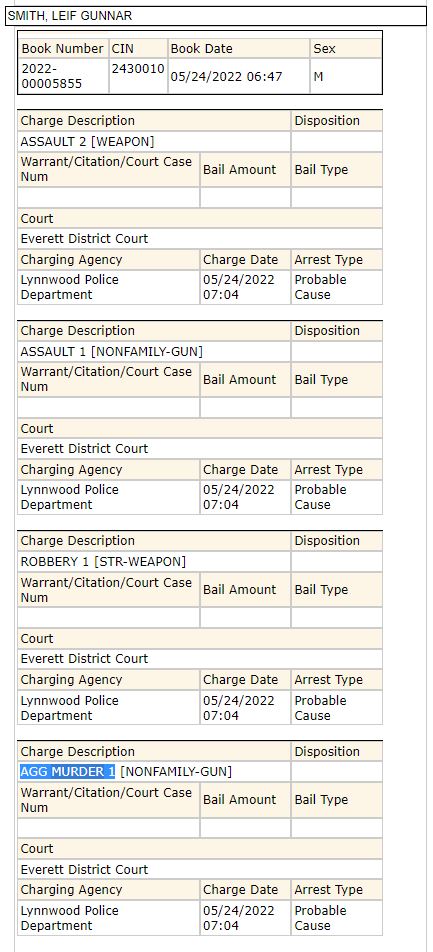 Daleway Park shooting
Carl Bridgmon man was shot dead in his car Tuesday, April 5, at Lynnwood's Daleway Park, on 64th Avenue West. Lynnwood Police were on the scene at 2:14 p.m. after reports of multiple shots fired were made to find a deceased adult male in the driver's seat of a vehicle, which was damaged by several bullets. Multiple bullet casings were also found in the area.
Several people were seen fleeing the area, police said, and a black Toyota car was seen speeding away. A witness told the Lynnwood Times they appeared to be young adults.
Two 18-year-old males were found in a nearby neighborhood backyard and questioned by police. Detectives also interviewed several park-goers and nearby residents and are still in the process of trying to determine the involvement of the two 18-year-old males.
Witnesses described the vehicle that fled prior to police arrival as a black sedan.
Cedar Park Christian School was briefly placed on lock-down as a precaution.
The Snohomish County Medical Examiner's Office later confirmed the victim in the shooting incident as 70-year-old Lynnwood resident Carl W. Bridgmon. The manner of death was ruled a Homicide.
According to a statement released by the family, Bridgmon loved to sit and have his coffee at the park several times a week. The family is distraught over this "senseless" tragedy. Bridgmon was caught in the crossfire between two groups of individuals and tragically murdered.
Below is the statement from Carl Bridgmon's family in its entirety:
Family of a beloved Lynnwood man, who was innocently killed during the April 5 senseless shooting at Daleway Park in Lynnwood shares about their Dad, Carl Bridgmon.
Bridgmon was tragically killed on April 5 after the vehicle he was sitting in was shot by unknown suspects who were in a confrontation with other individuals, also unknown to Bridgmon.
"Our family is in complete shock. Thank you for the community's concern for our Dad, Carl Bridgmon, he was 70-years-old and a Lynnwood resident," said the Bridgmon family.
"Our Dad loved to go to that park and sit and have his coffee several times a week," said his daughter Courtney Teno. We are devastated and would really appreciate privacy as we process this over the next few days and weeks."
Carl leaves behind two daughters, their significant others, two sisters, and many other loved ones and friends. "Carl never met a person he didn't talk to or try to make friends with," Teno said.
The Lynnwood Police are still asking anyone who has any information on this shooting to contact Detective Arnett at (425) 670-5669. You can also leave tips at Crime Stoppers of Puget Sound (1-800-222-8477).