County dedicates Global War on Terror memorial in Arlington
SNOHOMISH COUNTY, Wash., May 31, 2022 – On Memorial Day, county leaders rededicated the Haller Bridge as a veteran's memorial bridge to honor local military members who perished during the Global War on Terror (GWOT) – 9/11/2001 to the present. A sculpture by local artists Caroline Sumpter and Don Frazier and interpretive kiosk are also a part of the memorial.
This collaborative effort between local veterans, the City of Arlington, the Snohomish County Arts Commission, the Snohomish County Conservation & Natural Resources, and the Snohomish County Parks & Recreation, was supported by County Executive Dave Somers, County Councilmen Nate Nehring (District 1), and Sam Low (District 5).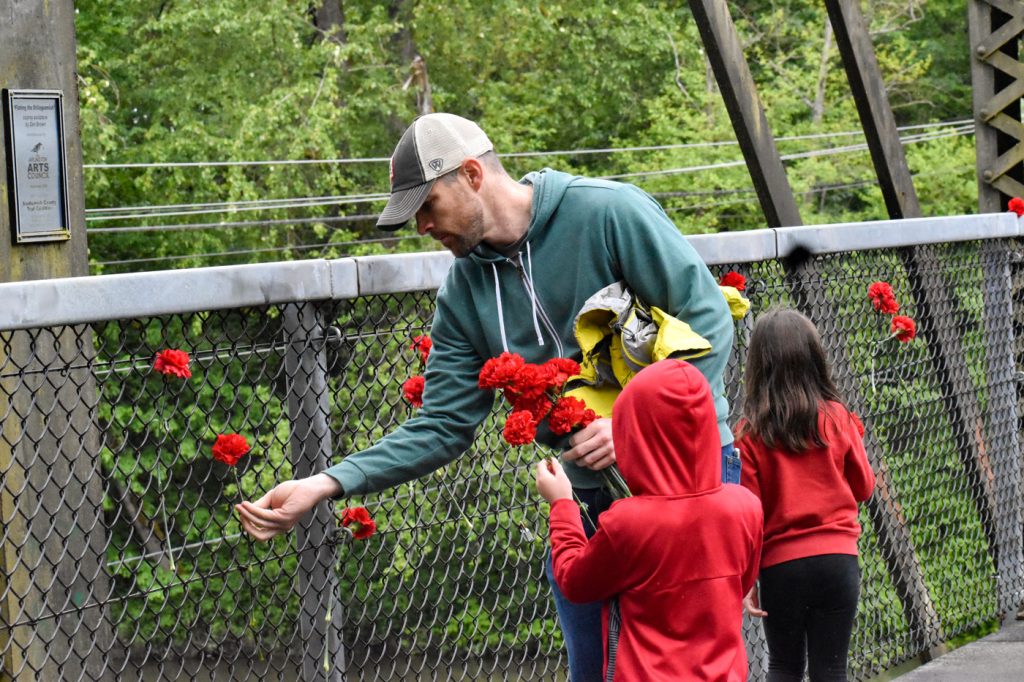 Located between the Unity Arch and Peace Plaza in Arlington, the memorial begins at the approach of the Haller Bridge, along the Centennial Trail, and crosses the Stillaguamish River. It is the first in Snohomish County to specifically honor military veterans killed in post-9/11 conflicts. A total of 155 Washington state service members have given their lives during the war on terrorism.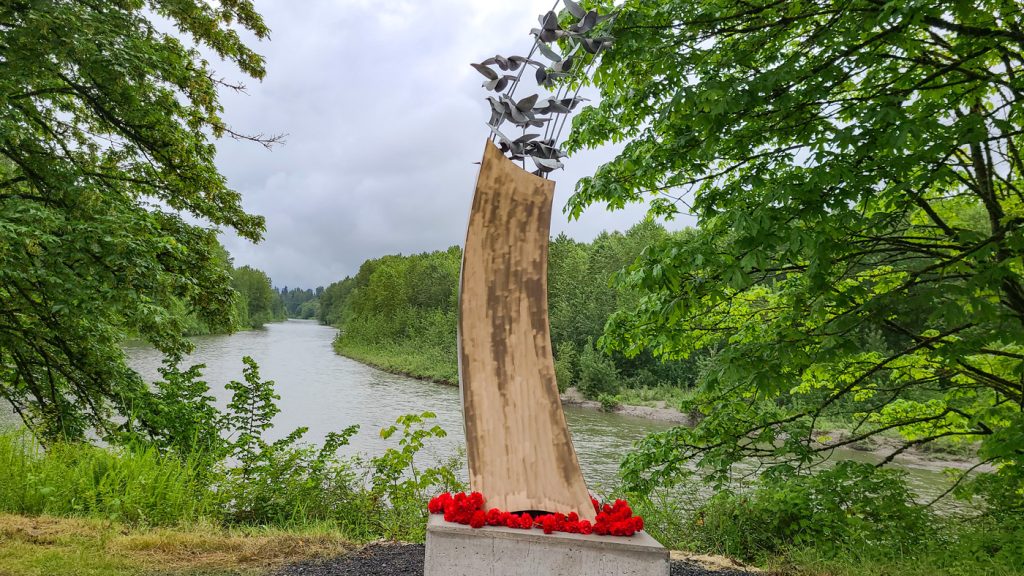 The hollow bronze sculpture signifies the emptiness felt when losing a loved one. Adorning the top of the art piece are 18 bronze doves representing the Snohomish County service men and women who were lost to the Global War on Terror.
"It is fitting to remember them today; but today is a day to remember everybody who has given their lives in service," Executive Somers said during Monday's ceremony. "We are so grateful to them. Let's remember their families and friends and the way it has affected their lives and all of our lives to this day."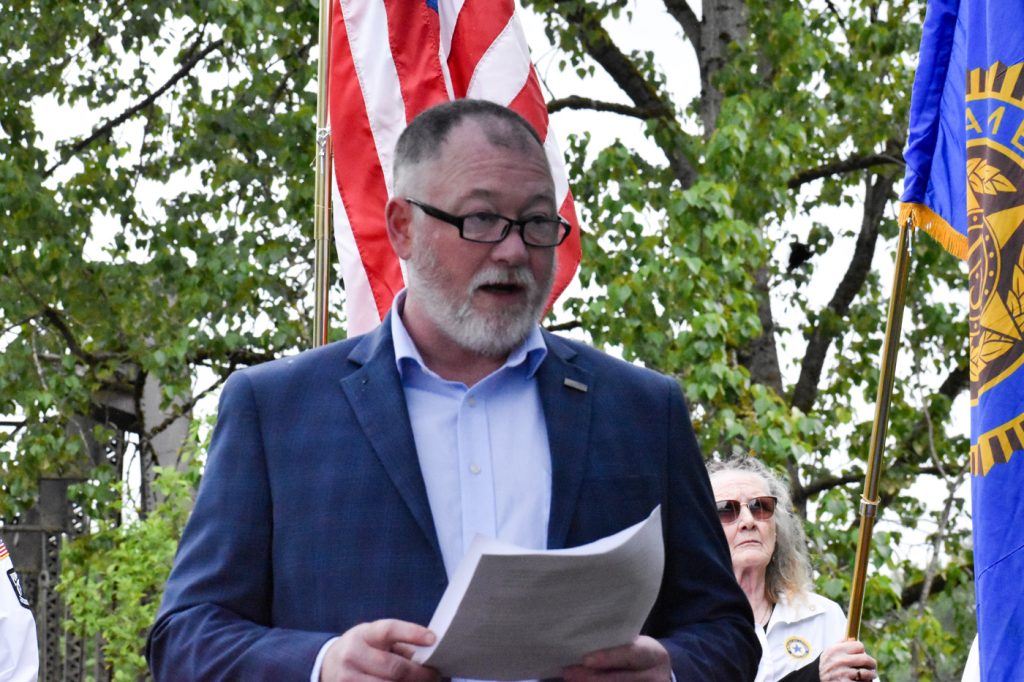 Joshua Dugan, a retired U.S. Navy veteran and member of Executive Somers' office, shared the names of all 18 military members who have paid the ultimate sacrifice on the Global War on Terror since 2001
"Before you today, is a newly dedicated veteran memorial bridge, which is being dedicated and honored in the remembrance of Snohomish County sons, brothers, uncles, and fathers who paid the ultimate sacrifice during the many years of the post-9/11 wars," Dugan said.
The following names are of the eighteen Snohomish County GWOT casualties:
9/10/2016: 1LT Jeffrey D. Cooper, U.S. Army, Mill Creek, served in Kuwait
5/23/2012: 2LT Travis A Morgado, U.S. Army, Lynnwood, KIA Afghanistan
11/27/2011: MAJ Philip D. Ambard, U.S. Air Force, Edmonds, KIA Afghanistan
11/19/2009: SSG John J. Clevenger, U.S. Army, Marysville, KIA Afghanistan
9/9/2008: 1LT Nicholas A. Madrazo, U.S. Marine Corps, Bothell, KIA Afghanistan
9/9/2008: HM3 Eichmann A. Strickland, U.S. Navy, Arlington, KIA Afghanistan
3/23/2008: LCPL Dustin L. Canham, U.S. Marine Corps, Lake Stevens, Djibouti
3/10/2008: SGT Phillip R. Anderson, U.S. Army, Everett, KIA Iraq
10/4/2007: SPC Vincent G. Kamka, U.S. Army, Everett, KIA Iraq
7/26/2007: PVT Michael Baloga, U.S. Army, Everett, KIA Iraq
7/16/2007: LCPL Shawn V. Starkovich, U.S. Marine Corps, Arlington, KIA Iraq
12/5/2006: SPC Jordan W. Hess, U.S. Army, Marysville, KIA Iraq
2/18/2006: SGT Charles E. Matheny IV, U.S. Army, Stanwood, KIA Iraq
5/30/2005: CPL Jeffrey B. Starr, U.S. Marine Corps, Snohomish, KIA Iraq
9/16/2004: CPL Steven A. Rintamaki, U.S. Marine Corps, Lynnwood, KIA Iraq
5/29/2004: PFC Cody S. Calavan, U.S. Marine Corps, Lake Stevens, KIA Iraq
8/1/2003: SPC Justin W Hebert, U.S. Army, Arlington, KIA Iraq
9/11/2001: SGM Larry Strickland, U.S. Army, Edmonds, KIA Pentagon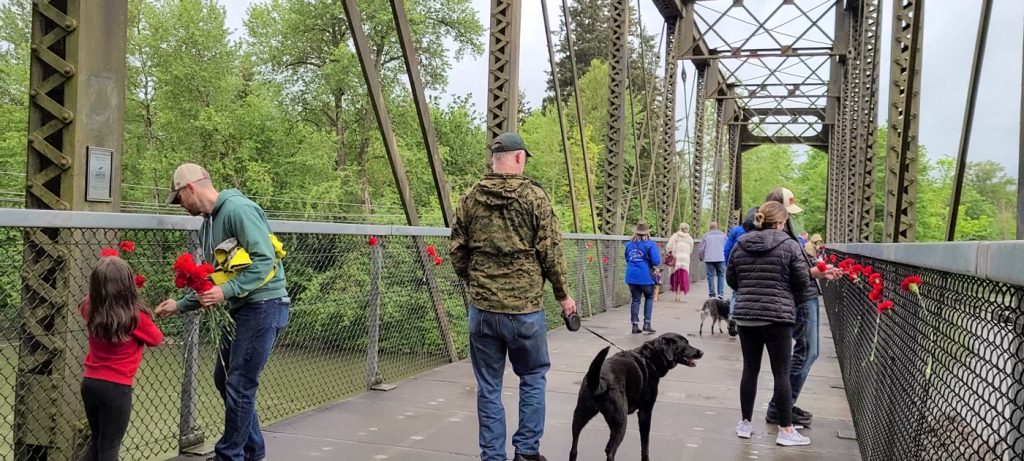 Jessica Corbman, the Snohomish County liaison for Representative Rick Larsen (WA-02) who was on an oversees visit, shared a statement on his behalf, reminding us of the "cost of war beyond the battlefield."
"More than 30,000 U.S. service members and veterans of post-9/11 wars have died by suicide," Corbman said on behalf of Larsen. "Service members deserve the best care, the best treatment, and the best support our nation can provide."
Councilman Nehring shared the unique honor for the county to have dedicated the Haller Bridge location as a site to honor veterans.
"We have many military families, as we heard today, in our community, especially here up north," Councilman Nehring said. "So, it is only appropriate we have this local site to be able to remember and reflect on those who have given everything for our nation and for the freedoms we enjoy."
Councilman Low thanked Snohomish County Parks & Recreation along with Executive Somers and Councilman Nehring for their leadership with the project.
"As we know freedom is not free and it comes with a great cost. And we are thankful for those who served and those who have given their life in service," Low said.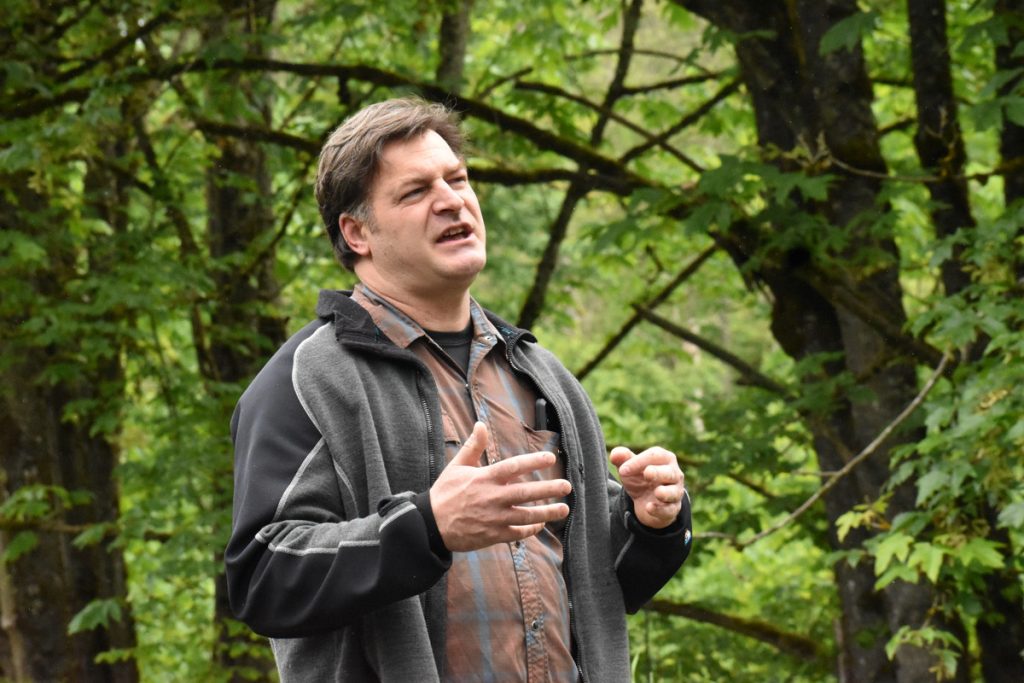 The location of the GWOT Veterans Casualties of Snohomish County Memorial along the Centennial Trail is a popular destination for recreation and provides a peaceful setting for reflection and prayer to honor the brave souls lost to recent military conflicts. The trail was built on the old Burlington-Northern railroad line in 1989 and extends some 30 miles. The memorial is located at 1100 West Avenue in Arlington, WA.
Scenes from the Global War on Terror memorial dedication ceremony