No idea is too small for Lynnwood's "Big Ideas Month" initiative
LYNNWOOD, Wash., June 6, 2022 – The month of May was "Big Ideas Month" in Lynnwood, where residents were invited to share how they envision the City's future. Lynnwood's Development and Business Services Department (DBS) posted several questionnaire stations around town to gather input from the community in preparation for the City's 2024 Comprehensive Plan update and the City Center + Alderwood (CC+A) Plan. So far, the department has received more than 500 ideas.
The DBS has been serious about gathering community input, too. Along with the questionnaires, the department sent multiple emails to over 18,000 addresses, mailed pre-paid postcard questionnaires to over 15,000 Lynnwood addresses, repeatedly posted on social media, and distributed flyers to businesses and community organizations last month to invite city-wide participation.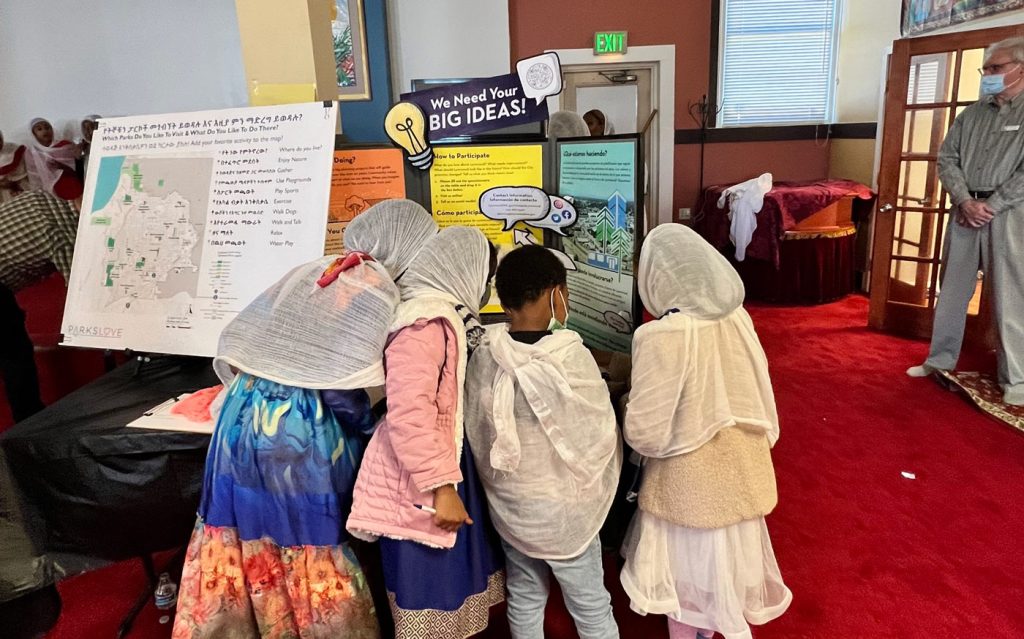 Members of the DBS also attended several community events and gatherings to promote Big Ideas month, starting in late April at a Joint Boards and Commissions meeting and ending on June 4 at the Cops with Kids event. But even though May has ended, residents can still voice their ideas.
"Just because 'Big Ideas Month' is over, it doesn't mean it's the end of our conversation," says DBS Senior Planner Kristen Holdsworth. "You can still reach us in all the ways that you could during Big Ideas Month. We just won't have as many email blasts, social media posts, or questionnaire stations posted around the City."
According to Holdsworth, the physical questionnaire stations have been retired as of June 4, but the online questionnaire will remain active until late summer. Available in multiple languages, the questionnaire gauges how residents currently feel about Lynnwood and how they would like to see it improve over the next 20 years.
The two-decade timeline comes from the City's 2024 Comprehensive Plan, which envisions Lynnwood's future for the next 20 years, determining its long-term strategy for growth, infrastructure, and services. The plan was last updated in 2015.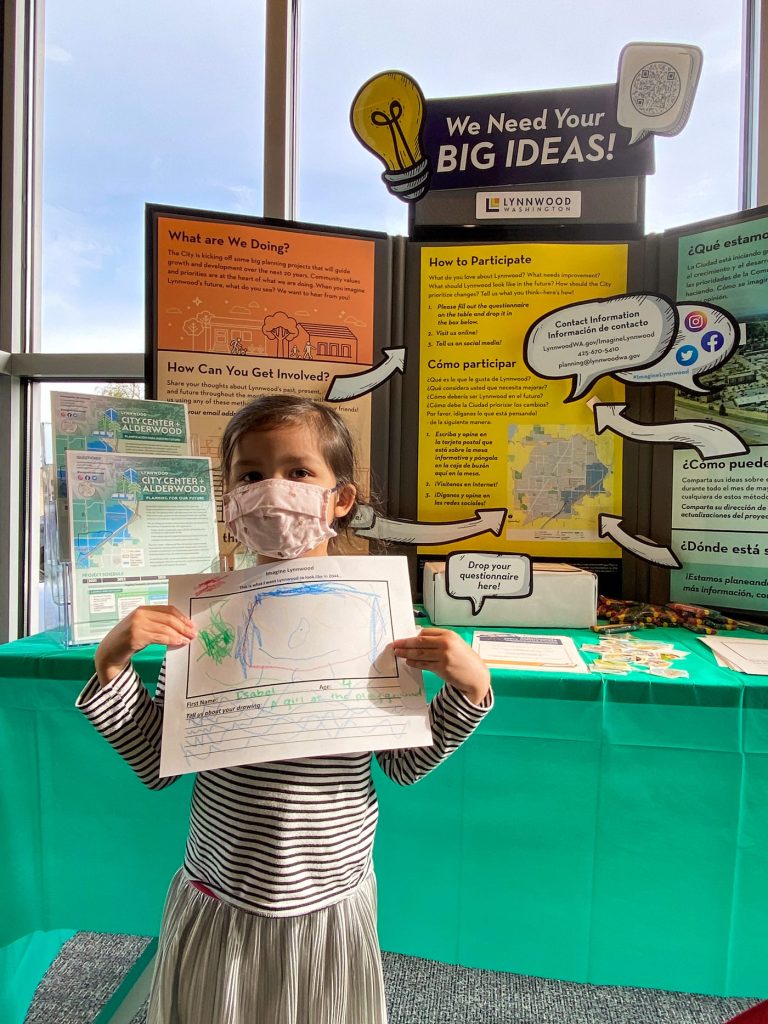 Lynnwood's City Center + Alderwood (CC+A) Plan follows the same timeline as it's projected to become the heart of the City with the construction of light rail stations and residential units, which will also increase job growth.
Holdsworth says that the concept behind this Big Ideas movement was about thinking big together. "[A]nd we need the community's big ideas because this is the community's plan," she explains. "I'm helping guide it through the process, but it's not supposed to be my plan. It's really supposed to be the vision of the community, and so we wanted their big ideas and the community's big ideas for what our future will be like."
Even though new responses won't be a part of the first summary report, Holdsworth says they will be included in the next round of community input set to begin in the second half of the year. "The next round of engagements are going to be focused a little differently," she explains, "because it will be building off our findings from this first round of questionnaires."
Mayor Frizzell says no idea is too small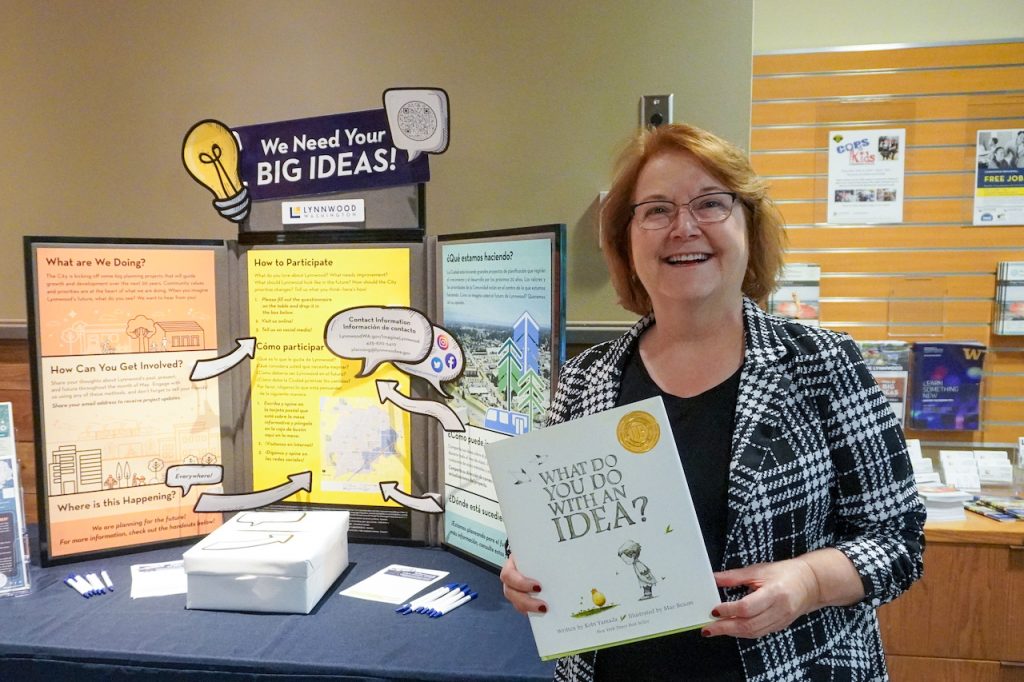 To residents who worry their ideas are too insignificant to share, Lynnwood Mayor Christine Frizzell says, "When we're in school, we're told there's never a dumb question. There's no dumb idea. There's no bad idea there. We're looking for each and every idea. You can send it in anonymously if you want. We want ideas, and we're extremely sincere about that."
Since she first took office, Mayor Frizzell has been enthusiastic about sharing and growing ideas. During an interview at the beginning of this year, Mayor Frizzell shared with the Lynnwood Times her favorite book: "What Do You Do with an Idea," by Kobi Yamada.
The story is about a child who "one day […] had an idea" and didn't know what to do with it. The idea, depicted as a golden egg with legs wearing a crown, follows the protagonist around as they wonder, "What do you do with an idea?" At first, the child worried about what others would think of the idea, but eventually, they let it grow so big that it changed the world.
"And that's what we're trying to do with Big Ideas Month is to take those ideas that [the City] hasn't thought of yet, but people in our community have thought of, but maybe they're just a little reticent about putting them out there, […] and start to give them life," says Mayor Frizzell.
While the book didn't exactly inspire Big Ideas Month, Mayor Frizzell says the two are definitely tied into each other.
The unofficial results of Big Ideas Month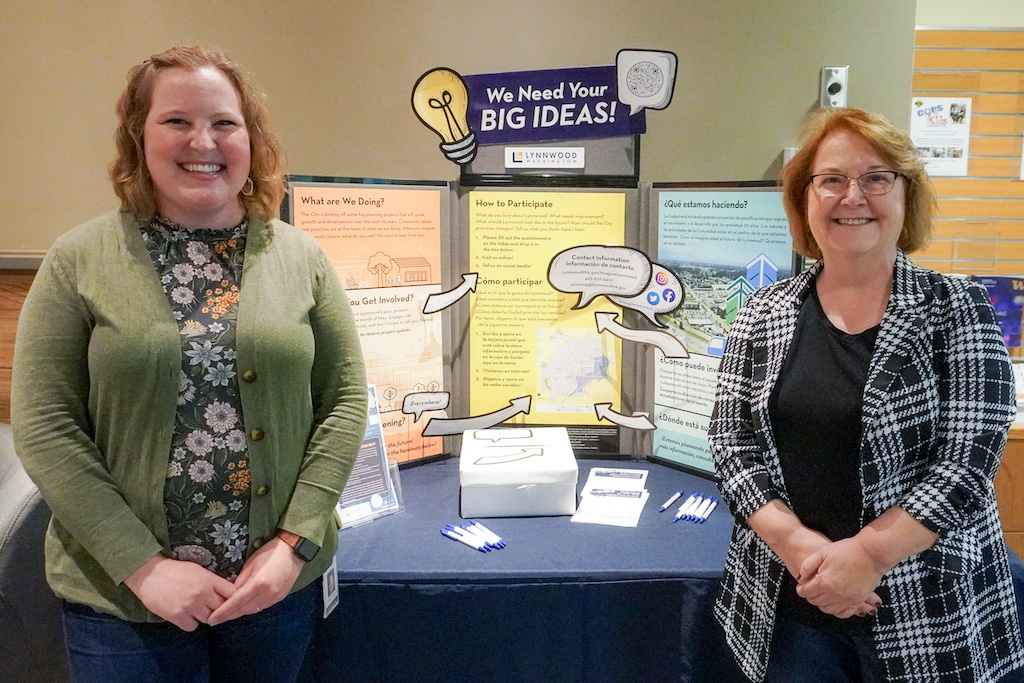 According to Holdsworth, more than 500 responses have been submitted so far and each idea is being considered. "We're considering everything we're reading," she says. "There's a real person reading all of it—multiple people reading all of it. And really what we'll do is we'll filter those ideas into future conversations with the community and further outreach to really refine what we're hearing and to dig into what some options could be around what we're hearing."
From the first round of questionnaires, Holdsworth says that the DBS will create a summary report that should be released by the end of summer, and noted that the department will continue gathering information throughout the process via the online questionnaires. In the meantime, she shared with the Lynnwood Times some unofficial trends in the community's feedback so far.
"People love Lynnwood's recreational opportunities," she says. "This isn't statistically accurate at this point, but far and away, I'm seeing [that people love] the Recreational Center, the Senior Center, the trails, the parks."
Noting how Lynnwood has a diverse population, Holdsworth says, "The other thing people are really talking about is that they feel like they have a strong community, and they feel welcome here."
Share your idea!
Residents who haven't had a chance to share their big ideas for Lynnwood's future can click here to fill out the electronic questionnaire, email ideas to DBS at planning@LynnwoodWA.gov, or call the department at 425-640-5410.