Cascade Warbirds to fly at the upcoming Olympic Flight Museum Airshow
SNOHOMISH COUNTY, Wash., June 8, 2022 – Members of Cascade Warbirds will be flying in and exhibiting their aircraft at the Olympic Flight Museum Airshow, Fathers' Day weekend, June 18-19.  These historic military planes from different countries will be featured along with the Olympic Flight Museum's P-51D Mustang, the most outstanding fighter of WWII.  A dozen pilot owners of this regional group are expected to have their historic aircraft on display and discuss the details of their aircraft and their passion for historic flight.  The airshow will be at the Olympia Regional Airport with additional aircraft, flight demonstrations, and special events all weekend.
For tickets click here.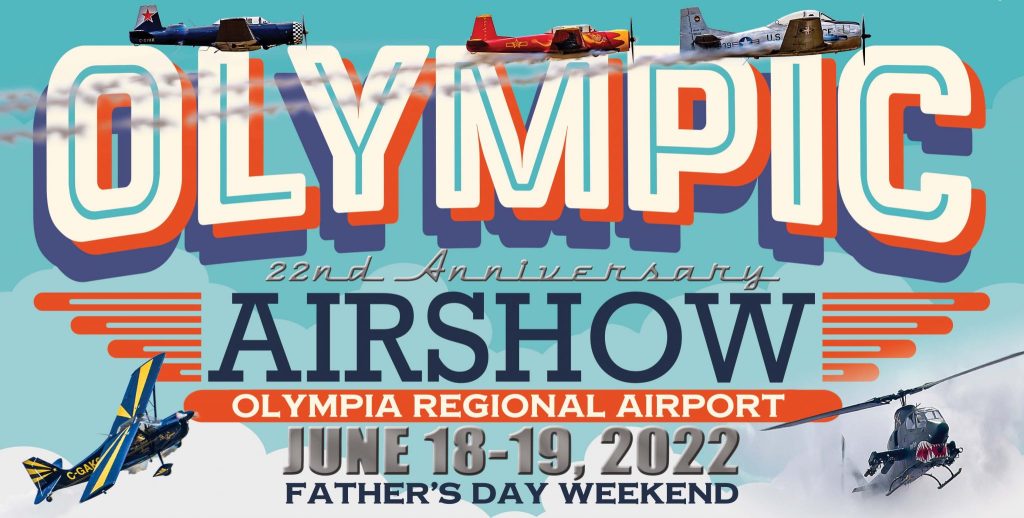 Cascade Warbirds is a group of military aviation enthusiasts from throughout the Northwest. Many members are pilot-owners who operate a wide variety of former military aircraft. Examples which are expected include the following:
T-6 Texan, Harvard. Built by North American Aviation, the Texan was used by the US military as an advanced trainer to prepare cadets to fly the famous North American P-51 Mustang. Navy versions were identified as SNJ. The Harvard was a nearly identical version built and operated by the British Commonwealth countries.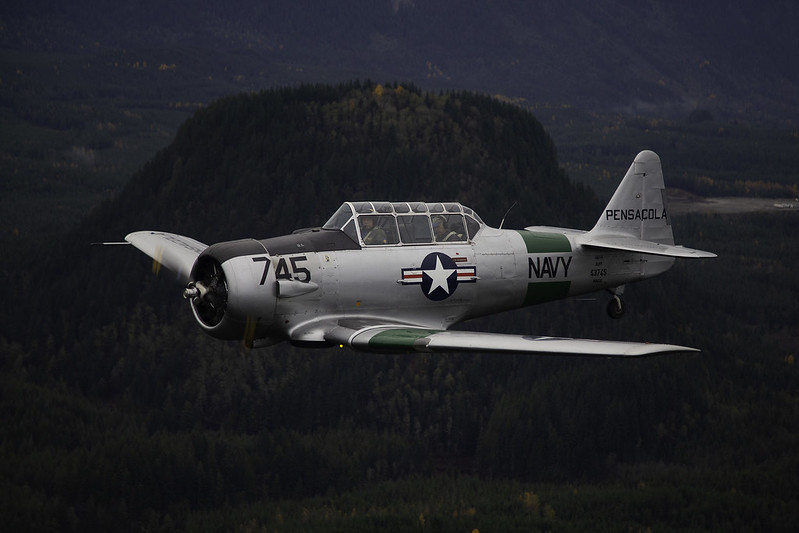 CJ-6. An improved design of the Russian Yak 18, the Nanchang CJ-6 was used to train pilots of the Peoples Republic of China Air Force. It is popular as an affordable, relatively high performance platform to enable pilots to develop formation flying skills. Two CJ-6A models are expected.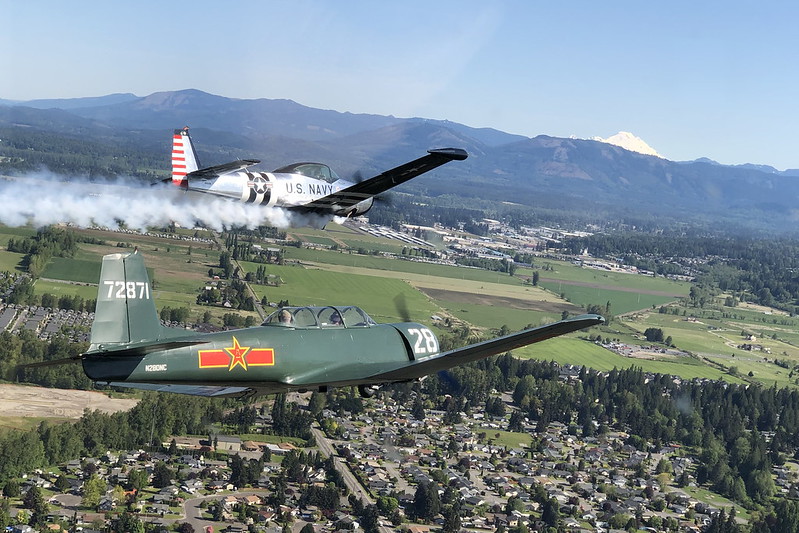 IAR-823. Designed and built in Romania for their Air Force, this four place trainer has aerobatic ratings and hard points for mounting weapons. Because it uses many American components, it is attractive to our market and about 50 are owned in the US. Two pilot owners fly this model of airplane.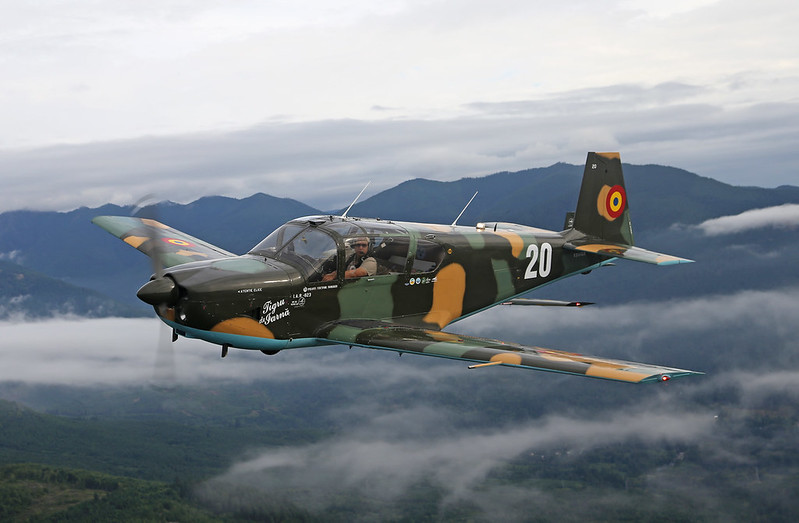 L-3 Grasshopper. Built by Aeronca, the L-3 was actually ordered by the US Army Air Corps prior to WWII. The two place tandem craft served as an observation plane and trainer for later liaison aircraft.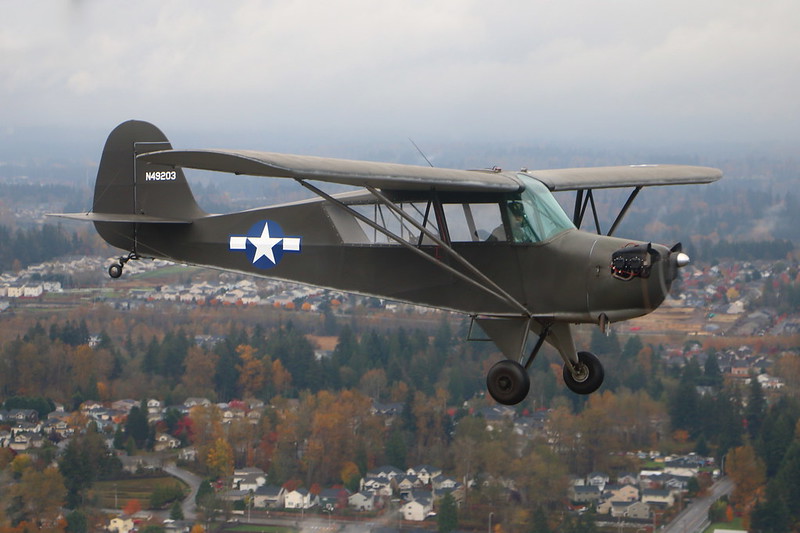 L-4 Grasshopper. The military version of the famous Piper Cub is distinguished by plexiglass skylight and rear windows for improved visibility. The L-4 began its military career before WWII as a trainer and served as a slow observation plane throughout that war and even saw wide use in the Korean War.
L-17 Navion. Designed by North American Aviation right after WWII for the civilian market, and manufactured by several different companies, military versions were used in a liaison role. Several are scheduled to appear, watch for one that says USAF that has Canadian registry.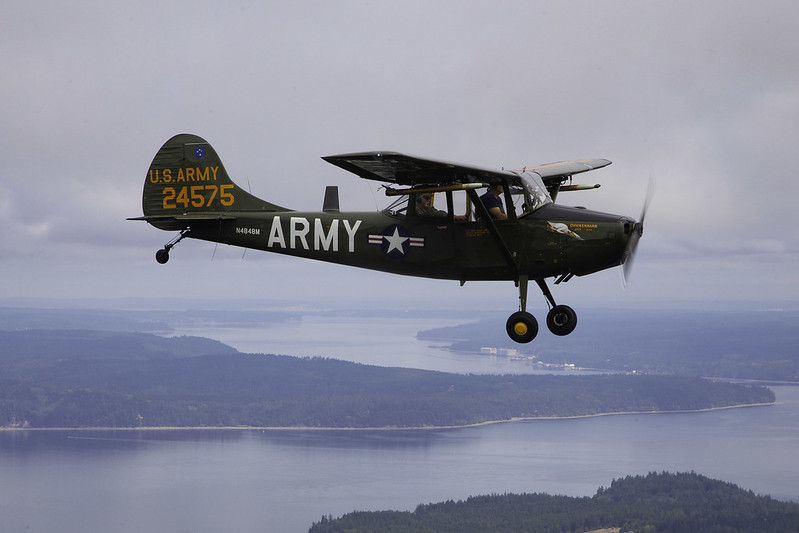 Scottish Aviation Bulldog. Rarely seen in North America, this little trainer was designed and built by Beagle Aviation and used by the Air Forces of the UK, Sweden, and many countries in the Middle East and Africa.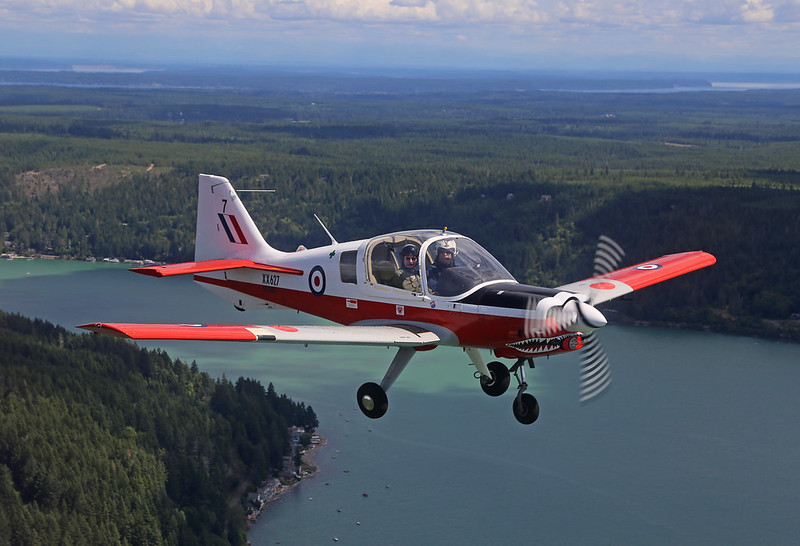 Seabee. Built by Republic Aviation, this postwar amphibian with its pusher propeller saw very limited military use, but was very popular with Seattle area pilots and is still seen in small numbers anywhere recreational lakes are numerous.
SIAI-Marchetti F.260B. The SIAI-Marchetti SF.260 is an Italian light airplane which has served military customers as a basic and aerobatics trainer and light combat aircraft. The original model was powered by a Lycoming O-540 engine, providing 260 hp. While fully aerobatic, to safely perform aerobatics the rear seat has to be unoccupied and the tip tanks must be empty, reducing the SF.260's normal flight time to one and a half hours.
"We are very excited to be presenting a strong variety of aircraft at this great venue," said Squadron Commander John 'Smokey' Johnson, who flies an authentically restored North American T-6. "We'll be on display to greet the public up close and personal each day; and be available to fully respond to the questions of interested people," he said.
"As much as we enjoy these activities, they are an important part of the Squadron's educational mission.  We also award scholarships to further the aviation interests of young people in a wide variety of futures from flying to aeronautical engineering, and even the military.  We encourage students, parents, and even school administrators to investigate our offerings and submit applications," he added.