Student-made LGBTQ+ posters at Discovery Elementary concern parents
EVERETT, Wash., June 10, 2022 – Anonymous sources are raising concerns over student-made LGBTQ+ posters hanging in the halls of Discovery Elementary School in the Mukilteo School District, which enrolls grades K – 5. The five signs in question feature different sexual orientations and identities. For example, one reads: "Pansexual— Definition: attracted to any and EVERY gender!"
"It was so, so offensive to use the language—the suggestion to small children," one anonymous caller told the Lynnwood Times. "I don't care if it's gay or hetero; you don't just splash big posters about sex all over the elementary school."
According to two sources, the posters first appeared on Wednesday, June 8, and the principal was notified. When the Lynnwood Times reached out to Principal Shannon Koehnen on Friday, she said she was unaware of the posters.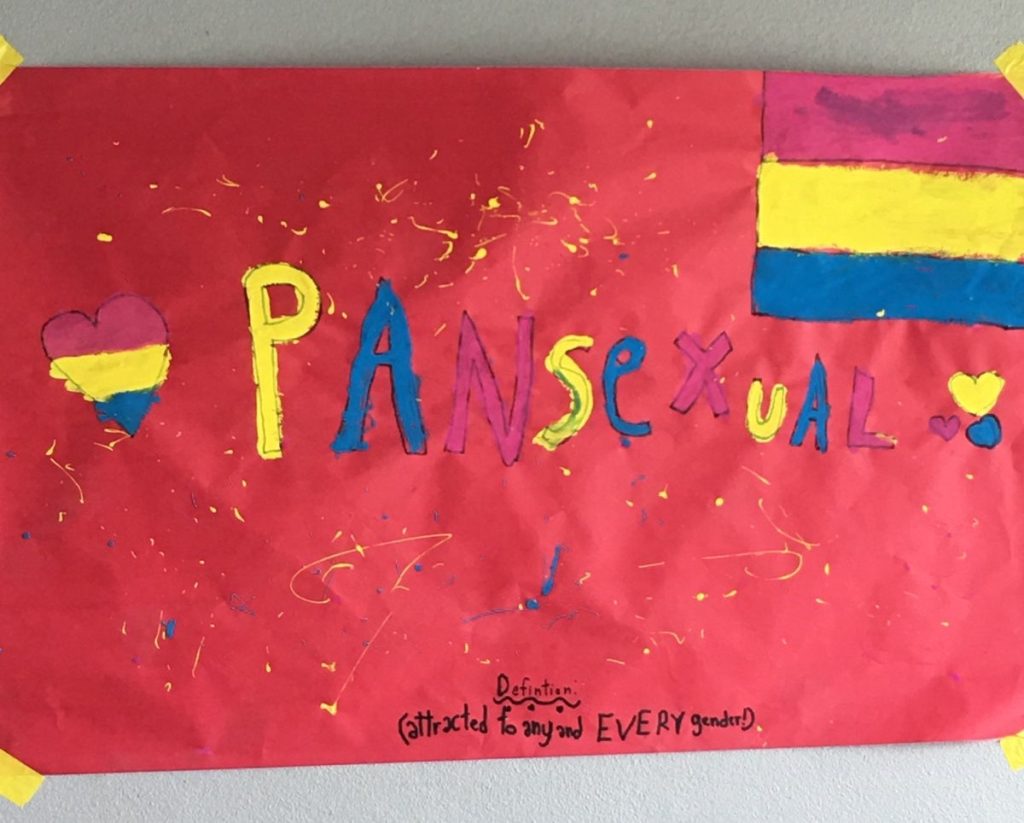 The posters were conceptualized and created by students in the Girls on the Run of Snohomish County (GOTR) club, an after-school program designed to empower girls and is led by volunteer teachers.
The posters were part of a community outreach project. According to GOTR's Executive Director, Megan Wolfe, the teams discussed various communities in their neighborhood and then selected a project to support a community they'd like to help.
"This team decided to support Pride Month celebrations and show their support for their classmates and the families at the school who celebrate," Wolfe explains. "We love how plugged into the world the kids are and that they wanted to show their support in this beautiful way."
On Thursday, the GOTR volunteer teachers sent out an email explaining the context behind the posters. "[GOTR students] decided to make posters and cards to ensure all students and staff who belong to the LGBTQ+ community at Discovery feel welcomed and accepted," the email states. Below is a copy of the email sent to the faculty of Discovery Elementary School from GOTR volunteer teachers.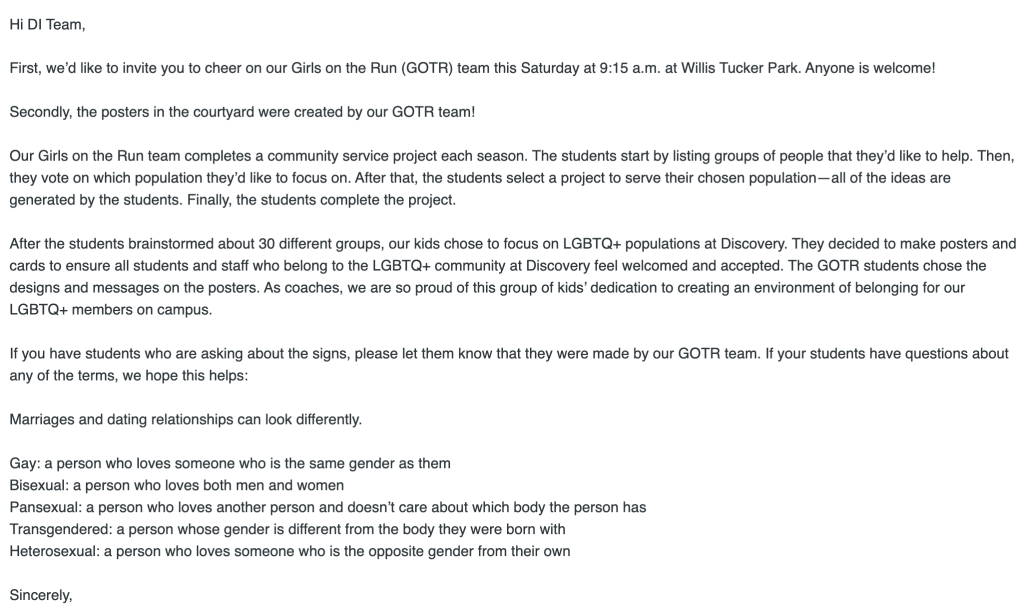 Concerned citizens also questioned whether or not parents were aware of the posters. "I don't think that parents know this," the second anonymous source said, explaining that parents have been prohibited from entering the gated part of Discovery Elementary—where the posters are hung—since the pandemic began. The safety protocol is still in place given the recent school shootings, according to the source.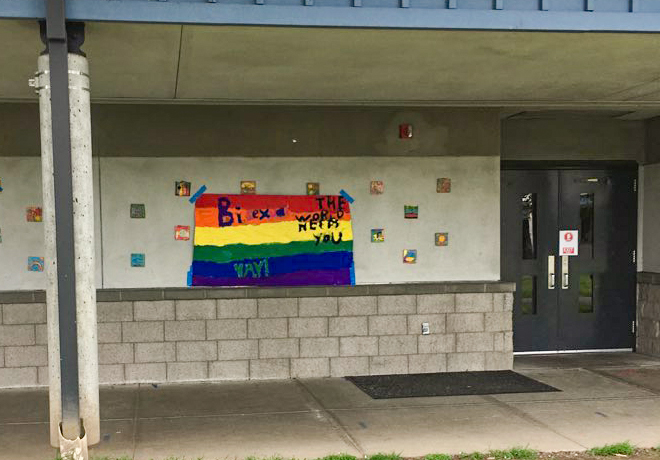 Although third through fifth-grade students made the signs of their own volition, according to the volunteer teachers and GOTR, both anonymous sources felt parents should have been notified.
"As a parent, if my kids came to this school and were exposed to this curriculum that I was not aware of, that's not okay," the same source said. "I do think other parents would have a problem if they knew."
When asked if parents were aware of the posters, Mukilteo School District (MSD) Communications Director Diane Bradford said she doesn't believe "the general school community parents" were notified, and that the GOTR teachers send general information to parents, but nothing specific about the project in question.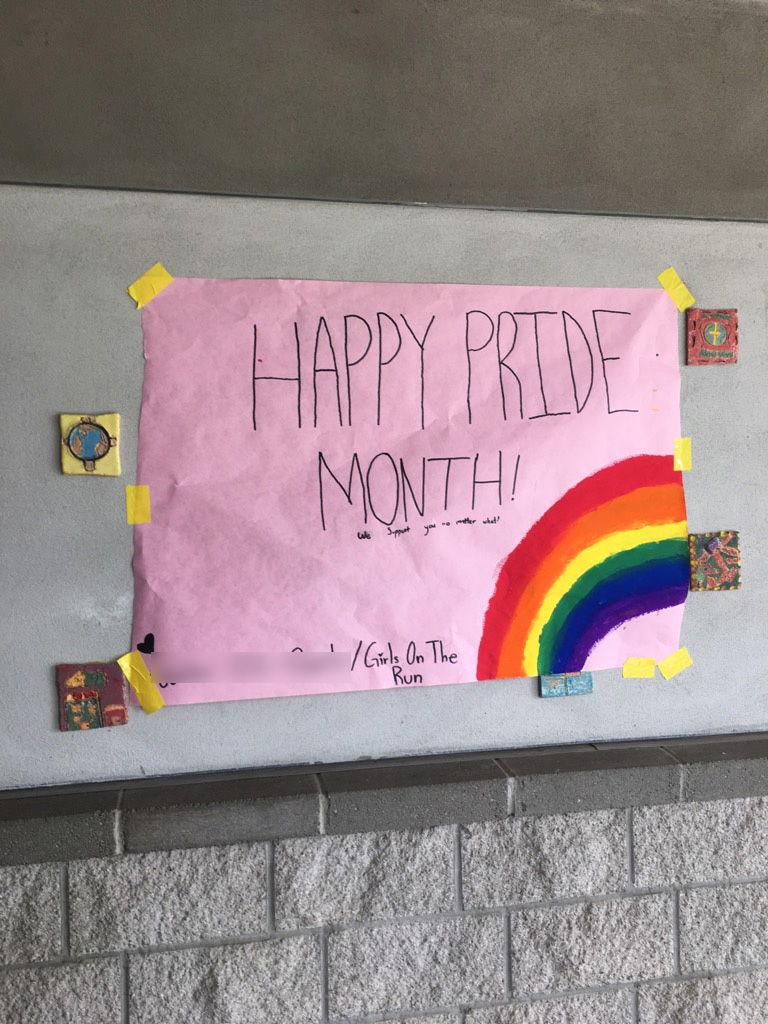 According to the Washington Office of Superintendent of Public Instruction, "No sexuality content or curriculum will be required [for Grades K-3], although districts may choose to offer additional instruction in alignment with K-12 Learning Standards for Health Education."
Executive Director Wolfe asserts that the project had nothing to do with sex education and that the GOTR program doesn't teach sex-ed in any way. "Our curriculum focuses on life skills such as standing up for ourselves and others, embracing our differences and finding strength in our connectedness, self-confidence, dealing with big emotions in healthy ways, celebrating who we are as our authentic selves, and giving back to the community," Wolfe explains.
"We have hosted our program for seven years in local school districts without any complaints about what is in our curriculum," Wolfe continues. "We have been welcomed by school administrations, school staff, and families each year, and we stand by our award-winning curriculum and program."
MSD Communications Director Bradford also confirmed that curricula with sexual content are only taught to students in 4th grade and above, and noted the rigorous selection process when it comes to sexual health education in MSD. She confirmed that parents are notified whenever there is a curriculum update and always have the option to opt their students out from receiving it.
When asked about the concerns surrounding the posters, Director Bradford said, "I think what's important for us to remember is that in that elementary school, our students, whether they identify within the LGBTQ+ community—but even if they don't, or are too young to know—they may have parents or family members that do."
"So it's important to remember that for some people, this may feel very welcoming," she continued. "But I understand that for others, that is not what their family is like, and they may feel differently about it. And I think that's what we're seeing both in and outside of our schools right now."
Regarding this particular situation, Bradford believes more could have been done to communicate the context behind the posters. "Perhaps sending a message before hanging them up might have helped with the intent of the project, so I think on the micro-level, pre-communication might help," she said.
"I will say, around our district, we are doing a lot of equity training to help staff. Everybody is at a different place in their journey, and that's part of our goal as a district is that we are the most supportive we can be to both our students and their families from a welcoming viewpoint."
Girls on the Run Snohomish County's "Celebration 5K," a culminating event for students in the program, will be held at Willis Tucker Park in Snohomish, WA, this Saturday. Click here for event details.