Lynnwood High School 2022 Graduation Ceremony: A triumph after Covid challenges
LYNNWOOD, Wash., June 17, 2022 – On Friday, Lynnwood High School (LHS) held its graduation ceremony for the Class of 2022, which saw 323 students receive diplomas. Despite the grey skies and some students and faculty dawning ponchos, it didn't rain on the Class of 2022; a small gift after losing the bulk of their most formidable years to a global pandemic.
The first speaker of the day was Edmonds School Board Representative Gary Noble. Noble reminisced on his younger years as a quiet nerd and how he grew out of his shell, even enough to address the students and audience before him. He encouraged students to be unafraid of getting out of their comfort zones.
"Graduates, embrace your learning opportunities," he said, "especially those that expand your horizons. They will be what shapes the person you become."
Student Body Vice President Anthony Guinto, one of five valedictorians in his class, spoke after Noble. Guinto lightheartedly addressed the trial that was unique to High School students of today—the pandemic and online learning. "We made it here after two years of laying down in our beds on zoom calls, so that's pretty cool," he grinned.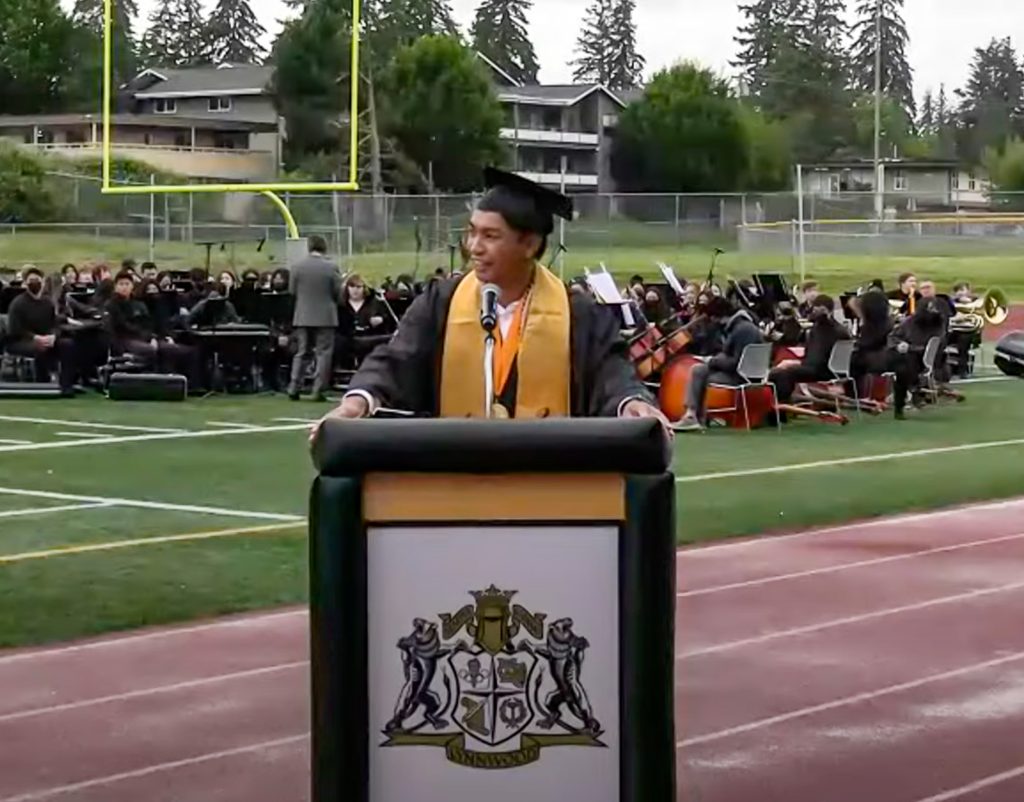 Guinto encouraged his classmates to embrace life for what it is. "Every time we look back on these four years, just remember that every decision we made has led us to the people we are today—a group of resilient, driven, and passionate individuals," he said. "I implore you to look back on this time and embrace all the mistakes, mishaps, and happy little accidents that made us who we are today."
Guinto was followed by Jenna Miller, a valedictorian who staged a student walkout for women's reproductive rights this school year. Miller explained how all of their essential high school experiences as teenagers were "disrupted by Covid," but that she felt a sense of triumph in graduating despite the fact.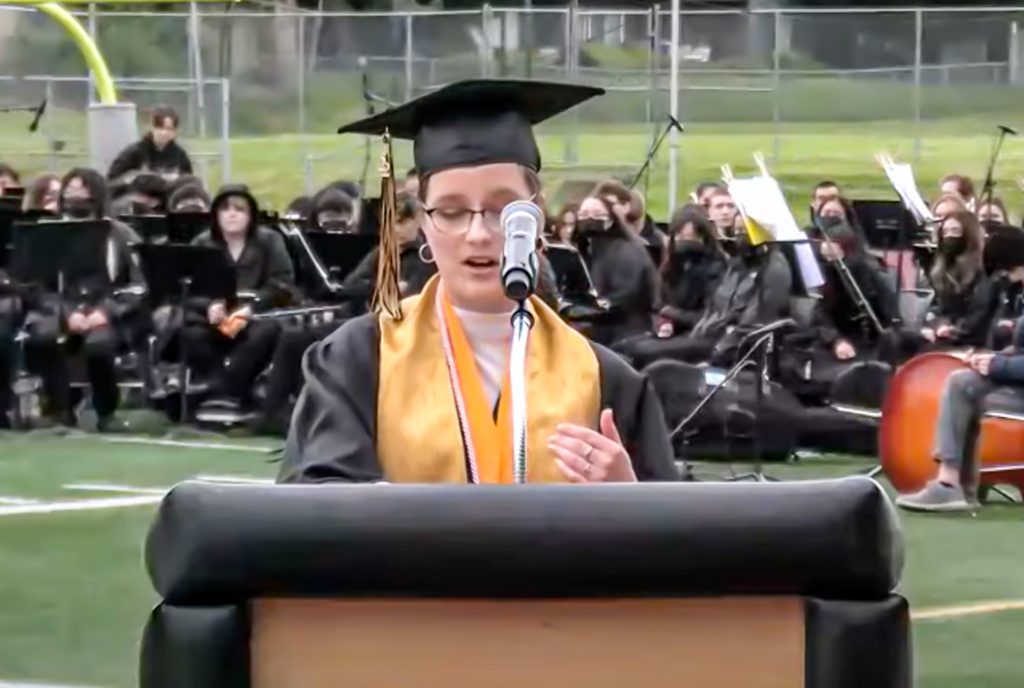 Before thanking teachers and faculty for all their support, Miller addressed her class's potential to impact the world, "We collectively and individually have the power to make a change in our society," she said. "We can make a difference."
Vi Nguyen, the next valedictorian to speak, began by expressing how lacking their high school experience was during Covid. Nguyen noted how they were only able to have "three official semesters of school" and missed out on competitions and events. She did say, however, that the years "had a lot of personality to them."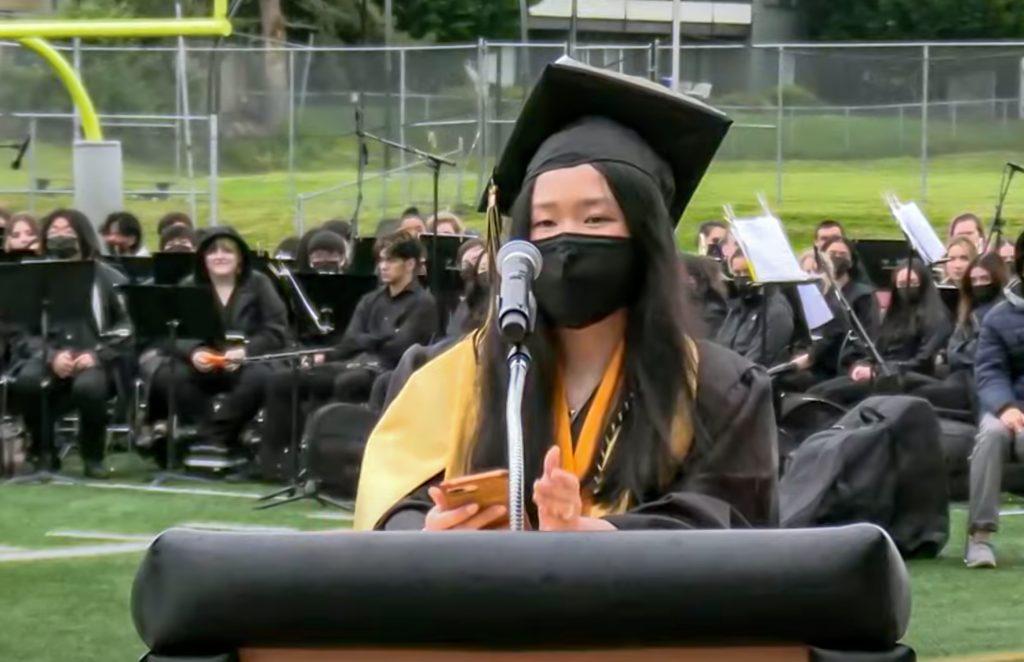 For Nguyen, the big takeaway from Covid was how she and her classmates were able to rise to the occasion. "We all adjusted and adapted to three different learning environments, understanding what does and doesn't work for us," she said, adding how the challenges made the Class of 2022 "unique in the best of ways."
Sharon 'Dubs' White delivered the Staff Speech of the evening. She recalled how the Class of 2022 spent their Freshmen year in person, Sophomore year online, Junior year half online and half in person with social distancing measures in the classroom, and Senior year in person with masks and not having full assemblies. "But," she said, "you made memories despite it all."
According to White, her fellow teachers described this year's graduates as "survivors, fighters, and oh-so-passionate." Continuing to share other teachers' words, White said, "The resilience of these young people and their empathy is inspiring. […] If they can get through Covid high school, they can get through anything."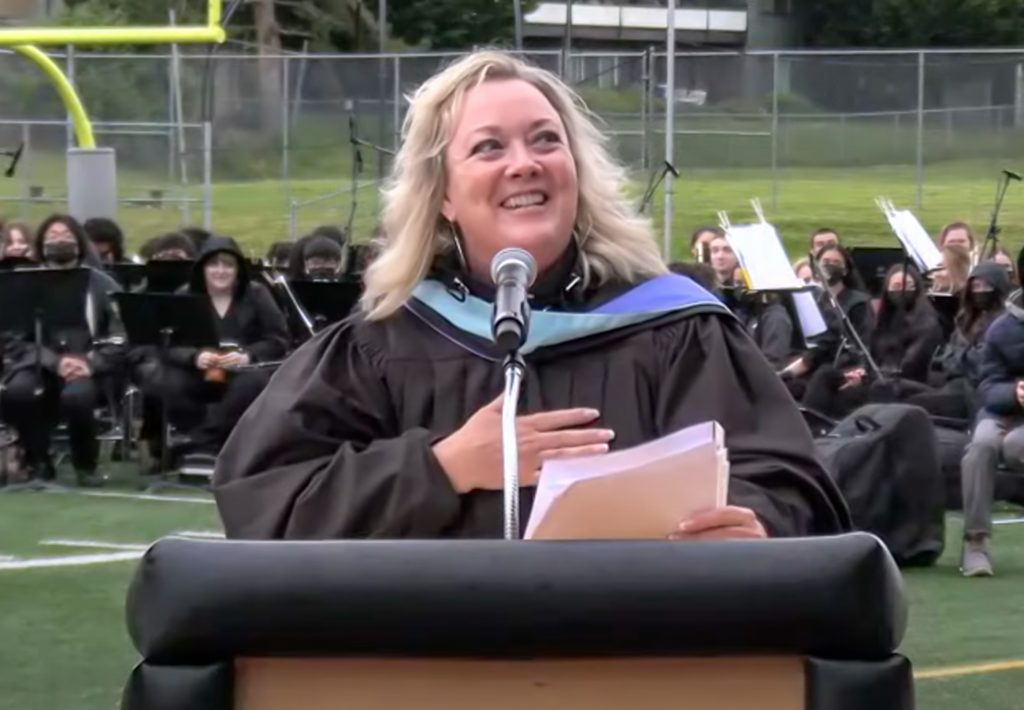 "You have faced many realities during this pandemic," White said, now speaking for herself. "Don't doubt yourself or be afraid to be different. Forge that path ahead. Forge the path towards the world you want to live in. Be brave enough to be your authentic self."
White was followed by Lydia Ismail, the President of LHS's Black Student Union and Student Body Activities Coordinator. Ismail recounted with gratitude the opportunities she's had to be a good influence on other classmates and underclassmen.
"I am proud to say that I am leaving a strong foundation for the black students of Lynnwood High School," she said. "Together, we have created a space where we can be our most authentically and unapologetically black selves!"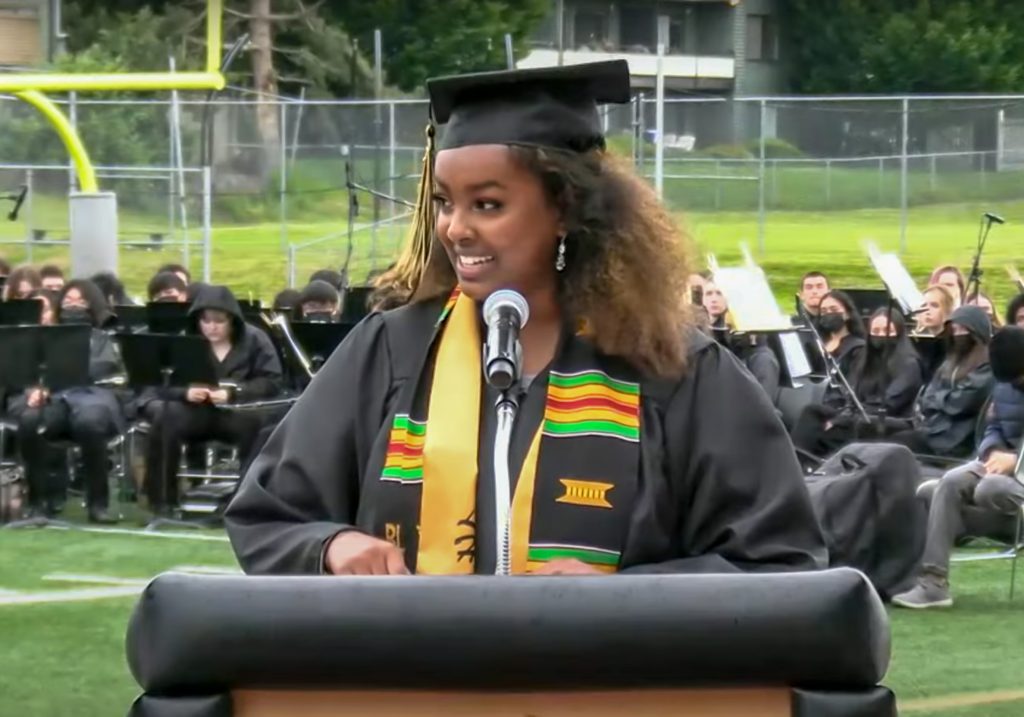 Continuing to speak about authenticity, Ismail said, "Thank you to everyone for being who you are, and please continue to better the world around you."
The final speaker before students received their diplomas was the ceremony's Student Speaker, Valedictorian Lydia Berhanu. Berhanu reminded her classmates to slow down and acknowledge the good things in life but added, "I don't mean to imply that we should ignore the hardships or traumas. I wouldn't want to leave here today without mentioning those who aren't here with us today. The lost class of 2022."
This "Lost Class" Berhanu referred to are all of the students who were supposed to have graduated this year but lost their lives to gun violence—"The number one leading cause of death for American children and teens."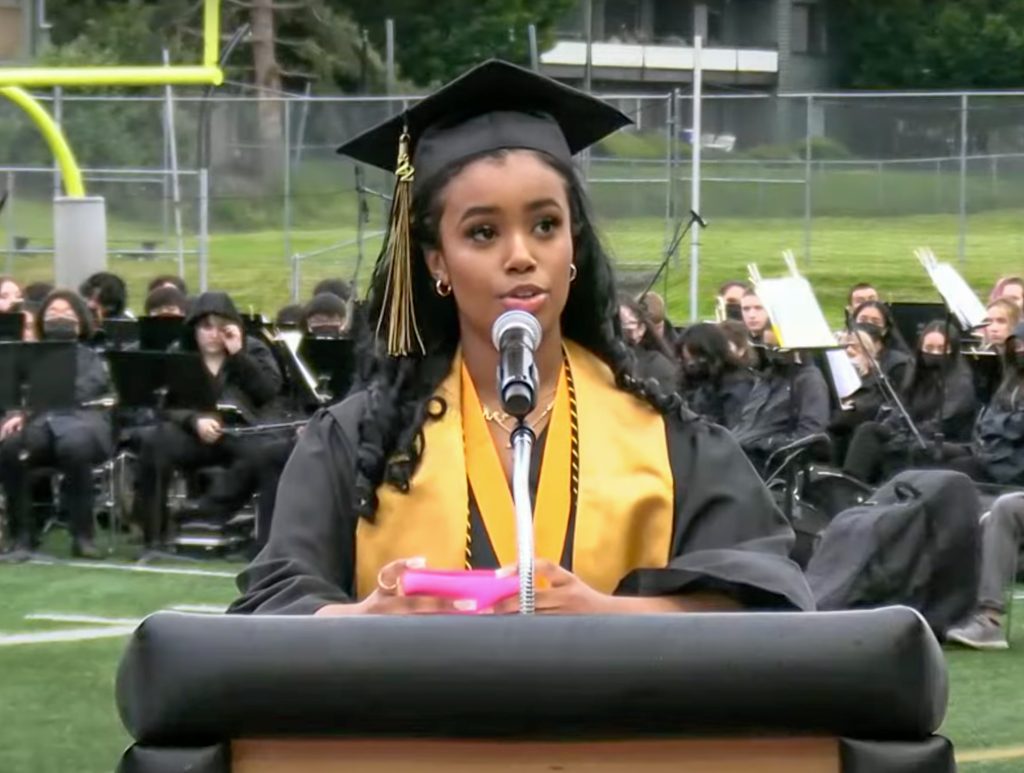 "As soon-to-be graduates, we have now acquired the education to do something about it. To fight," Berhanu added. "As we step into the world, we can't forget about those lost but rather live on for them and shine a light on the lives lost."
Berhanu concluded her remarks by looking forward and encouraging her classmates to make a difference. "The future is in our hands," she said.
To watch the Lynnwood High School's Class of 2022 Graduation Ceremony in its entirety, click here. To view all other Graduation Ceremonies in Edmonds School District, click here.