Rustic Cork Wine Bar coming to Fisherman's Harbor in the Port of Everett
Rustic Cork Wine Bar, based in Lake Stevens, will be located in Fisherman's Harbor, next to the new 266-unit Waterfront Place Apartments and Hotel Indigo, and just south of the building now under construction to house the new Asian-inspired Fisherman Jack's restaurant and South Fork Baking Company opening in late 2022.
Owner Kelsey Olson opened Rustic Cork Wine Bar – Lake Steven's first and only wine bar – in 2020. She offers Washington's finest wines by the glass or bottle, bringing Washington Wine Country to you. Rustic Cork will be part of the Port's destination "wine walk," targeting a mix of wineries, breweries and distilleries for tap and tasting rooms between Fisherman's Harbor and Marina Village.
"The Port is thrilled to have Rustic Cork as one of our new tenants," said Lisa Lefeber, Port of Everett CEO. "They have a great brand, excellent customer base and will fit perfectly with the waterfront vibe we are working to create."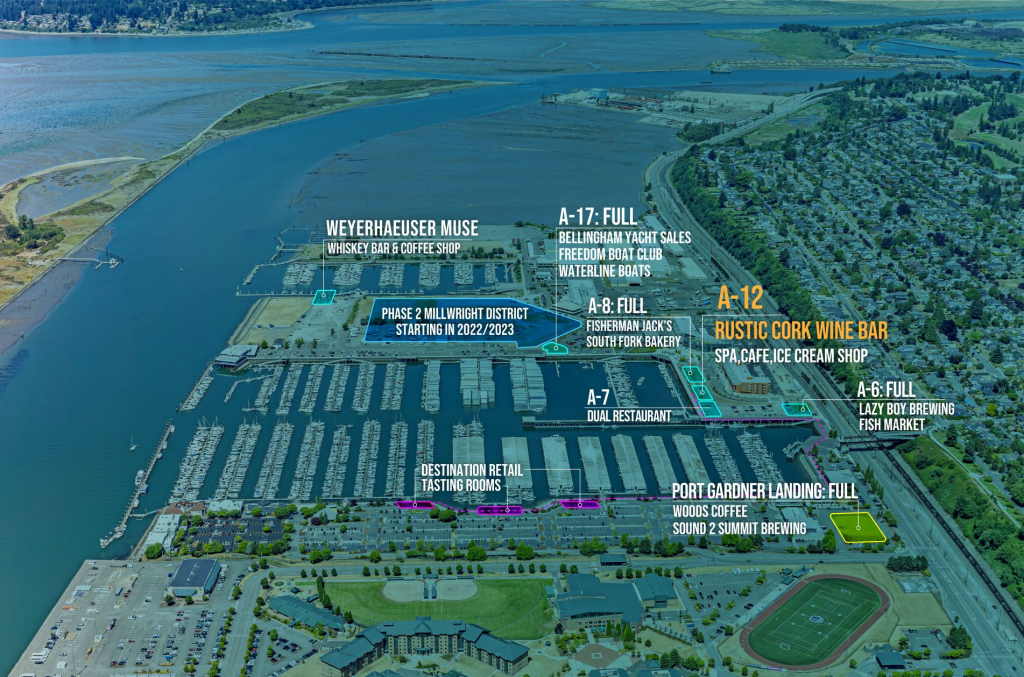 Olson said she loves all the development, improvements and fun things happening at the Port of Everett, such as Music at the Marina, Sail-In Cinema and Pacific Ice.
"I was drawn to the words 'wine walk' and knew I had to be a part of it," Olson said. "I personally find sitting outdoors by the water to be very relaxing and look forward to our patio for guests to enjoy the view of the marina while sipping on delicious Washington wine!"
Rustic Cork will offer wine flights from the Columbia and Yakima valleys and sharable plates like charcuterie, bruschetta, and flatbreads. You'll also find a few local craft beers and ciders on tap. Olson said she plans to host trivia nights, live music and paint and sips in Everett.
Rustic Cork will be a tenant in a new two-story, 10,000-square-foot building overlooking the new Guest Dock 5 and Central Marina. The Port is targeting a specialty ice cream shop, spa and fitness studio to fill the balance of the building.
Port development partner The Schuster Group will be constructing the building. Construction is slated for 2023.
Public is invited
Talk with Rustic Cork Wine Bar representatives at the Port of Everett's annual Waterfront Place Community Open House, taking place on Wednesday, June 29, between 4-7 p.m. at the Pacific Rim Plaza (just south of Hotel Indigo). Explore all Waterfront Place happenings at the event, including an opportunity to chat with project developers, hear about recent construction milestones and learn more about what's coming next to the Port's Waterfront Place mixed-use development.
Interested in opening your tasting room at Waterfront Place? Contact tarah@portofeverett.com or The Schuster Group at hgardner@theschustergroup.com.
---
Content Source: Port of Everett