The Honorable Ketanji Brown Jackson to be sworn in June 30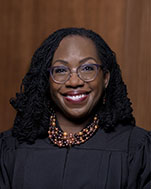 WASHINGTON, D.C., June 29, 2022 — The Honorable Ketanji Brown Jackson will be sworn in as the 104th Associate Justice of the Supreme Court on Thursday, June 30, at 9 a.m. PST at the Supreme Court of the United States. Chief Justice John G. Roberts, Jr., will administer the Constitutional Oath and Associate Justice Stephen G. Breyer will administer the Judicial Oath in a ceremony in the West Conference Room before a small gathering of Judge Jackson's family.
Jackson previously served on the United States Court of Appeals for the District of Columbia Circuit. The ceremony will be streamed live on the homepage of the Court's website, www.supremecourt.gov.
Today, Justice Breyer sent a letter to the White House notifying President Joe Biden of his retirement from the Supreme Court, effective Thursday, June 30, at noon.
This Court will also announce all remaining opinions ready during this Term of Court on Thursday, June 30, 2022, beginning at 7 a.m. PST.