TikTok captures "woke" road rage in Portland
PORTLAND, ORE., July 3, 2022. – "You're taking out your pain and oppression on me right now," a white woman said to a Native American man—the two of them standing in the middle of a road in Portland, Oregon two days ago. The heated exchange was captured by TikTok user @midnightmimosa, who captioned the video with "I'm just trying to get to work." Though the incident may have been just a nuisance for Ms. Mimosa, it has piqued the interest of hundreds of thousands of social media users on TikTok and Instagram.
The scene opens with a Native American man explaining to viewers that she had just told him to "go back to where [he] came from."
"You see that?" he asks rhetorically. "I'm Native American."
"We don't drive like that in ORE-GON," says the white woman who is referred to as "a Karen" in TikTok's comment section.
As the ordeal continues, the woman uses an expletive when explaining how people in Oregon "are […] kind," all the while with horns from other cars on the road sounding off.
"Get out of my face. Get out of my face," the man says as he makes his way back to his car.
"Admit that you're driving like a [expletive]!" woman demands.
The man then accused the woman of having a "colonizer mindset."
"It is not about race!" the woman yells before diving into what can be described as a tasteless lecture on how the man could change "things" if only he listened to her.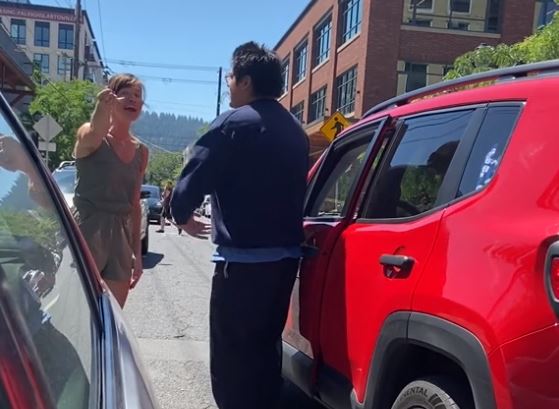 "You're taking out your pain and oppression on me right now," she says. "If you want anything to change," she begins again before being met with a sharp "shut up!" by her road rage opponent. "I'm not taking any directions from a white lady!"
"And don't give me those fake white tears and that fake condescending look," he continued after repeating his demand that the woman leave his space.
"I'm going to stand here with you until you walk away because what you did was wrong, and you made it about race, and that's [expletive] up—" the woman said the Native American man before quickly being reminded that she had told him to go back to where he came just moments earlier.
The argument finally concludes with the man telling her to "go back to Europe" and driving off. The woman walks back to her car that's covered in stickers saying "VISUALIZE WORLD PEACE!", "Come at me with compassion, bro," "PEACE LOVE," and "be nice to you."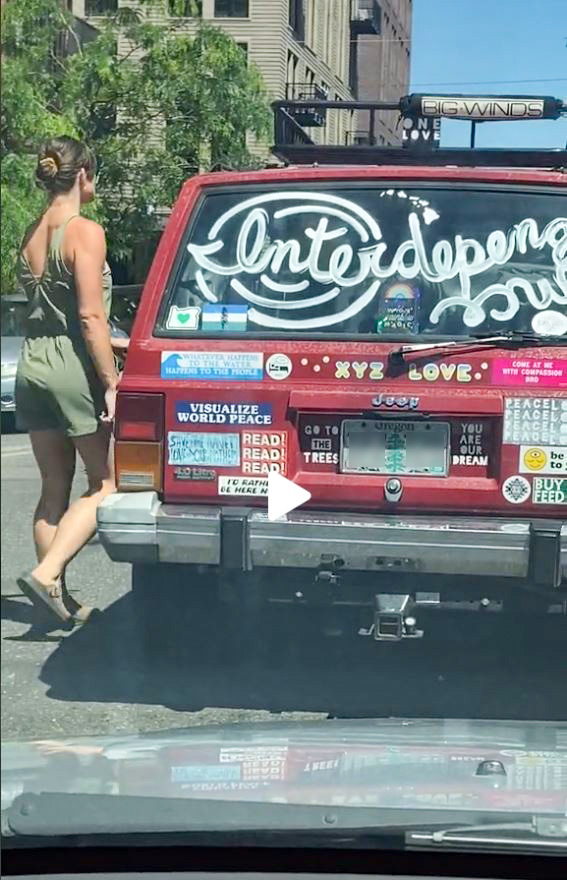 The video's top comment states that "Portland is the epitome of performative activism," and a few others suggested the woman antagonized the man and then "played the victim." More internet reactions label the situation as a "woke vs. woke conflict."
The video only captures three minutes of the altercation, and it is never made clear exactly what caused the two drivers to get out of their vehicles. While the audio of the original TikTok was deleted, the video has already propagated across the internet. Whether it be because of the drama, tension, child-like behavior, or broader social themes, the video is attracting viewers by the tens of thousands.