LAKE STEVENS, Wash., October 21, 2022—Lake Stevens High School was evacuated shortly before 10:30 a.m. today after a bomb threat was made on the social media site, YikYak. Two juvenile students suspected of making the threat were quickly identified by the Lake Stevens Police Department and are being "referred for criminal prosecution." according to the police press release. No bombs nor explosives were found.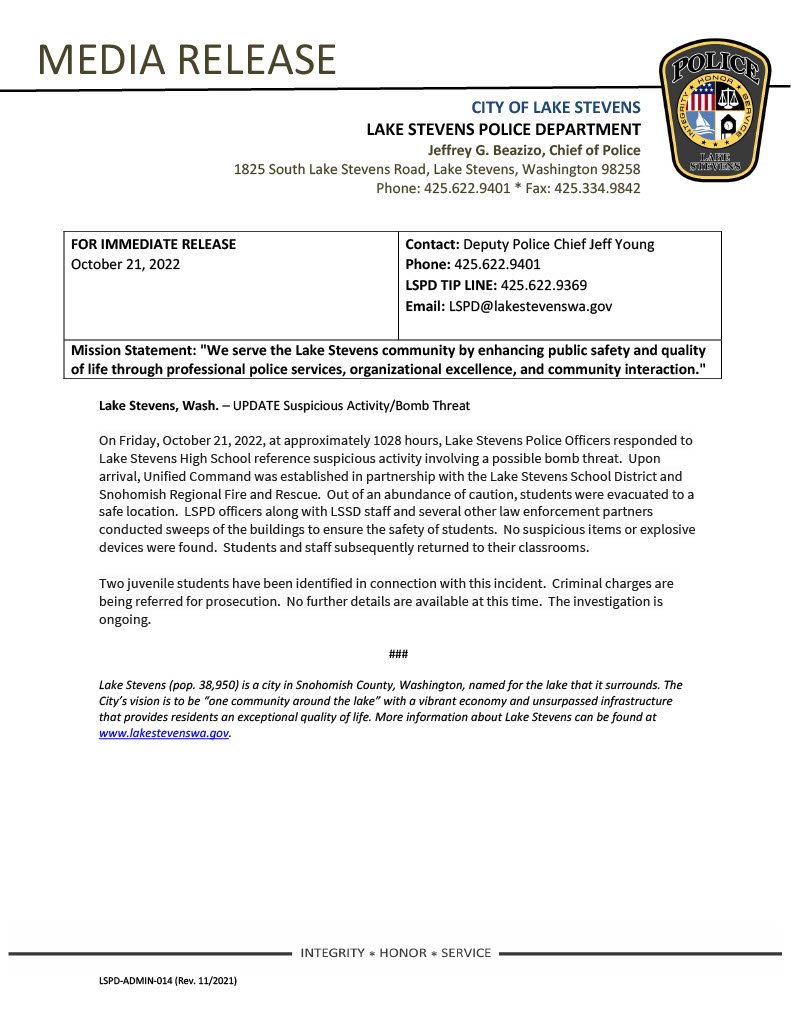 An "all clear" message was posted today on social media shortly before 1 p.m. Below is the "all clear" notice in its entirety:
"Thank you for your patience and cooperation during today's evacuation due to a bomb threat. Emergency personnel, with the assistance of bomb-sniffing dogs, conducted a full sweep of the school, and no bombs or devices were found. Students are returning indoors, and to their classes for the remainder of the school day. Lunch will be available for students who did not have the opportunity to eat.
"The bomb threat was made through an anonymous social media site called YikYak with very few details. (We will reach out in additional communication about the significant disruptions this app is causing on our campus.) However, any reports of threats are treated very seriously and are thoroughly investigated by school and district administrators, our School Resource Officers and other law enforcement officers. While threats like these are most often fabricated, they are extremely disruptive to the education of our students and families and hinder their feelings of safety at school. Please talk with your child about the seriousness of making threats. Consequences vary, but include suspensions and criminal charges.
"Per our emergency protocols, when we are in emergency situations, we will not dismiss students to their families. We understand the concerns and frustrations this decision brings, but are acting in the best interest of student safety. Do not come to the high school during emergency situations, as you will be turned away.
"We were incredibly impressed by the conduct of our students during the evacuation, especially given the cold and wet weather. This incident gave us an additional opportunity to practice our emergency response procedures, and we appreciate everyone's cooperation and patience.
"As always, we strive to stay focused on learning in a secure instructional environment, however we are prepared for the unexpected. Thank you for partnering with us to keep our schools safe.
Lake Stevens School District"
Students and staff have been evacuated from Lake Stevens High School due to a bomb threat. All are safe. Police are on scene and conducting a full sweep of the school. Do not come to the school. We cannot dismiss students at this time. More info to come. pic.twitter.com/2FBXglUnam

— Lake Stevens SD (@lssd) October 21, 2022