Andrew Brammeier: One man's battle to overcome cancer
MUKILTEO, November 2, 2022—Andrew Brammeier was an athletic man. He ate healthy, ran two to three times a week and even competed in a 5K marathon just months before the doctors gave him the news: he had metastasized testicular cancer.
Although 95% of people who develop testicular cancer survive at least five years after their diagnosis, and testicular cancer was one of the first curable cancers – Dr. Lawrence H. Einhorn developed a cure in 1974. Brammeier was given a 50/50 chance of survival and an even slimmer chance being able to walk again. This had less to do with the cancer itself and more the large tumor that developed in his back because of it – a tumor that required a complicated and life-threatening, spinal surgery.
"I asked the doctors at one point in time if there was any particular health thing, I did that caused me to get testicular cancer and they said no, it's indiscriminate." Brammeier told the Lynnwood Times. "If somebody smokes for twenty years and gets lung cancer it's like ehhh, that makes sense, there's a definite causation for that while with testicular cancer there isn't."
Towards the end of 2021, Brammeier visited his doctor regarding some non-specific back pain. Unable to find any issues with his nerve endings, his doctor recommended physical therapy and sent him home, but the pain did not subside. For the next few months, Brammeier's pain intensified, eventually getting to the point where he could not stand, sit, nor lay down without insufferable discomfort.
Brammeier's wife, Rachel, then rushed him to the Providence Emergency room where they heard the news.
On March 1, Brammeier underwent surgery to remove the tumor in his back, however as he waited until the post-surgery wound healed before beginning chemotherapy, his arm went numb. When Andrew returned to the hospital, it was discovered that his sixth vertical vertebrae had been eaten away by his cancer and that he would need neck surgery, which delayed his cancer treatment.
Between surgeries, Andrew sat in a chair, unable to get up. To make matters worse, he had lost his sense of touch.
Once again, Brammeier had to return to surgery, this time to remove the tumor that had regrown in his back. To the doctors' surprise, Andrew was able to "walk" away un-paralyzed after surgery. Doctors then recommend he undergo chemotherapy while his wound healed – a difficult decision considering cancer rapidly attacks dividing cells such as hair and nails.
"I thought I was going to die," Brammeier said. "They said there was a high risk in the surgery that I could die, that I could be paralyzed from the waist down. There are so many complications about surgery on the spinal column that my wife and I recorded goodbye videos to my kids that I still have on my phone; we didn't think I was going to make it."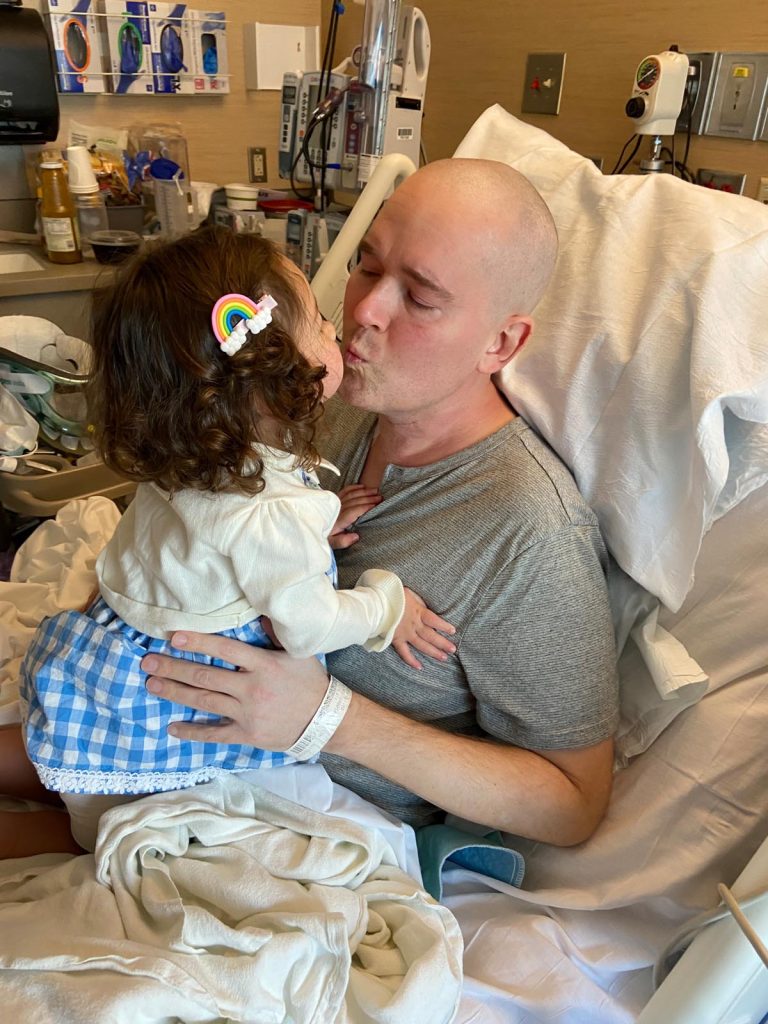 Brammeier's response to the chemotherapy was mild with nausea, fatigue, and a change of appetite being the side-effects. While he used to love spicy Asian food, especially his wife's authentic Korean kimchi, he found himself only able to stomach bread and egg whites.
"At one point someone brought me a meal and the smell of the food just made my stomach turn," Brammeier said.
With some advice from fellow cancer survivors, Brammeier was able to avoid developing painful mouth sores by avoiding extreme hot, extreme cold, and dramatically textured food like popcorn or caramel. The doctors also had him wash his mouth with saline after every meal.
Aside from the change in appetite, Brammeier told the Lynnwood Times the most severe side effect to chemotherapy was the fatigue, that increased with each subsequent round. By the fourth and final session, he was sleeping for an entire week.
Brammeier's back wound never healed during his first two rounds of chemotherapy, which required doctors to routinely clean. Eventually it was decided to pause cleaning sessions, between the second and third round, to allow the incision to heal and resumed chemo that following summer.
Brammeier completed his last round of chemotherapy in July of 2022. He has since been home, carrying out physical therapy to regain the function of his legs. He routinely checks back with his doctors for the occasional computerized tomography (CT) scan.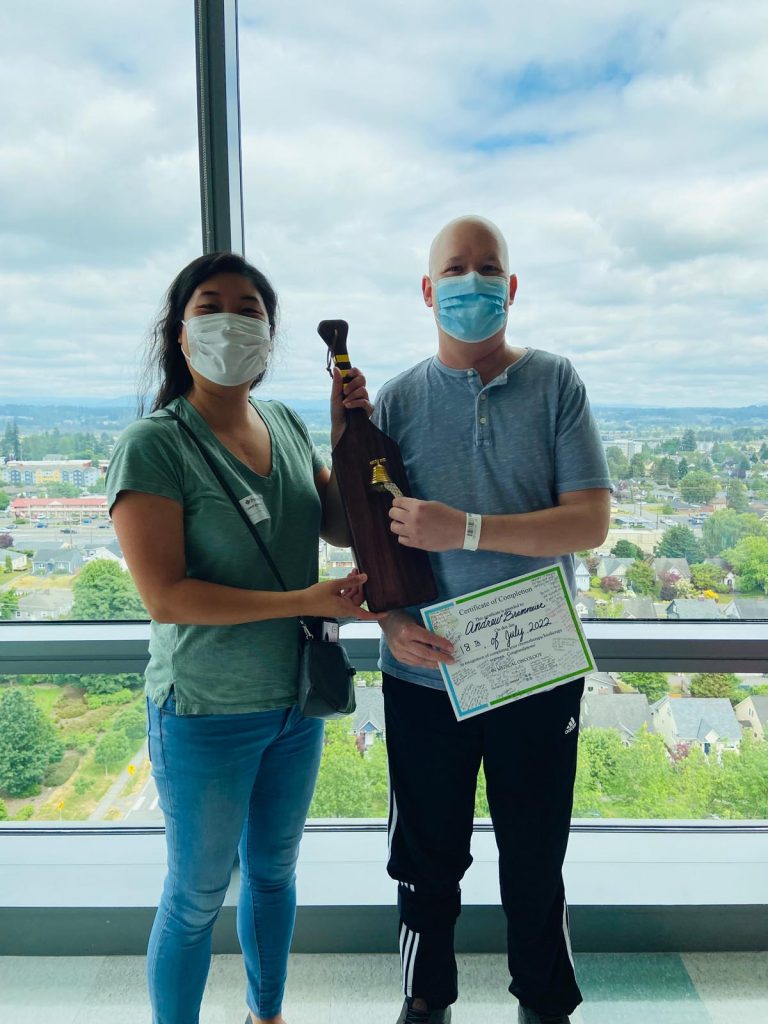 "The first time is generally the worst because you just don't know what to expect. There are all sorts of reactions your body can have to all the medications they give you." Brammeier said. "The cancer journey is not as straightforward as we all might want to think it is."
Even though Brammeier has finished his treatment, he won't be considered "cancer free" for at least a couple years while doctors continue to monitor his progress. Typically, Brammeier's cancer won't be considered in remission until around six of chemotherapy.
Believing he was going to die, Brammeier now views life as a "second chance," thanking God, his friends, family, and church (Onnuri in Lake Forest Park) for the immense amount of support both spiritually and financially.
He also thanks the excellent Providence neurosurgery team that operated on him, the Providence nursing team that cared for him in his more than 100 days of hospital stays, as well as the Everett Clinic Oncology group that took care of his cancer care.
In the early days of his battle his friends banded together to create a "meal train" so Brammeier's wife Rachel did not have to cook dinner for months which he said was "huge early on."
Andrew Brammeier's story is just one of 1.9 million new cancer diagnoses projected by the end of 2022. An estimated 609,360 people will die of cancer in the United States by the end of this year according to the American Cancer Society.
When asked why he believed cancer awareness was so important, and what he would say to anyone beginning their fight with cancer, Brammeier's answers were all the same: "You're not alone."
You can donate to Andrew Brammeier and his family through their GoFundMe page by clicking here to help the family with medical expenses or contribute through Venmo at @andrew-bramm.