Manchin condemns Biden's remarks to shut down coal plants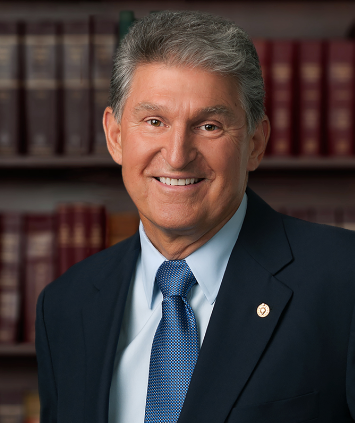 WASHINGTON, D.C., November 6, 2022—Senator Joe Manchin (D-W.Va.) sharply condemned President Joe Biden (D) for vowing to close all coal plants across the Nation as "outrageous and divorced from reality" in a press release yesterday.
"Comments like these are the reason the American people are losing trust in President Biden and instead believes he does not understand the need to have an all-in energy policy that would keep our nation totally energy independent and secure," Sen. Manchin wrote.
On Friday, November 4, during a speech at the communications company ViaSat in San Diego County to promote the CHIPS and Science Act, President Biden said that his administration will "be shutting these [coal] plants down all across America" for a "wind generation."
"We're going to be shutting these plants down all across America and having wind and solar power, also providing tax credits to help families buy energy efficient appliances, whether it's your refrigerator or your coffee maker, for solar panels on your home, weatherize your home, things that save an average, experts say, a minimum of $500 a year for the average family" Biden said.
BIDEN ON COAL:

"We're gonna be shutting these plants down all across America, and having wind and solar." pic.twitter.com/JXIZxDzvsu

— Townhall.com (@townhallcom) November 4, 2022
In August of this year, Congress passed the controversial $790 billion Inflation Reduction Act (IRA) that included $386 billion in incentives for "green" energy and related programs.
Energy and Climate – $386 billion

Clean Electricity Tax Credits, $161 billion

Air Pollution, Hazardous Materials, Transportation and Infrastructure, $40 billion

Individual Clean Energy Incentives, $37 billion

Clean Manufacturing Tax Credits, $37 billion

Clean Fuel and Vehicle Tax Credits, $36 billion

Conservation, Rural Development, Forestry, $35 billion

Building Efficiency, Electrification, Transmission, Industrial, DOE Grants and Loans, $27 billion

Other Energy and Climate Spending, $14 billion
In his statement, Sen. Manchin insinuated that Biden lied to him regarding his stance on coal for his vote to pass the IRA.
"Let me be clear, this is something the President has never said to me," Manchin wrote. "Being cavalier about the loss of coal jobs for men and women in West Virginia and across the country who literally put their lives on the line to help build and power this country is offensive and disgusting."
In 2016, presidential hopeful Hillary Clinton was strongly criticized on her clean energy policy remark during a Democratic town hall in Columbus, Ohio where she also touted a war against coal workers.
"I'm the only candidate which has a policy about how to bring economic opportunity, using clean, renewable energy as a key, into coal country," Clinton said. "Because we're going to put a lot of coal miners and coal companies out of business, right Tim?"
In her book, What Happened, she calls that gaffe the comment she regrets most during her 2016 Presidential Campaign.
According to Statista, there are 450 operational coal plants in the United States. In its Annual Coal Report, the U.S. Energy Information Administration states that 39,518 men and women are coal miners. West Virginia employs approximately 11,400 coal miners, or roughly one-third of all coal miners in the U.S.
In 2021, approximately 61% of the electricity generated in the U.S. was from fossil fuels – coal, natural gas, petroleum, and other gases – as whereas 19% was from nuclear energy, and about 20% was from renewable energy sources such as wind and solar. Coal accounts for 21.8% of the total energy source electricity generation in the Nation.
Senator Manchin of West Virginia calls on Biden to apologize to the coal workers of America.
"President owes these incredible workers an immediate and public apology and it is time he learn a lesson that his words matter and have consequences."
White House Press Secretary Karine Jean-Pierre in a statement clarifying Biden's war on coal said the president's words "have been twisted."
"The President's remarks yesterday have been twisted to suggest a meaning that was not intended; he regrets it if anyone hearing these remarks took offense," she wrote in the statement. "The President was commenting on a fact of economics and technology: as it has been from its earliest days as an energy superpower, America is once again in the midst of an energy transition. Our goal as a nation is to combat climate change and increase our energy security by producing clean and efficient American energy."