Puget Brass is coming to Lynnwood to raise awareness for the homeless
LYNNWOOD, November 13, 2022—Next month on December 3, Puget Brass will be holding a holiday concert, Music for Neighbors in Need, featuring festive-themed music for a good cause: to support Snohomish County's cold weather shelters and homeless.
At Trinity Lutheran Church, from 7 – 8:30 p.m. on December 3, the Seattle-based British-style brass band will be premiering a new work from composer Emerson Eads in an effort to raise money and awareness for Neighbors in Need; a homeless support network and cold weather shelter operating in south Snohomish County. In addition to the festive music the event will be accepting donations for a charity run out of the church. In previous years the event drew a full house, both in 2018 and 2019, raising over $1,000 for the cause in just one evening.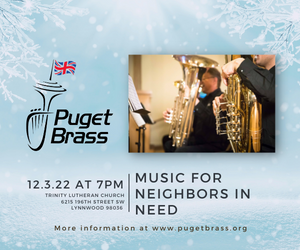 Donations in the form of cash, travel sized toiletries, and non-perishable food items will be accepted the day of the event. Trinity Lutheran Church is located at 6215 196th Street SW in Lynnwood. For more information, email info@pugetbrass.org.
About Puget Brass
Formed in 1999, Puget Brass is a British-style brass band that performs traditional and contemporary literature throughout the greater Seattle area. Puget Brass players volunteer their time and efforts to perform for and educate the general public about the unique sound of traditional British brass band music. Their mission is to entertain, educate, and inspire their community through exceptional https://www.facebook.com/plugins/video.php?height=314&href=https%3A%2F%2Fwww.facebook.com%2Fpugetbrass%2Fvideos%2F2495290630722262%2F&show_text=true&width=560&t=0performance in the traditional British brass band style.
A British brass band is made up entirely of brass and percussion instruments. Puget Brass' instrumentation is also different than you might see in a concert band or orchestral brass section, utilizing cornets instead of trumpets, flugelhorn, Eb tenor horns instead of French horns, and Eb and BBb tubas in addition to tenor and bass trombones, baritones, and euphonium which creates a darker, warmer sound that is unique to brass bands.
The band rehearses every Tuesday evening from September to June in the Greenlake neighborhood of Seattle.
About Neighbors in Need
Neighbors in Need serves all people by providing basic support services, encouragement, and unconditional acceptance within a safe, caring environment, its website states, through neighborly compassion and respect to anyone facing life's challenges, while inspiring all to continue in a shared quest for wholeness. Their vision is a healthy, compassionate, collaborative, and whole community of transformed lives in which hope defines us all, hope is spoken by all, and hope is lived by all.
To learn more visit nintrinity.org/