South County Fire begins servicing Mill Creek
MILL CREEK, Wash., December 13, 2022—South County Fire started providing fire and emergency medical service to the City of Mill Creek this morning.
City voters in April approved annexation into the regional fire authority (RFA). South County Fire has five firefighters assigned to the station to provide 24/7 staffing of a fire engine and a paramedic unit.
"Your fire station is now part of a network of 15 neighborhood fire stations working together and backed by the resources of our regional fire and emergency medical service. We are honored to be serving you and to be part of the Mill Creek community," said South County Fire Chief Thad Hovis.
The RFA serves nearly 300,000 residents in five cities and unincorporated communities across 57 square miles of southwest Snohomish County. More than 325 uniformed firefighters are employed by South County Fire. A minimum of 70 firefighters are on duty during the day and 64 overnight. This includes firefighters with specialized training in hazardous materials and technical rescue response.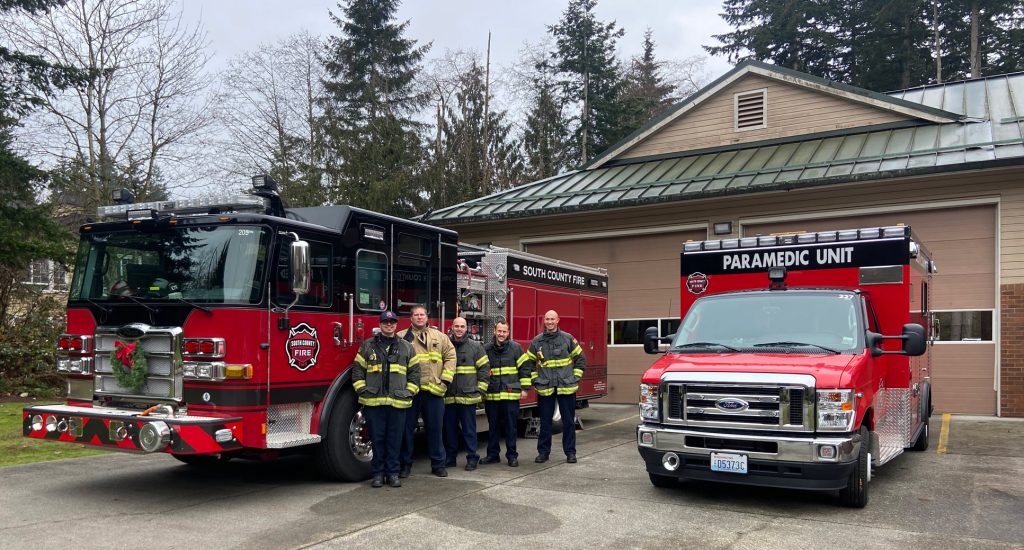 About 85% of South County Fire responses are for emergency medical services. All firefighters are certified as emergency medical technicians or paramedics. South County Fire recently became the first fire agency in the county with the capability to provide lifesaving blood transfusions in the field for patients with traumatic injuries or serious medical conditions. The RFA also has a community resource paramedic on duty 24/7 to provide follow-up services to at-risk patients to reduce 911 calls and emergency room visits.
Community outreach programs include home safety visits, falls prevention, childhood injury prevention and free online classes including ACT First Aid & CPR, Aging in Place, Child Car Seat Safety, Child Safety & CPR, Disaster Preparedness, Impact Teen Drivers and Home Fire Safety.
Visit South County Fire's website to learn more: www.southsnofire.org.