Mill Creek becomes first city in county to condemn antisemitism
MILL CREEK, Wash., December 14, 2022—Following the example of Snohomish County Government and the City of Bellevue, Mill Creek adopted a proclamation condemning antisemitism at its Regular Meeting Tuesday, December 13, making it the first city in Snohomish County to do so.
The city also established Juneteenth as an observed holiday, discussed budget amendments, necessary pipe repair projects, and heard a presentation from the Snohomish County Health Board.
Mill Creek Proclamation Condemning Antisemitism
Following the City of Bellevue and the County's proclamation condemning antisemitism, Mayor Pro Tem Stephanie Vignal introduced a similar proclamation for the City of Mill Creek.
"Unfortunately, we find ourselves in a time where hate speech and antisemitism is on the rise and I strongly felt this moment calls for us to stand up and make a strong statement that we will not tolerate antisemitism in our community," Mayor Pro Tem Vignal said.
The city defines antisemitism as the belief or behavior hostile toward Jews just because they are Jewish. It may take the form of religious teachings that proclaim the inferiority of Jews, for instance, or political efforts to isolate, oppress, or otherwise injure them. It may also include prejudiced or stereotyped views about Jews.
The proclamation condemns and rejects antisemitism and reaffirms the city of Mill Creek's commitment to ensuring our community is a safe and welcoming place to live, work and visit.
Councilman Vincent Cavaleri, who aided the Mayor Pro Tem in bringing this proclamation forward, spoke to the motion before it was brought to council approval. In his comments he noted that 55% of religiously motivated hate crimes are committed against the Jewish people who make up only 2% of our community.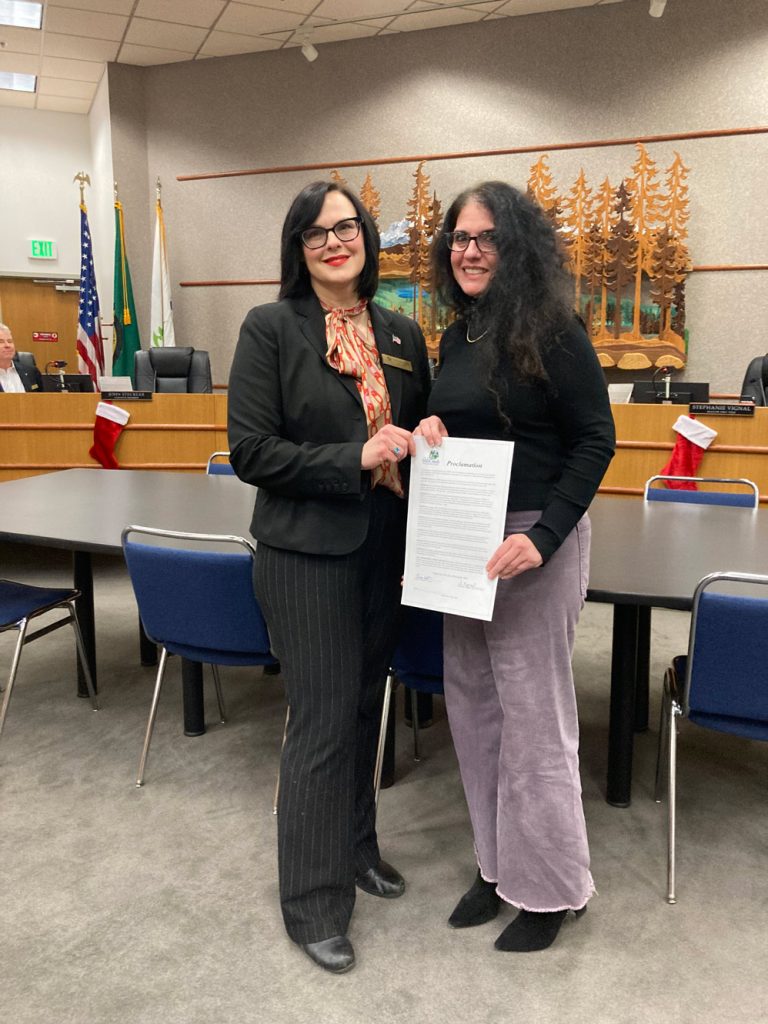 "We as elected leaders in our community must send a clear message that conduct such as this will not be tolerated under any circumstances. We must also commit to a zero-tolerance policy when it comes to dealing with such abhorrent conduct within our borders. This resolution sends a resonant message of unification and commitment to our Jewish brothers and sisters," Councilman Cavaleri wrote in an official statement issued to the Lynnwood Times.
The City of Mill Creek is the first city in Snohomish County to adopt a resolution such as this.
Snohomish County Health Board Presentation
Martin Yamamoto, City Manager, introduced Carrie Parker, Prevention Assistant Director, who led the meeting's first presentation of the night on the Snohomish County Health Board.
The presentation acted as a snapshot summary of some of the achievements the board has accomplished this year which include:
– The Environmental Health Board issuing 64 new restaurant permits, conducting 51 routine food inspections, 8 year-round pool inspections, and 11 seasonal poolside inspections, and addressing 2 septic complaints and 6 solid waste complains so far in 2022.
The Customer Service Division provided 15,963 birth certificate copies and 29,664 death certificate copies this year.
The Prevention Services Department reported 337 cases of Hepatitis B or C, 22 cases of newly diagnosed HIV, 58 cases of salmonella, 38 cases of E. coli, 58 cases of Syphilis, and 16 cases of Tuberculosis this year.
The Board also welcomed a new health officer this year, Dr. James Lewis, is currently working on their 2023 budget process and is working on becoming a County department next year.
Public Hearing to consider 2021-2022 Biennial Budget Amendment
Council unanimously approved to open a public hearing on some amendments to the 2021 to 2022 biennial budget in order to avoid auditing issues involved with some unforeseen overages. These include an overage of $202 in the Municipal Arts Fund for the Utility Box Graphic Wrap and an estimated increased cost of $133,000 in the Streets Fund, related to increased maintenance costs, streetlight repairs tied to vehicle accidents, and reallocation of staffing to more appropriately reflect employee time spent on Streets projects.
The increase in streets cost requires a transfer of $50,000 from the General Fund, but no additional budget authority is needed for the General Fund to accommodate this transfer Laurel Brock, Deputy City Manager, noted.
Mayor Pro Tem Vignal motioned to approve the amendments and the motion passed unanimously.
Consent Agenda and other Agenda Items
Council approved checks #6519 through #65461 and ACH Wire Transfers in the Amount of $118,338.22 and Payroll and Benefit ACH Payments in the Amount of $211,808.27 during their consent agenda.
Frank Reinart, City Engineer, presented to council necessary pipe repairs in the city to preserve aging infrastructure. Allied Pumping & Pumps LLC DBA (Allied Trenchless) completed all contracted construction activities for the 2021 Grade C Stormwater Pipe Repair project during November 2022. The contract with Allied Trenchless was awarded by City Council on July 13, 2021 in the amount of $413,875.00.
However, the project incurred several delays during construction due to the COVID-19 impacts on materials availability and delivery supply chains. While the time to complete the project needed to be extended multiple times, no additional costs to the City were incurred. No change orders affecting contract sum were approved by the City for this project. However, a total of three sections of pipe repairs were deleted from this contract, due to unexpected site conditions or other factors, Reinart explained.
To view Reinart's presentation on pipe repairs in full click here.
Council approved a resolution establishing Juneteenth (June 19) as an observed holiday for city employees.
Council also unanimously decided to cancel their upcoming December 27 Regular Meeting making last night's meeting council's last Regular meeting of 2022.